Change is in the air, and in 2021, the ABIM is moving towards updating their offerings for MOC exam options. Change can be unnerving, especially with something as important as maintaining your certification. But, the good news is that you'll have options to make the best choice for your schedule, your practice, and your test-taking style.
Which ABIM MOC Exams Are Happening in 2021?
In 2021 the Traditional MOC Exam will be the only option offered for Internal Medicine recertifiers. This exam is available to all specialties and requires you to take the exam for about 10 hours, every 10 years, in a designated testing center to stay certified. You will be allowed to use UpToDate® as a resource throughout the exam. You can register for Spring exams through February 28th or Fall exams through August 15th.
Spring 2021 Exam Dates
April 5, 6, or 7
Fall 2021 Exam Dates
Oct 18, 20, or 28
What Options Will I Have Moving Forward?
Starting in 2022, Internists specializing in these areas will have the option to enroll in the Longitudinal Knowledge Assessment to maintain certification:
Cardiovascular Disease
Endocrinology
Diabetes and Metabolism
Gastroenterology
Geriatric Medicine
Hematology
Hospice and Palliative Medicine
Internal Medicine
Interventional Cardiology
Medical Oncology
Nephrology
Rheumatology
Sleep Medicine
Those specializing in these areas will be able to begin the Longitudinal Assessment Pathway in 2023:
Critical Care Medicine
Hospital Medicine
Infectious Disease
or Pulmonary Disease
The 10 year traditional MOC exam will still be available as an option for recertification for everyone, but the Knowledge Check-In Exam will no longer be offered as a recertification option.
What Happened to the ABIM Knowledge Check-In?
The Knowledge Check-In won't be offered after 2021. This option was introduced to add more flexibility for physicians maintaining certification, but after the ABIM received feedback from physicians that it was difficult to cover the necessary amount of material in this shortened exam and testing every 2 years was too frequent they developed the Longitudinal Assessment.
What is the ABIM Longitudinal Assessment?
The longitudinal pathway is the ABIM's plan to reimagine how physicians maintain their certification in a more practical way. This option was created to keep practitioners in mind with greater flexibility, convenience, and relevancy. The Longitudinal Assessment is a five-year cycle that includes a participation requirement and a performance standard.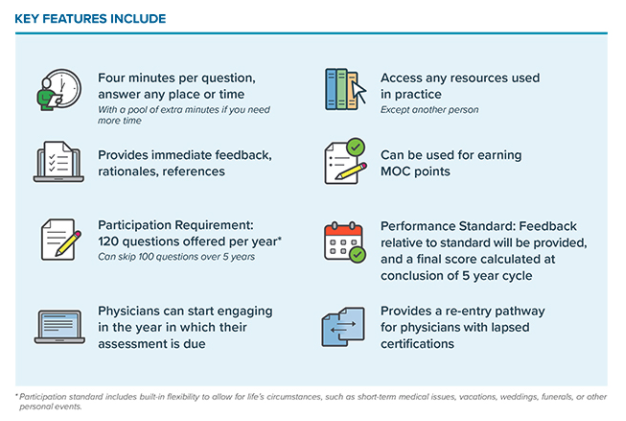 An overview of the features ABIM offers for the Longitudinal Assessment MOC Exam.
What are the Participation Requirements?
Over the course of five years, you will be sent 600 questions by the ABIM (120 per year, delivered periodically). You can answer these questions online, from anywhere you are, with any resources you use for practice. You'll have four minutes to complete each question plus an extra 30-minute time bank that you can draw from if you need more time each year. In order to make this an even more flexible option, you can skip up to 100 questions and still meet the participation requirements.
What is the Performance Standard?
You'll receive feedback throughout your five-year cycle, but your official score is given at the end of the cycle. A passing score means you can continue on the longitudinal pathway, while a lower score will mean you must pass the Traditional 10-year MOC exam the following year to remain certified.
With the Knowledge Check-In option now removed from the available options, you can choose from the 10-year Traditional MOC Exam or Longitudinal Assessment for the exam that best fits your life, practice, and testing preference. Check out our Internal Medicine solutions for resources that will help you be prepared for any exam you choose, and get a copy of our 2021 Important Dates Calendar to make sure you don't miss any deadlines next year!