New! We've updated the "Important Dates" calendar for 2023! Get all of the exam dates specific to pediatrics, plus important health awareness days and holidays, registration deadlines, and more!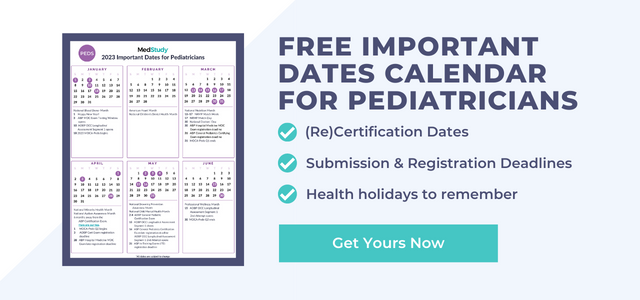 Adding exam-prep to your 2023 to-do list means you have to be even more time-savvy to accomplish everything you set out to achieve. To help you prioritize your efforts in the new year, we've compiled a list of the most important medical certification and recertification ABP/AOBP exam dates. We've also added a few other dates that we consider important like registration deadlines for exams, MOCA-Peds quarterly reminders, healthcare holidays, and awareness days.
Unlock the full calendar now for free and:
| | | |
| --- | --- | --- |
| | | |
| See the big-picture view of the year | Get prepared for exams and deadlines | Take the first step toward crushing your goals |
Download a free copy for yourself. Then feel free to share it with your colleagues. Every so often, remember to take a breath, relax, and refocus on your goals. You've got this!