You don't want to miss the only Pediatrics Online Review Course of 2022 coming up From February 5-10th, review all of the board-relevant pediatrics knowledge you need to pass your ABP or AOBP exam and update your knowledge for daily practice. Plus, we hand-select top speakers for each specialty to fill your review with engaging lectures. See the full lineup of speakers for this course in the schedule below.
Review all of the board-relevant pediatrics knowledge you need to pass your ABP or AOBP exam and update your knowledge for daily practice with our 6-day online review course.
2022 Pediatrics Review Course Schedule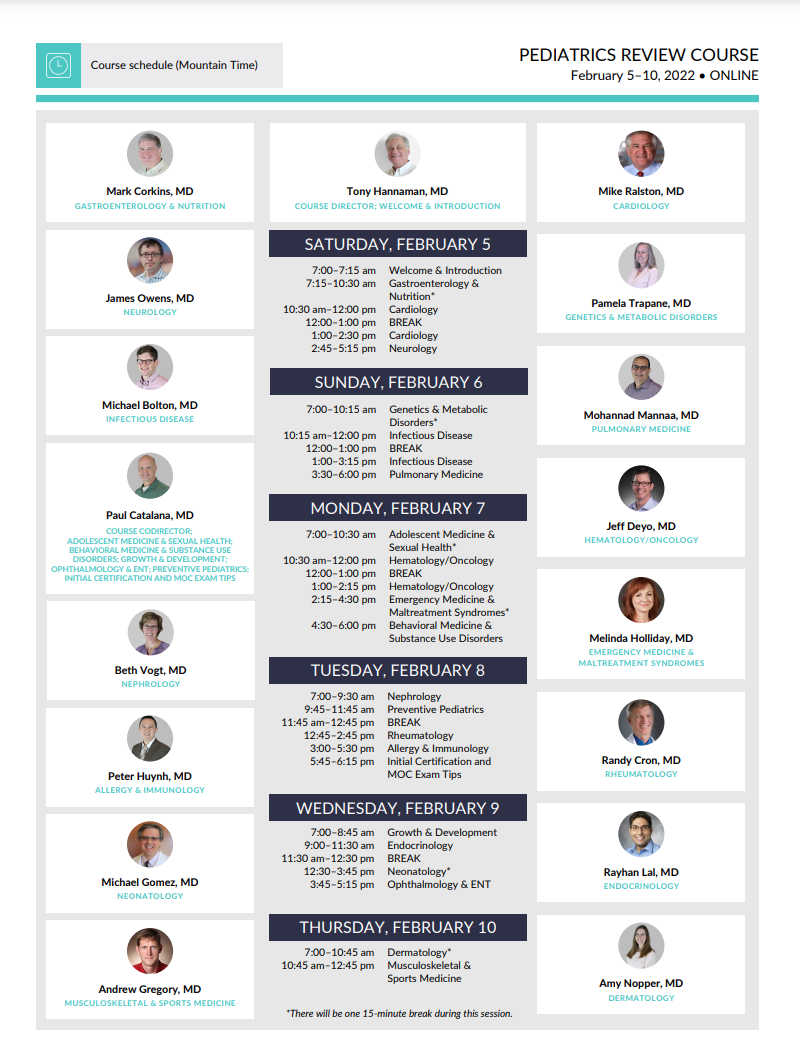 Top 5 Things You'll Be Able to Do During the Online Pediatrics Review Course:
Learn From Engaging Speakers
While attending, you'll get to learn from our engaging speakers who guide you through both exam prep and practice updates. We find engaging specialists in each topic to give you a board-focused review. You'll have different physicians reviewing each topic, so you don't have to sit through only one lecturer for an entire course. Mixing it up is one of the keys to staying engaged while you're learning!
Our courses are so great because our lecturers are so great! We search far and wide, high and low to find the best specialists who engage and impress our course attendees.
We've added a feature to the online Course dashboard called "Ask the Speaker" so now you can submit your questions directly to the speakers during their lecture. You'll see their answers posted in your myMedStudy account shortly after the course ends!
Network With Like-Minded Physicians
You're attending online, but you can still network! Even though you'll be cozy on your couch at home watching the lectures, you can still engage with other physicians attending the course with a live chat during the entire course.
Set Aside Time Dedicated to Studying
We know it's tough to find the time for board review, so we make sure that attending a course helps you comprehensively focus on everything that will be on your exam. The course is 6 days long and focuses on high-yield pearls to help you ace your board exam, and maintain an excellent daily practice with distraction-free sessions all day long.
Use The Supplemental Study Materials
Before the course begins, you'll receive some super valuable resources: A printed color syllabus, self-testing questions, and supplemental videos. Use the 100 questions on your myMedStudy account to quiz yourself and identify any knowledge gaps you may have.
Review Until 2023 With Course Footage
You'll receive recordings of each lecture in your account so you can watch as much as you need (and at your own pace!) for 12 months after the course is over. We'll also include a new video called "Q&A Shortcuts" with every audience response questions from the course truncated into one video for easy review and self-testing!
Sounds pretty exciting, doesn't it? Spots for this course are going quickly, so sign up today to watch online!