Right now, we're on the cusp of a really exciting time: the beginning of a new decade! It's also an incredibly busy time of year: family is visiting from out of town, patients are coming in more (and staying a little longer!), you're juggling work and trying to get vacation time, and you've got new year's resolutions on the brain... And you're only going to get busier as the new year rolls in. We get it! So we put together this handy Important Dates Calendar to help you keep track of the most important dates for your specialty.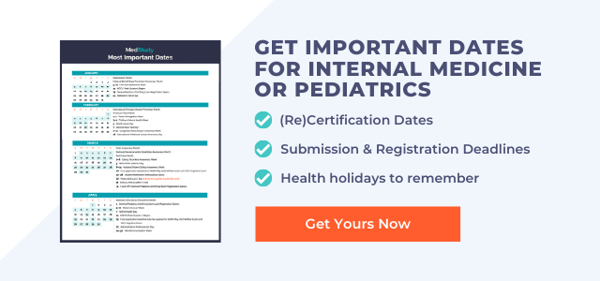 Make sure you select your specialty, and we'll get the right calendar to you. You'll see all the most important (re)certification exam dates for the year, submission and registration deadlines, and health holidays you'll want to celebrate!
We hope sending over this calendar helps you prioritize (and even get ahead of the game!). Feel free to send this page to your colleagues to share the love.
Every so often, remember to take a breath, relax, and refocus on your goals. You've got this!
You'll see re-certification dates, exam dates, and other important reminders.

Understand what's happening throughout the year for your specialty.

Receive quarterly reminders of which important dates are coming up.

Accomplish everything you set out to achieve this year.