If you're planning on taking the MOCA-Peds exam for your Part 3 requirements for MOC, have you considered how you'll prepare for your MOCA-Peds questions?
Fortunately for you, the MOCA-Peds exam is open-book. So, you might feel like you can go into the exam without too much prep work. BUT! There's a big but:
you only get 5 minutes to answer each question.
So, flipping your screen to UpToDate or any other web-based reference will be time-consuming and stressful in the exam environment.
Since the MOCA-Peds exam released in 2017, we've tested a few variations of recommended study tools and prep procedures. Based on feedback from peds practitioners who've taken the exam, we think we've landed on the perfect combination for this year's MOCA-Peds.
We're taking a two-pronged approach to how we recommend you should study: First, prepare for the exam with board-style Q&As and audio talks based on the ABP's learning objectives and featured readings for MOCA-Peds. Then, take a quick reference guide into the exam, and keep it next to you while you are testing. Making the reference tangible is important—you won't want to be flipping back and forth between internet windows while you're crunched for time while answering your MOCA-Peds questions.
Practice with MOCA-Peds questions in your Qbank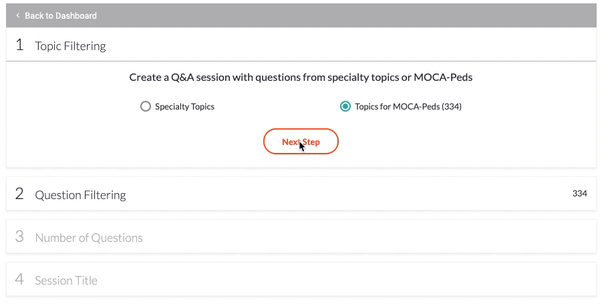 Now you can filter down to MOCA-Peds Q&As in our peds qbank.
Because you've only got 5 minutes to answer each question, you're going to need to study before you start answering. With our news MOCA-Peds filter, you can easily prepare for the quarterly exam with 500+ questions (with answers and explanations, of course!) in a separate section of our 2,000-question Qbank.
The questions we gathered are based on the ABP's 45 learning objectives and featured readings for 2023, and they'll help you prepare for your Part 3 MOC requirements if you're taking the quarterly assessment.
Learn on-the-go with audio talks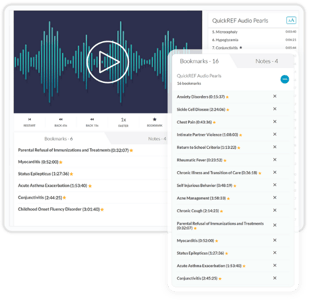 Use QuickREF Audio Talks to reinforce your knowledge for MOCA-Peds on the go.
Pediatricians made this request, and we listened! 2023 QuickREF now comes with audio talks so you can stack study time on top of your daily routine.
Our physician educators crafted all-new content to give you exactly what you need for each learning objective, without unnecessary repetition. So reinforce your knowledge and get ready to ace your quarterly questions with these streamable lectures.
Get to know your open-book resource for 2023 MOCA-Peds

QuickREF is your sidekick for 2023 MOCA-Peds.
MOCA-Peds Quarter 1 just started. Have you considered what you'll use as your open-book resource?
We've included all the high-yield points of information that you're likely to be tested on into this QuickREF guide. It's designed to:
Give you what you need to know for all 45 learning objectives and featured readings
Be used as your open-book (print and digital) reference during the assessment
Pro Tip: When you open a new batch of MOCA-Peds questions, make sure you've got your digital QuickREF guide on your tablet to quickly search for the information you need.
Study stronger with QuickREF Complete
With QuickREF Complete, we've made it simple to prepare for MOCA-Peds and feel confident when you answer your MOCA-Peds questions for each featured learning objective.
With the MOCA-Peds filter in our Q&A bank, you can easily set up as many practice quizzes as you need before you enter the timed test each quarter. Then, you can reinforce that knowledge and learn on-the-go with all-new content crafted by our physician educators in streamable audio talks.
Tips for taking MOCA-Peds
If you're recertifying this year and taking MOCA-Peds, these tips will help you feel prepared and confident walking into exam day.
Tips for taking the MOCA-Peds
What is MOCA-Peds?
Need a refresher on MOCA-Peds? In 2017, the ABP came out with a new way to fulfill the MOC Part 3 (exam) requirement: the Maintenance of Certification Assessment for Pediatrics, or MOCA-Peds.
MOCA-Peds is an online, non-proctored assessment platform offered as an option for your Part 3 MOC requirement. You answer 20 questions per quarter, wherever you like, whenever you like. Once you submit your answer for each question, you're told whether you got it right or wrong. Plus, you get the rationale behind the correct answer and references to support it. You'll also have access to previously-answered questions.
The questions are based on 45 learning objectives, outlined by the ABP to reflect the breadth of knowledge required for practice.
General Pediatrics practitioners were approved to take the MOCA-Peds exam in 2019. Here's a quick overview of when the rest of the peds subspecialties will have this testing option available: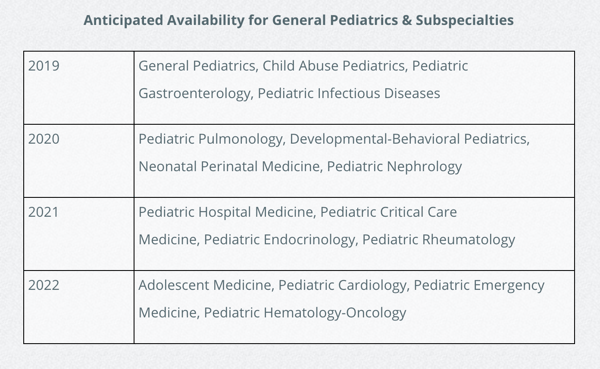 The anticipated availability of the MOCA-Peds exam for general pediatrics & subspecialties, via abp.org.
Order QuickREF to get access to your 2023 MOCA-Peds sidekick now!