With 2021 being MedStudy's 30th year helping physicians (and now students, too!) achieve and maintain core competency, we found ourselves reflecting on the growth of our customers and our team. In 2021, physicians continued to show up for their patients in so many ways during the continued hardships of a global pandemic. And here at MedStudy, we were cheering you on behind the scenes. We're proud of everything our community accomplished last year—especially because we know it wasn't an easy one. Here's a look back at 2021 and some of the things we think should be celebrated.
Now, We're Here for a Physician's Entire Journey
Not sure if you've heard the news, but 2021 was a pretty big year for us! Last year we launched a brand new way for medical students to study. It's called the Medical Student Study Strong System. (Can you say that five times fast?)
We were so excited to finally (after seven years in the making!) launch the revolutionary Medical Student Study Strong System. It's a new comprehensive learning system that combines focused content with evidence-based learning techniques to ensure medical students truly LEARN the foundations of medicine as they work toward their goal of becoming great future doctors. So now, we're here from medical school, to residency, and throughout physicians' entire medical careers!
Doctors in 45 Countries Studied Stronger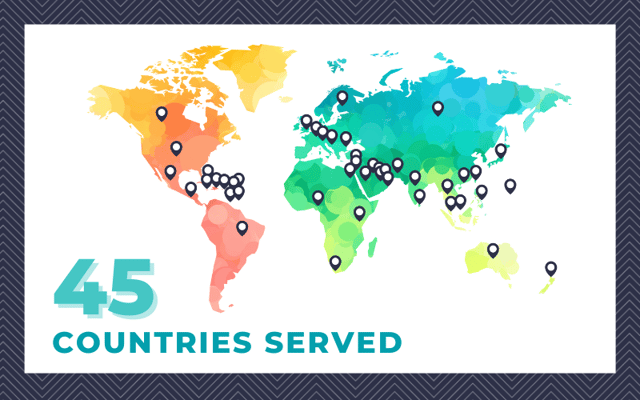 Physicians from 45 countries across the globe used MedStudy to StudySTRONG® in 2021! That's seven more countries than last year that used MedStudy to prepare for exams, earn and claim CME credits and MOC points, update their practice, and become all-around better physicians!
Over 11 MILLION Q&As Were Answered on myMedStudy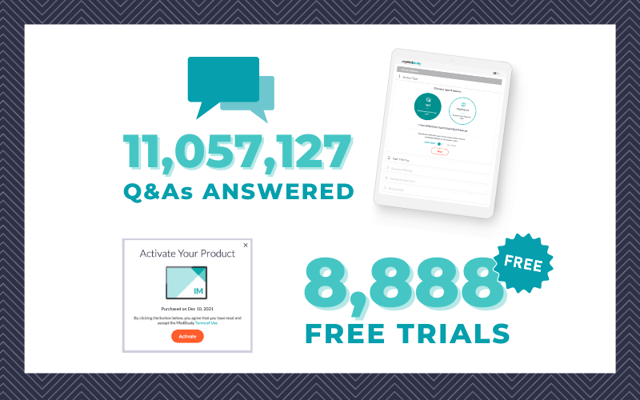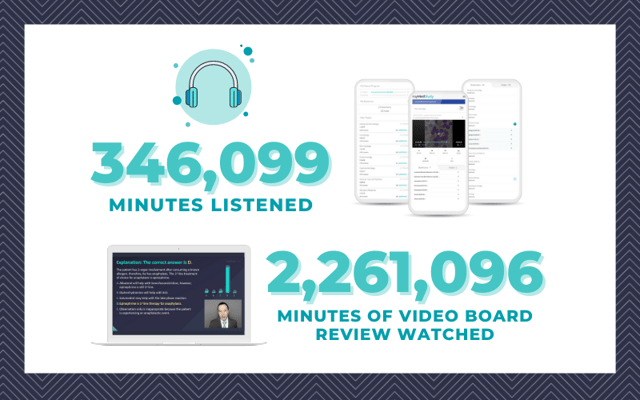 Not only did physicians give their all to patients this year, they also gave their all to studying strong with our learning tools. On December 28th, we pulled some numbers to show how much MedStudy customers had been studying, and it's A LOT. Some of the 2021 numbers were even record-breaking:
2,261,096 minutes of videos from our Internal Medicine and Pediatrics Video Board Reviews were watched
346,099 minutes of Audio Pearls were listened to
11,057,127 Q&As were answered
8,888 free trials were used
Physicians Continued to Earn and Claim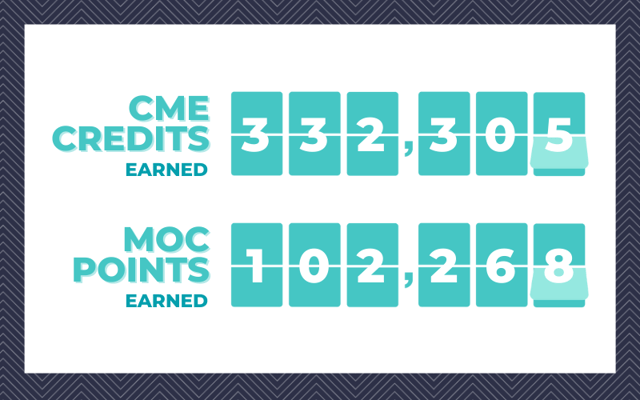 Many physicians who use MedStudy are recertifiers who complete Continuing Medical Education Credits and Maintenance of Certification Points to stay board certified. In 2021, MedStudy physicians earned 332,305 CME Credits and 102,268 MOC Points.
Medstudy was the Source of Truth for Physicians Prepping for Exams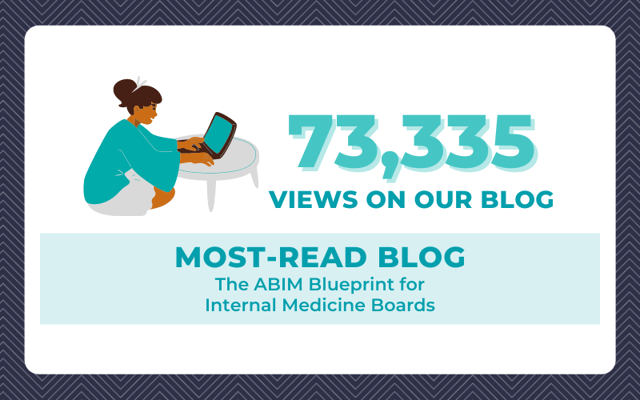 We love being the go-to resource for internists and pediatricians! We consistently blog on topics like:
Medical education
Guideline updates
Healthcare worker wellness tips
Study tips
Exam updates
The MedStudy blog was visited over 70,000 times in 2021 to check out topics from board prep advice, study tips, CME information and more. Our most popular blog in 2021 was "The ABIM Blueprint for Internal Medicine Boards." Oh, and we offer all of this information for FREE!
We Continued To Innovate Medical Education Learning Tools
We believe in bringing you study tools that cut through the clutter and make learning all of that medical information you need to know just a little bit easier! We couldn't do it without all of our amazing physician educators who help us bring the best content to our customers.
Besides our brand new Medical Student Study Strong System, we launched 23 products just for internists and pediatricians—including the 10th Edition for Pediatrics. These newly launched pediatric board certification study materials are composed of all the high-yield, board-focused material you need, including the latest updates and practice guidelines. And now for 2022, all Student & Pediatrics packages (including the Medical Student Core and the 10th Edition Pediatrics Core) include our super-smart learning guide, the entirely new Personal Trainer!
The launch of the new Personal Trainer had been in the works for a while! We were so excited to launch a new personalized learning guide for physicians and students. It's designed with the science-backed MedStudy Method for the most effective way to move the knowledge you're studying into long-term memory (and reach study goals!).
We Cultivated a Community for Healthcare Providers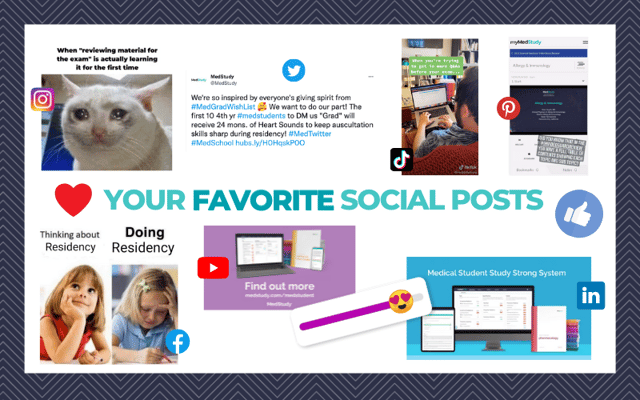 We are constantly cultivating an online community of healthcare providers. We try to bring laughs on a hard day, something relatable for comradery, or a Q&A as a little "brain break" throughout the day on our social channels.
#DidYouKnow we got a TikTok?! We're so hip, right?! It's been fun breaking into the TikTok world and creating short clips that jump on audio trends and show off our products.
On Twitter last year, we saw that #MedGradWishList was trending, so we gave away ten Heart Sounds products to 4th year graduating medical students so that they could keep their auscultation skills sharp during residency.
We held yet another social giveaway on our Instagram. Over the span of 12 days during the month of December, we offered 12 different activities for anyone to participate in, for their chance to win one of three $1,000 gift cards
Give us a follow from one of the links above if you'd like to join our budding community, get regular study tips, Q&As and more!
The MedStudy Team: By the Numbers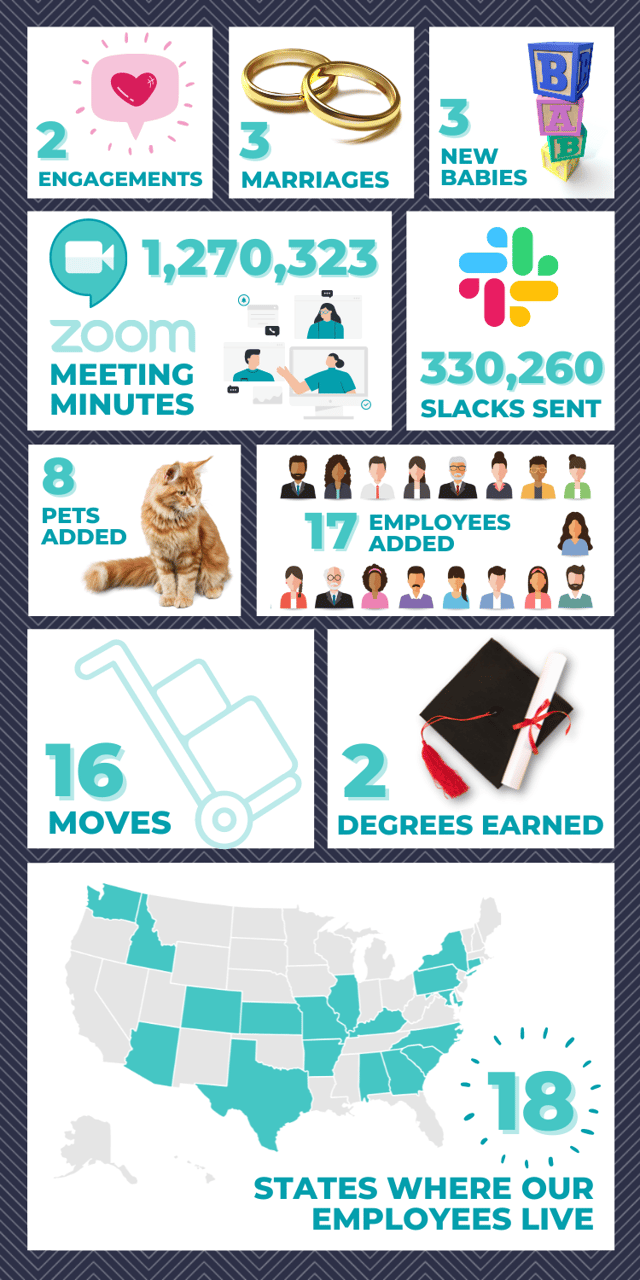 Behind it all, the MedStudy team was working hard to bring healthcare providers (and incoming providers!) the newest and best medical learning tools. With all that hard work, we added 17 new team members—sure proof that we were busy! In 2021, we spent 1,270,323 minutes on Zoom meetings and sent 330,260 Slack messages. Other grand accomplishments include:
Two earned degrees

Two engagements

Three weddings

16 moves to new houses or states

Eight new pets

Three new little babes!
We're grateful for our community and the opportunity to continue to help primary care providers and med students be competent and confident, so they can focus on making the world healthier and happier. We're looking forward to helping you achieve even more in this new year.
Don't miss out on anything in 2022! Sign up for our newsletter now, and join our community of 30,000+ physicians who get regular study tips, board prep advice, and get special offers on MedStudy tools.