Updated on 3/5/2020
You love your work and your family, but you also need to study! Let MedStudy help you prioritize—join us for a review course this year of topics for board exam prep and practice update.
We've crafted this distraction free course for IM practitioners who seek focus. You'll sit in on in-depth presentations from experts on 16 high-value topics for board prep and practice update, and be able to interact with colleagues from across the U.S. to draw from each others' clinical experience.
The course includes supplemental materials: self-assessment questions, a complete syllabus, and the raw footage from the course–and you'll be eligible for CME credits and MOC points. Here are 5 ways that you can get the most out of coming to the Internal Medicine Board Review Course.
Get Guidance on What's Important to Know at the Internal Medicine Board Review Course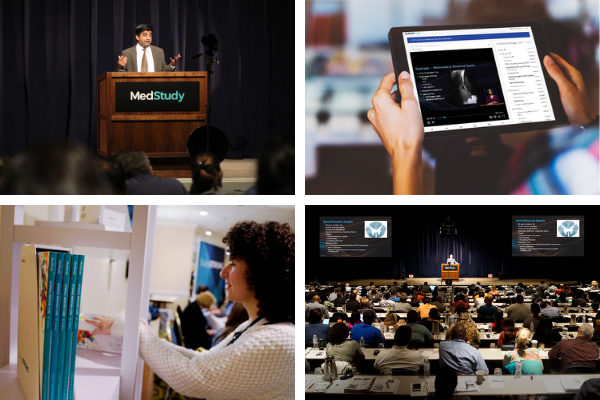 When you consider the broad scope of internal medicine, it's hard to know what to focus on. Our course speakers present only what you need to know for the boards and practice update. There's something reassuring about listening to our highly rated IM specialists on the topics you'll be tested on—hearing their insights, pearls, and tips.
"It filled gaps in my knowledge and helped me to realize which topics I skipped over the first time that were actually important for the exam, most of the lecturers were very good." –Jenny Seo, DO
Set Aside Dedicated Study Time

Dana Hoch, MD getting even more studying in after a day at the Internal Medicine Board Review Course
Doctors who attend our courses love that they're able to set aside a few CME days or vacation days to get to digest so much material. The course is chock-full of distraction-free sessions on the top 16 topics for Board/MOC prep. We know it's tough to find the time for board review, so we make sure that attending a course helps you focus on everything that will be on your exam.
"Using the MedStudy lectures provided an excellent blueprint on the topics and specifically highlighting pearls on topics. I knew then where I needed to focus on, I was able to identify my areas of opportunities. The onsite review gave me the overview of the multitudes of topics to revisit. It was really organized and learning with a class made it less stressful." –Kirth Cucueco, MD
Use the Supplemental Study Materials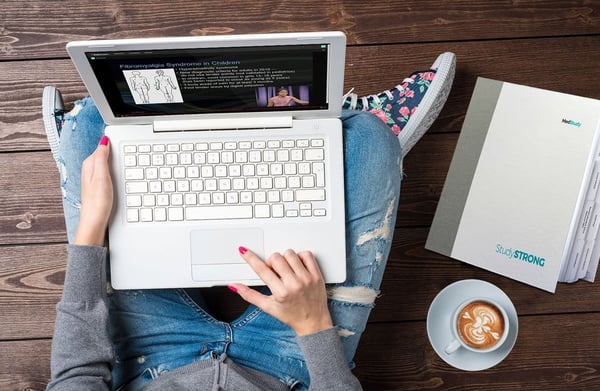 The course includes supplemental materials: A complete syllabus, self-assessment questions, and the raw footage from the course–and you'll be eligible for CME credits and MOC points.
There are live and online self-assessment Q&As with thorough explanations, so you can quiz yourself throughout the course to identify your knowledge gaps. You'll also have expert explanations of why the correct answer is right, and why the other choices are wrong.
Course study doesn't have to end with the final lecture—you'll receive access to raw video of every lecture and a comprehensive syllabus on all of the course material.
Network With Other Physicians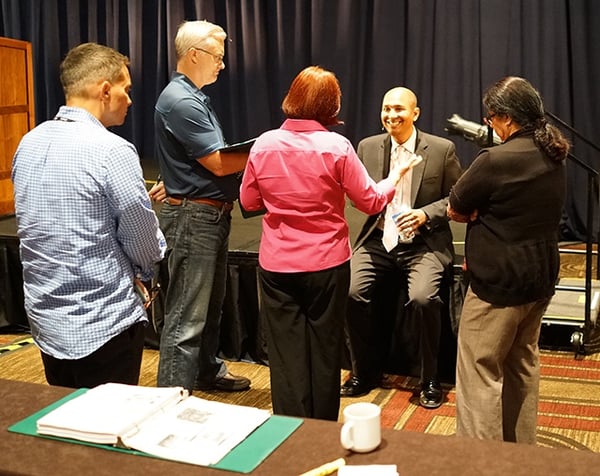 Dr. Raj Dasgupta talking with attendees after his lecture at the Internal Medicine Board Review Course
Hundreds of physicians attend our courses every year–so, while you're onsite, get a group together to take advantage of group-study opportunities outside of the presentations and glean different ways to update your practice.
Take Internal Medicine Board Review Course Online
We know traveling can be tough–and sometimes the cons can outweigh the pros. You can choose the course option that works best for you—the atmosphere of attending onsite, or the flexibility of watching our board review course online.
If you prefer to immerse yourself in the course experience, our onsite course is the option for you. An onsite course limits distractions, helps you meet and network with peers, and provides you with the opportunity to ask presenters questions in person.
Our online option is perfect for attendees who want to watch lectures at their own pace, who won't or can't travel, and who study best alone and in familiar environments.
"Online course was great. I could move at my own pace." –Denise Anderson, DO
Whichever option you choose, you'll still receive all the benefits of a MedStudy course.