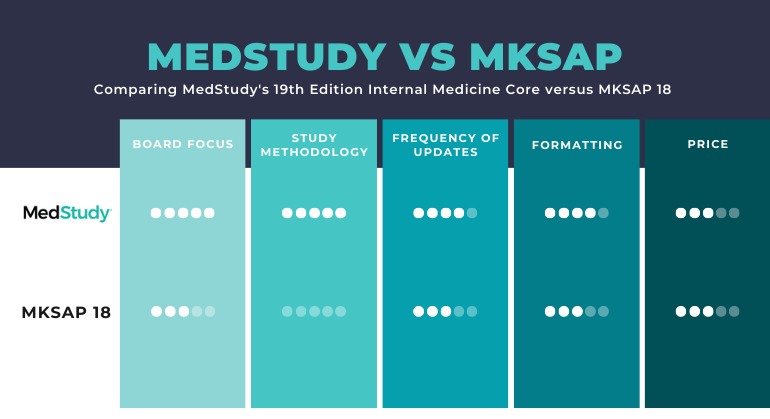 MedStudy vs MKSAP comparison chart of the major differences.
The "boards." Yikes! Just that word brings up all sorts of tumultuous emotions reflecting just how important this exam is to you. The boards are a big, big test and, given how important it is to your peace of mind (not to mention your career), you simply must pass it. And, heck, it wouldn't hurt to pass it with high scores. In preparing to study, you first want to find the very best board study material out there.
So, surely, you're going to do quite a bit of research before you choose which materials you're going to use to prepare. We get that. And we want to help you do that faster!
The two most popular ABIM certification exam study tools are MedStudy and MKSAP*. Let's compare them.
MedStudy vs MKSAP: Which is More Board-Focused?
Ah! The key question. You certainly don't want to waste your precious study time on nonessential information.
Katie Serventi, MD on the differences between MedStudy versus MKSAP
Content
MedStudy is built from the ground up to cover the material the boards are testing for—which is all the medical knowledge a competent Internal Medicine physician should know—as detailed in the ABIM exam blueprint.
Our physician contributors are dedicated specialty and subspecialty teachers who use the current edition, board blueprints, many years of MedStudy's user feedback, and their own experience (teaching, writing board questions, etc.) to hash out between them what is likely to be tested. Only that material becomes MedStudy content.
MedStudy is all about being a complete board review. We cover all 18 Medical Content Categories of the ABIM exam blueprint; the MKSAP addresses 17 of the 18 (not A&I). MedStudy is also all about you understanding what you're learning, not just memorizing lists and key points.
To that end, we include the underlying concepts important for more fully understanding a set of topics. Here's a few examples of what you'll find in MedStudy, but not in MKSAP18:

Cardiology
A quick but complete review on how to read the 12-Lead ECG with a clear explanation of all components, and 22 practice ECGs with interpretations. Explanations of pulse types, plus diagrams of murmurs and heart sounds.

Pulmonary Medicine
Complete review of respiratory volumes, flow volume loops, PFTs, and the oxyhemoglobin dissociation curve.

Nephrology
Basic renal physiology explained as a basis for understanding renal diseases, hypertension, diuretics, RTAs, and the RAAS (renin–angiotensin–aldosterone system).

Gastroenterology
Physiology of the stomach explained as a basis for understanding gastritis, ulcer syndromes, and use of current acid-reducing medications.

Infectious Disease
We have a disease-based review like MKSAP18, and also include an organism-based review and a separate section on antimicrobial agents and vaccines.
MKSAP 18 is an awesome review of current trends and changes in Internal Medicine— that is its focus. But, for the same reason, MKSAP cannot be equally focused as an ABIM board review.
The 11-book MKSAP 18 set is focused on more information than the boards cover. The editors have pulled what they consider board-eligible information into their separate add-on Board Basics product, a 342-page book. Note that the MKSAP Q&As are based on the MKSAP 18, not the Board Basics.
While it's meant to help you prepare for ABIM boards, Board Basics from MKSAP is not a stand-alone product. Because Board Basics is a highly derivative product, MKSAP editors recommend, correctly, that you read all 11 books of MKSAP 18 before you jump into Board Basics.
Length
MedStudy's 19th Edition Core has 935 intensely board-focused educational pages. These are printed in a 5-volume set.
MKSAP 18, with Board Basics, has 1,498 educational pages (excluding Q&As) that cover a mix of updates and board-focused material. MKSAP 18 consists of 11 volumes with Board Basics as an add-on product. The MKSAP 18 consists of 11 volumes with the Board Basics book being its own product.
Q&As
MedStudy has 1737 board-focused, board-style digital Q&As. And 500+ illness scripts (standard illness presentations) on flashcards (print or digital). These are add-ons to your MedStudy Core.
MKSAP 18 has 1200 (print ± add-on digital) Q&As. There are no Q&As in the Board Basics book.
MedStudy vs MKSAP: Integrated Study Methodology
MedStudy spent years optimizing a science-based approach to studying that's interwoven into all content: The MedStudy Method. It guides you through the best way to transfer the vast amount of medical material you need to learn to your brain and into readily accessible long-term medical knowledge.
Our study materials are formatted to work hand-in-glove with these powerful learning principles. Read all about it in the truly must-read, free StudyWise guide. It takes you through our current understanding of the memory process, best evidence-based study techniques, and the MedStudy Method.
MKSAP 18 does not have a study methodology associated with it.
MedStudy vs MKSAP: Does the Formatting Help or Hinder?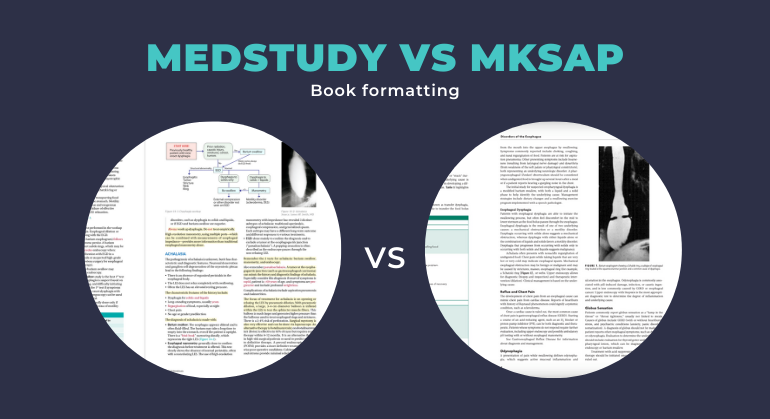 The first pages of the Gastro section show formatting differences between MedStudy (left) and MKSAP (right)
MedStudy uses formatting and visuals in the Core as additional ways to summarize content, clarify concepts, indicate extremely board-relevant content, and even work alongside the MedStudy Method to help you really learn the material.
Soft yellow highlighting designates must-know information; gray bars indicate hospital-related content; burgundy text means tonal emphasis (words that a great lecturer would emphasize); bold type denotes important lists and defined terms.
We have carefully crafted drawings, medical images (scans, x-rays, scopes, and photos), tables, and charts.
At the beginning of each major topic is a set of "Preview/Review" questions that are used in the MedStudy Method during the preview, study, and review stages of learning.
In MKSAP 18, the key points are repeated in a yellow box at the end of a topic. High-value care recommendations are at the front of each volume. Hospital-focused text is denoted with the "H" icon. Just like MedStudy, they include summary tables and images.
MedStudy vs MKSAP: Frequency of Updates
Release schedules of MedStudy and MKSAP.
It is stunning to see all the changes that occur in Internal Medicine in a year.
To keep up, MedStudy releases a new, fully rewritten edition of the Core every 2 years.
With each new edition, our section editors add or trim content based on new guidelines, experts' consensus statements, ABIM blueprint changes, and user feedback. Our goal is that every new edition is much better than the last one.
MedStudy's 19th Edition for Internal Medicine released at the end of 2020.
MKSAP puts out a new, rewritten edition every 3 years that is initially shipped in 2 parts. For example, MKSAP 18 Part A was released in July of 2018 and Part B was released that December.
The first half of MKSAP 19 should be available in July of 2021.
MedStudy vs MKSAP: Cost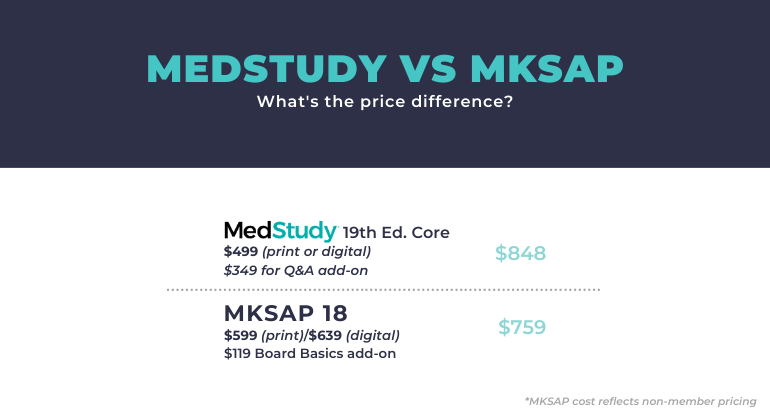 The cost of MedStudy vs MKSAP.
Purchasing From MedStudy
MedStudy costs the same, $499, no matter which format of Core you choose (but our digital text does have added functionality, like search). MedStudy Q&As are $349 for 12 months of digital access. All-in, you're spending $848 if you want Core + Q&As to prepare for your boards or update your knowledge.
Our mission is to make learning medicine easier—and that starts with making it easy to purchase your learning tools!
Purchasing From MKSAP


MKSAP 18 pricing + package options
MKSAP 18 is $599 for print and $639 for digital, if you're not a member of ACP. Don't forget that you'll need to add Board Basics to your MKSAP package, which is $119. All-in, you're spending $759 if you want MKSAP 18 digital study materials + Board Basics.
MKSAP does provide membership pricing for MKSAP products—and it's important to remember to factor your annual membership fees into the cost of your study materials. Their membership fees are $260 per year, up until 8 years post-med school, then they jump to $545 annually.
The Bottom Line: There is a nominal price difference between MedStudy and MKSAP. The decision to buy should be more about what will work best for you than the price you pay in either case. You definitely do not want to have to take the exam again!
MedStudy vs MKSAP Reviews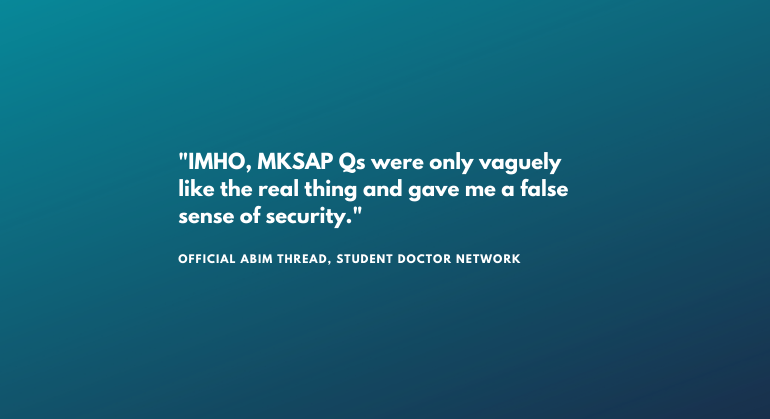 MedStudy vs MKSAP review from a Student Doctor Network thread.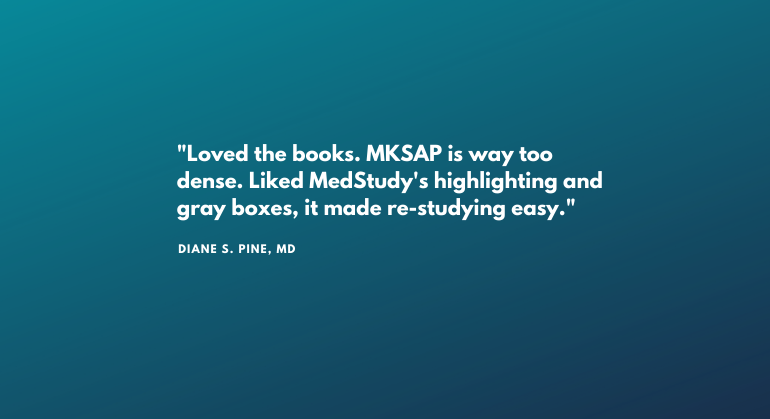 MedStudy vs MKSAP review from a MedStudy customer.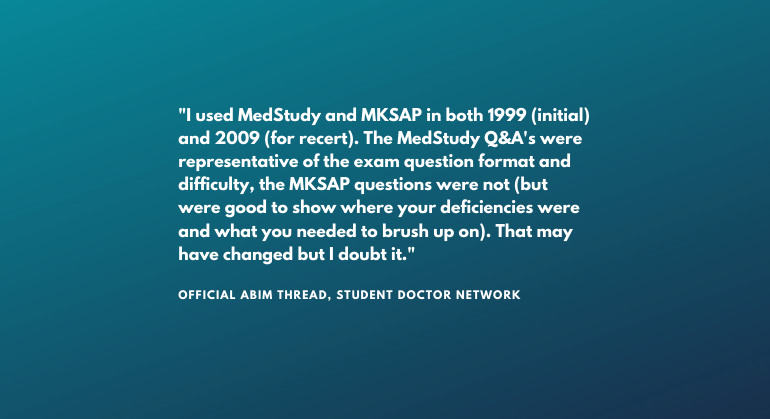 MedStudy vs MKSAP review from a Student Doctor Network thread.
There you have it! MedStudy vs MKSAP... some food for thought if you're taking the boards soon.
Did we miss anything? Tweet us.
*This comparison looks at the Core textbooks for MedStudy (MedStudy 19th Edition Internal Medicine Core) and MKSAP (MKSAP 18). The MKSAP information was gathered on 1/1/20 and is subject to change.