You might think you have all the basic heart sounds you need to know memorized, but do you really? What about uncommon sounds, and sounds that are easily confused? No matter how long you've been practicing or how many patients you've seen, it's hard to clinically replicate every heart sound you need to know.
That's why we've created Heart Sounds. You can review all the essential heart knowledge you need to know, practice your auscultation skills, and take advantage of the science-backed study strategies we've researched over the years so you can save time and build your knowledge in the most effective way possible.
Listen to 40+ Heart Sounds
We've compiled a database of over 40 audio recordings of normal heart sounds and murmurs, to give you a thorough reference for both studying and patient treatment.
The Big Four heart murmurs (AS, MR, AR, and MS) are thoroughly covered, as well as any other sounds you may come across in your practice. For each different heart sound, we even show you where to listen on the patient with anatomic landmarks and provide detailed explanations of what you should be listening for during examination.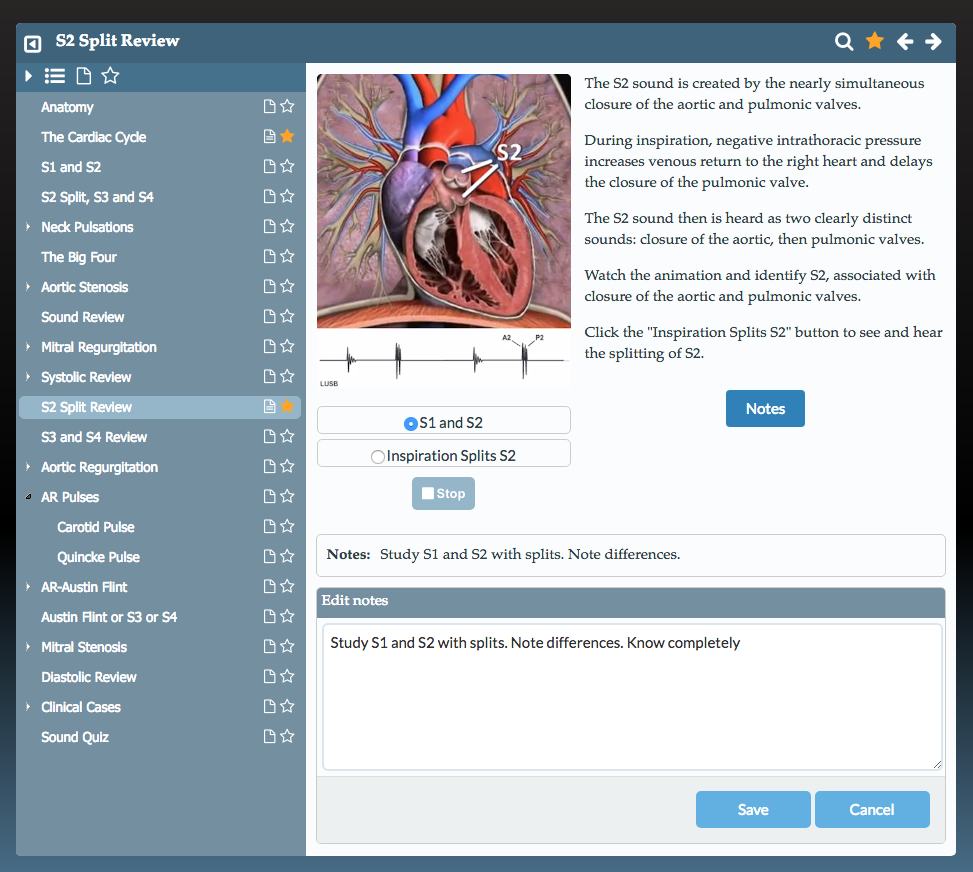 MedStudy Heart Sounds
Take Your Heart Sounds Knowledge Even Further with Animations and Phonocardiograms
We help you see the full picture by adding in animations to help you connect the heart sounds you are listening to with the associated physiologic structures and blood flow. Review the physiology of the heart and circulatory system with detailed color animations and phonocardiograms.
Visualize the heart sounds you are hearing, and piece together what is happening throughout and around the heart. This goes a long way in helping the information "stick" in your brain so you can recall what you studied the next time you're diagnosing a patient or taking an exam.
Lock in Your Knowledge with Self-Testing
As you may have noticed if you're a regular reader of our blog, self-testing is our absolute favorite way to help you build your knowledge and improve your recall so you can remember exactly what you reviewed when it really matters.
We made sure to include a self-testing component in Heart Sounds so you can practice recalling this information and building your auscultation fluency.
We've even included specific clinical scenarios that will help your brain make connections to real-life situations so you can remember what you are reviewing even better.
Start Improving Your Auscultation Skills Today
No matter what your specialty is, auscultation is an essential skill for any medical practitioner. Like any other skill, you need to work at it to stay in practice. The good news? We've created Heart Sounds for a streamlined, effective, and interactive way to keep your clinical skills sharp.