While we'll never know exactly the questions that'll be on the ABIM Certification Exam, we can look to the ABIM blueprint to discover the topics that they'll be testing on, as well as the percentage weight of each topic in the exam. MedStudy Internal Medicine tools are carefully created according to the ABIM blueprint.
That means that the content in MedStudy study tools will be reflective of what you'll see on the exam, with a balance of scenarios that are relevant to primary care and hospital care, including
Making a diagnosis
Ordering and interpreting results of tests
Recommending treatment or other patient care
Assessing risk, determining prognosis, and applying principles from epidemiological studies
Understanding the underlying pathophysiology of disease and basic science knowledge applicable to patient care
Once you've reviewed MedStudy, you'll feel confident walking into your ABIM exam.
The ABIM Blueprint for Certification
The certification exam is designed to evaluate whether you possess the knowledge, diagnostic reasoning, and clinical judgment skills expected of a certified Internist. ABIM exam content is outlined in the ABIM exam blueprint, which is developed annually. You will use the ABIM blueprint to understand the content you need to review before your exam, as it also shows what percent of exam questions will be about each topic.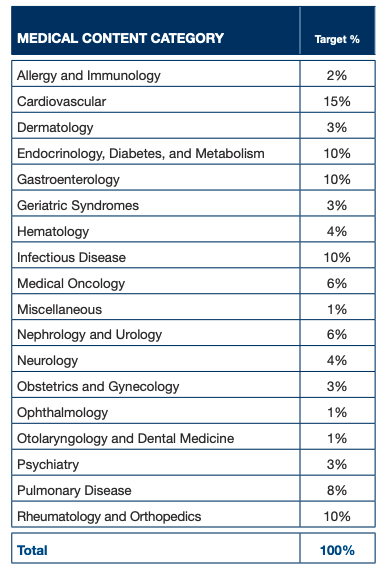 The ABIM blueprint for certification
What The Exam Content Is Like
The ABIM exam is a total of 240 questions. The ABIM exam format is modular, and there are up to 60 single best-answer multiple-choice questions per module.
Unanswered questions are scored as incorrect, so make sure you answer every question!
Most questions describe clinical scenarios and ask about the work you do during your normal course of practice. Some questions require the interpretation of illustrative materials such as electrocardiograms, radiographs, and photomicrographs (e.g., blood films, Gram stains, urine sediments).
Familiarizing yourself with the question format in advance will help you be more confident going into the exam.
ABIM Certification Exam Pass Rates
The ABIM Internal Medicine Certification exam is pass/fail based on your entire test performance. Unanswered questions are scored as incorrect, so make sure you answer every question!
ABIM certification pass rates for 2019: 91%

ABIM certification pass rates for 2018: 91%

ABIM certification pass rates for 2017: 90%
Your exam results will be released within three months of the exam date. Once they're out, you'll receive email notification from the ABIM with instructions on how to access your Score Report through your Physician Portal.
ABIM Certification Requirements
Before you register for the ABIM certification exam, you need to have a few things done first. The ABIM certification requirements are:
Graduate from an LCME-accredited medical school
Meet the graduate medical education training requirements (graduate from an ACGME-accredited residency program)
Demonstrate clinical competence (FasTrack®)
Meet licensure and procedural requirements
Pass the ABIM Certification Exam!