Updated 6/15/22
Preparing for your upcoming hospitalist MOC exam? We've got resources that cover 100% of your exam content—the blueprint that the ABIM/ABFM puts out for the Focused Practiced in Hospital Medicine (FPHM) exam. You choose which hospital medicine CME resources work best for you, whether you want to read through textbooks, stream videos online, or flip through digital books.
Which hospital medicine CME resources do you need?
Of course, you'll need Hospital Medicine CME study tools that cover inpatient and transitional care (aka diseases)—approximately 64% of the exam blueprint. Any of our Internal Medicine resources help you cover off on this content. You're also going to need to study a few more subject areas than the ones covered on the Internal Medicine exam.
There are 3 additional hospital medicine topics that make up 36% of the exam: Palliative care, medical ethics, and decision‐making; Consultative co‐management; Quality, safety, and clinical reasoning. This is where our Hospital Medicine Basics comes in!
Stream videos on demand to earn your Hospital Medicine CME
We create hospitalist-specific videos to help you prepare for the topics that don't show up on the Internal Medicine MOC exam. This way, you can earn Hospital Medicine CME while you prep for FPHM exam questions with board-relevant video lectures.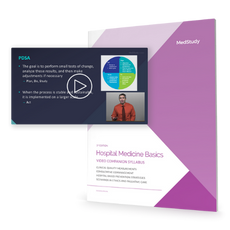 MedStudy Hospital Medicine Basics
Hospital Medicine Basics is a set of 5 videos you can stream straight from your myMedStudy account. We recruit 2 expert speakers who spend 3 hours reviewing hospitalist topics from the exam blueprint. You'll also get a 40-page syllabus that reviews all the information in the lecture—including board-style questions from each session, plus the tables, charts, and illustrations created by the lecturers. You have the ability to earn 3 Hospital Medicine CME credits and MOC points.
When you're watching the videos, you'll be able to zero in on the content a Hospitalist needs to know. You can track your progress through the videos to see how much you've viewed in each topic in the dashboard. Plus, you can easily choose which topics to review and navigate through the video you're watching.
Watch videos that cover t
he entire exam blueprint and earn
Hospital Medicine CME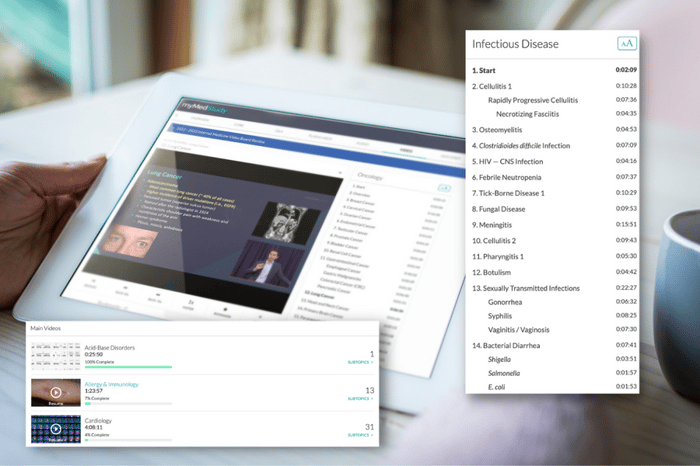 MedStudy's Video Board Review
Our Hospital Medicine Basics videos cover 36% of the hospitalist exam. Find the remaining 64% of your FPHM blueprint in the Video Board Review, which includes the inpatient and transitional care topics. Plus, you can earn all of the Hospital Medicine CME credits you need for the year!
Read through our core to earn Hospital Medicine CME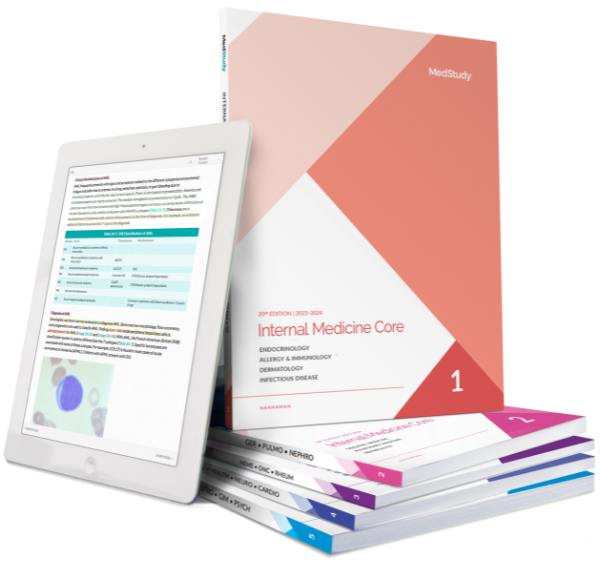 MedStudy Internal Medicine Core
The Internal Medicine Core helps you prepare for your Hospital Medicine MOC exam by covering all the diseases you'll need to know for the inpatient and transitional care portion of the exam. It comes in print or digital formats.
The most important thing to remember when preparing for your hospitalist exam is to follow the blueprint content topics—they guide you to exactly what you need to study.
Whether you need 300 or 30 credits, we make it easy to earn and claim all the CME credits and MOC points you need with Hospital Medicine Basics (or any of our learning tools)—start shopping now to earn!