Updated 2/7/20
Like the universe, medical knowledge is expanding at a lightning-fast pace. As a physician, you're expected to stay up-to-date on the latest and greatest medical research, but how do you plan to do it? And how do you know which updates are the most important? Here are 4 tips to help you keep up:
Stay Curious
Keeping yourself interested and invested in your work is essential to both keeping up your knowledge and finding joy in your work. Associate Director of the internal medicine residency program at Cambridge Health Alliance, Rachel Stark, MD, says remaining curious and asking the right questions is the key to staying on top of the latest developments in medicine. "Part of the process of being an internist is being able to identify and articulate a well-reasoned clinical question. Once you do that, you'll have a much better ability to find an answer."
Think about how these new developments could benefit your practice and your patients! New discoveries happen all the time and being in-the-know could make a big difference in your career.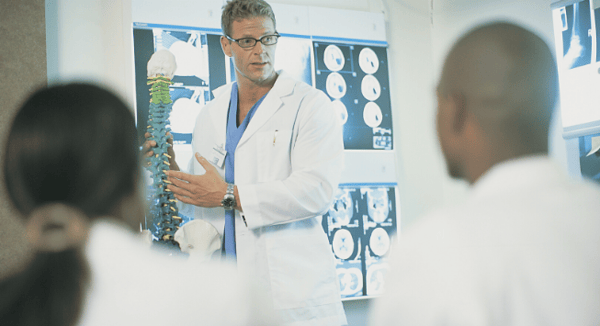 Try teaching to keep up with medical knowledge.
Try Teaching
As MedStudy contributors Cathy Hatchell, MD and Lynn Bullock, MD know, when you work with an educational organization like MedStudy, keeping your medical knowledge up to date is part of your job description. Taking on a new responsibility like teaching is the perfect way to keep yourself focused on keeping up-to-date on new medical information if you struggle with motivation or finding time to research.
Hatchell recommends taking advantage of any educational opportunities your employer provides, such as grand rounds and specialty lectures. She also subscribes to curating journals such as ACP Journal Club and JAMA (Journal of the American Medical Association). Pediatrician Bullock cites Medscape as an excellent resource. Making time to periodically check in on these journals is an excellent and reliable way to keep yourself up-to-date.
Tap Into Colleague Expertise
If you don't belong to a teaching organization, take advantage of colleague relationships to keep you inspired. Solicit the opinions of other physicians you respect, ask questions, and bounce ideas off one another. The medical community must adopt a collaborative attitude if stakeholders are to keep pace in the age of big data.
Take a co-worker to coffee during your next break and try talking about difficulties you've found in your cases and see if they have a different perspective or new ideas that might benefit you. Think outside the box and try talking with other medical professionals like nurses, researchers, caretakers and pharmacists. They approach patient care from a different perspective that could be a huge benefit to you.
Use the MedStudy Hub
Did you know that MedStudy compiles and maintains a listing of all the latest journal articles and updates? The MedStudy Hub is a complimentary resource for physicians thirsty for the latest in medical knowledge. You can filter through every single guideline and article reference that we use to build our products—these articles are continuously updated, filterable and linked to the published source.