Thinking back to the early days of their careers, many physicians recall memories of late night rotations, hospital beds, and chemical smells. In fact, hospitals are the setting in which most physicians first learn the ropes of patient care. And if you join the growing group of hospitalists, the hospital will remain the backdrop of your professional life. But, even if you decide to move into private practice, do you really leave the hospital behind?
While we all work to avoid it, many patients are likely to experience a hospital stay at some point in their lives. It's good to be aware of all the issues your patients may experience as part of their hospital stay—and to anticipate issues that may affect their aftercare. Lucky for you, Hospital Medicine Basics was developed to help you do just that.
Newly enhanced videos for the Hospital Medicine MOC Exam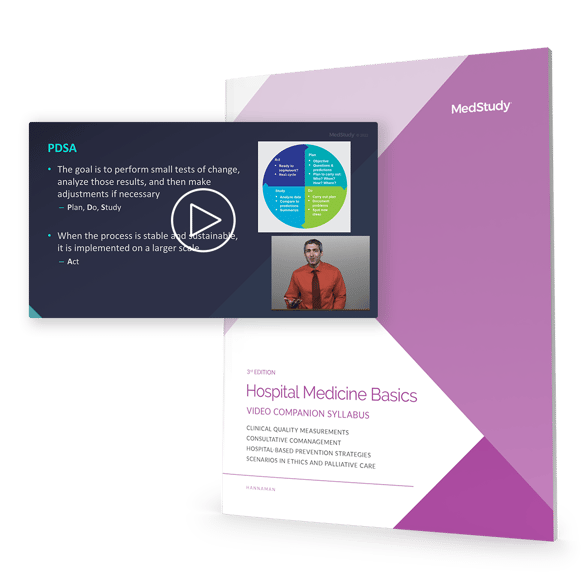 MedStudy's Hospital Medicine Basics is a series of 5 review videos that comes with a comprehensive, 40+ page printed color syllabus. Both practicing hospitalists and physicians in private practice use this hospital medicine review to stay current with information specific to the field.
While Hospital Medicine Basics was developed as a response to the growing number of physicians taking the ABIM Focused Practice in Hospital Medicine MOC exam, it contains detailed discussions of hospital-care topics—such as pregnancy issues, ethics, palliative care, prevention strategies, and clinical quality measurements—that span every patient-care setting and multiple specialty areas.
"Hospital Medicine Basics was a good review of hospitalist consult topics." –Megan Clark, DO
Video lectures focus on the Hospital Medicine MOC exam
blueprint
The on-demand lectures follow exam blueprint topics such as:
Palliative care, medical ethics, and decision-making
Consultative co-management for internal medicine or family practice
Quality, safety, and clinical reasoning
Hospital Medicine Basics Review Videos reinforce best practices, too
The Hospital Medicine Basics videos cover 36% of the ABIM/ABFM exam blueprints. But you know what else? They reinforce best practices and help guide treatment decisions.
For example, did you know that 46% of glove and gown removals showed contamination of skin or clothing with fluorescent lotion? This should give you pause when relying on gloves alone to prevent disease transmission. Hospital Medicine Basics will instruct you on taking thorough precautions against every kind of transmission: contact, droplet, and airborne.
"Helped me to especially recognize what the board was testing for and recognize those gaps in my knowledge - excellent product. Keep up the good work!" –Parik Pilly, MD
Hospital Medicine Basics empowers you to deal with clinical quality measurements
Every physician has to deal with clinical quality measurements. Are you familiar with the following healthcare quality improvement methodologies?
Plan, Do, Study, Act

Failure Modes and Effects Analysis
Lean
Six Sigma
Watch Hospital Medicine Basics and you will be!
"I have applied knowledge gained through this product to my daily interactions with patients. And, I liked the thoroughness of this product." –Melody Rachal, MD
The Hospital Medicine Basics videos cover 36% of the ABIM/ABFM exam blueprints. Review the rest of the blueprint material by watching our on-demand Internal Medicine Video Board Review.