Exams are quickly approaching. We know that by now, you're all studied up and feeling confident for your ABP General Pediatrics Certifying Exam! If it's your first time taking the exam or if it has been 10 years since you have certified, you may be feeling some anxiety about what to expect the day of the exam. Don't fret! Here is your comprehensive guide on what to expect on the day of your exam.
What you should take with you to the ABP exam
On the day of the exam, you will need to show one form of identification: a photo ID with your signature is required.
Make sure that your ID isn't expired, also, if your photo ID doesn't have your signature, you will have to present a second form of identification that has a signature. Your form of ID can be a driver's license, government-issued ID card, passport, U.S. military ID, or hospital ID card.
Pro Tip: We recommend getting your ID ready to go BEFORE the morning of the exam! Prep anything else you want to take with you ahead of time and have them ready to go and by the door so you can head out quickly and worry-free.
What to bring with you into the testing room
You will get a locker to store anything that you may have brought that isn't allowed in the testing room. Here's what you do get to have in the testing room:
Your ID
Locker key
Personal soft earplugs
The testing center will provide:
Note boards and markers
Tissues (upon request)
Headphones (upon request)
If you need to take in additional personal items, they must be on the pre-approved list or you must obtain approval prior to scheduling your exam.
Additional personal items, medicines, and medical devices that are not listed as permissible items require a completed ABP personal item request form and ABP approval prior to scheduling your exam appointment.
Pro Tip: Put mnemonics, tricks, notes — anything you want — on your note board, as soon as you walk into the room!
What not to bring to your ABP exam
Make sure that on the day of the exam you dress for comfort! You will not be allowed to wear a jacket or a coat, so we recommend that you wear layers or a comfy sweater. Here's a list of other things that you won't be allowed to have in the testing room:
Cell phones, calculators, PDAs, pagers, beepers
Recording devices, photographic equipment
Watches
Hats
Calipers, nomograms, study materials
Pens, highlighters, or other writing instruments
Suitcases, briefcases, backpacks, bags
Wallets/Purses — lockers are provided
Tobacco products
Food or drinks (including coffee/sodas)
Tissues (except those provided by the center)
What the ABP exam schedule is like
The exam could seem daunting if you don't know what to expect day-of! So be prepared for 9 hours, 330-350 multiple-choice questions, and: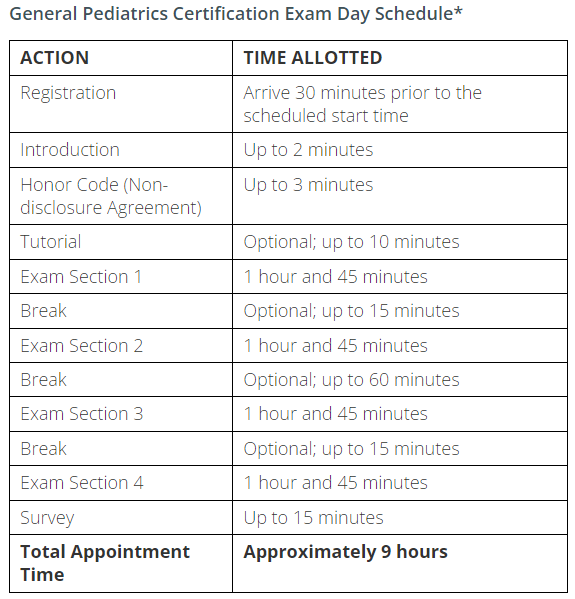 For the ABP General Pediatrics MOC Exam, be ready for 200 multiple-choice questions.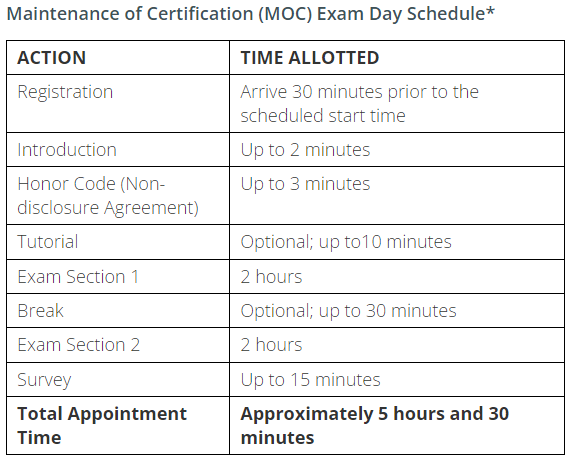 Note: *Americans with Disabilities Act Amendments Act (ADAAA) accommodations may alter the examination day schedules
Pro Tip: Use the "exam mode" feature on our Pediatrics Qbank+ to get a good feel for what your exam day will be like.
When you need an accommodation
To request ADAAA accommodations, you must complete and submit a request form to obtain approval prior to scheduling your exam. If you are breastfeeding, you can request 30 minutes of additional break time, just make sure to complete the ABP breastfeeding form and obtain prior approval.
What you should know about the testing computer
You can take a 10-minute tutorial on the exam day to get familiar with the exam functionality, or try the tutorial now to be extra ready!
The time you have remaining on your exam will be in the upper right-hand corner of the computer. When there are 5 minutes left, a notification will appear on your screen.
The time of day won't be on your computer, but it will be on a clock on the wall in the room. If you request to leave the room during your exam, the exam time will continue to count down and your computer will be set to an "unscheduled break" mode.
There will be an electronic fingerprint or palm scan each and every time you enter and exit the room.
After the testing time is over, your computer screen will turn grey.
Now that you know more about what to expect on exam day, we hope you can relax and focus on practicing recall with Qbank+ and Flashcards.
Need more info about what to expect on the day of your exam? Check out this resource from the ABP on what to expect.