There's a better way to learn what you need to know in medical school and it's finally here! We've taken our 30 years of expertise in helping Internists and Pediatricians ace their boards and crafted the revolutionary Medical Student Study Strong System. This comprehensive learning system combines focused content with evidence-based learning techniques to ensure you truly LEARN the foundations of medicine as you work toward your goal of becoming an awesomely competent doctor.
What's Included in the Medical Student Study Strong System?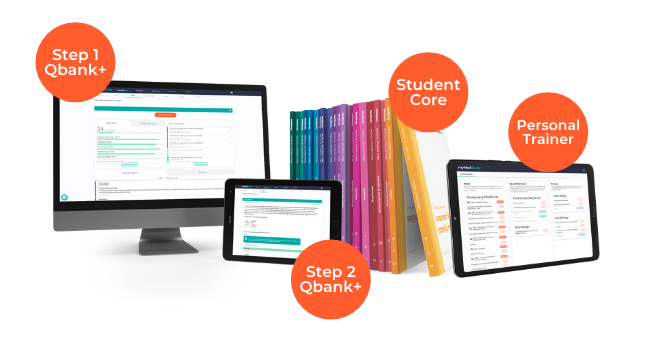 The Study Strong System includes the Medical Student Core, Step 1 Qbank+, Step 2 Qbank+, and Personal Trainer.
The Med Student Study Strong System includes Medical Student Core in print & digital formats, Step 1 Qbank+, Step 2 Qbank+, and Personal Trainer. This complete system guides you through the subjects you'll encounter in your classes and exams, and is built to support how you progress through medical school.
Plus, we've written all of the content in our signature clear, conversational style. We've collaborated with devoted physician educators from across the US to create a set of learning materials that cut through the clutter and focus on only what you need to learn to excel in med school, ace your Step exams, and prepare for residency.
Don't Want it All?
Buy Only What you Need
Maybe you're in your third year of medical school and don't need the entire package. Or, maybe you want to check out just 90-days of the Qbank+ before you decide to get the full 4 years. Now, you can choose to purchase only the Qbank+ or Student Core. You can also choose between a 1-year, 2-year, or 4-year package. When you purchase the Core or a Study Strong System, the Personal Trainer is included!
Study Now, Pay Later - Study with any Medical Student learning tool and pay over time with installments — just choose Shop Pay at checkout.
One Set of Books for All of Medical School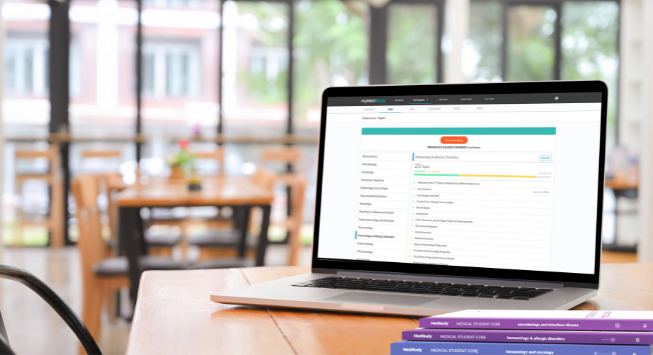 The Medical Student Core is available in both Print and Digital formats.
The foundation of the Study Strong System is the Medical Student Core. This set of medical school books comprehensively presents and clearly explains what you need to learn in med school to become competent physicians. It includes 20 books in both print and digital formats.
The books are broken down into the following content areas:
Book 1: Biochemistry

Book 2: Biostatistics & Epidemiology

Book 3: Cardiology

Book 4: Dermatology

Book 5: Endocrinology

Book 6: Gastroenterology and Nutrition

Book 7: General Medicine

Book 8: Genetics

Book 9: Hematology and Oncology

Book 10: Immunology & Allergic Disorders

Book 11: Microbiology and Infectious Disease

Book 12: Musculoskeletal System (free trial available!)

Book 13: Nephrology and Urology

Book 14: Neurology

Book 15: Pediatrics

Book 16: Pharmacology

Book 17: Psychiatry & Behavioral Health

Book 18: Pulmonary Medicine

Book 19: Surgery

Book 20: Women's and Men's Health
Use the digital version for a super-efficient study session with instant search results and interlinked Qbank+ questions, or grab one of your printed books to study on the go! Both print and digital versions have the same clear and concise content with:
Detailed Medical Imagery and Figures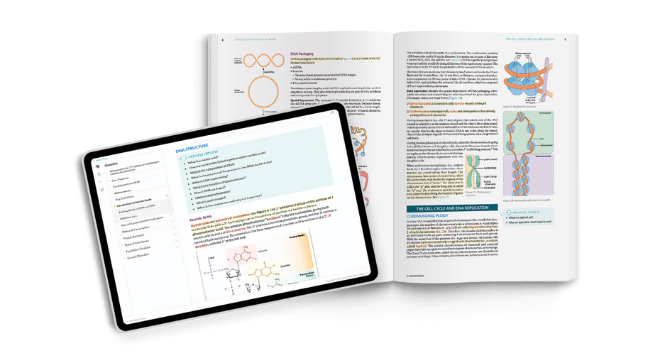 The Medical Student Core is full of beautiful, full-color images.
There are over 1,320 detailed medical images and illustrations throughout the Core. Clarify your understanding of the text with scans, x-rays, photos, and 860+ exquisitely drawn figures.
Career Focus for Each Specialty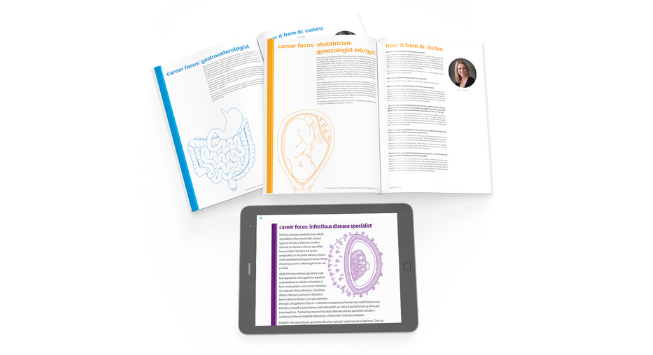 Each specialty begins with a career focus from a new physician.
Have you ever wondered what it would be like to be an infectious disease specialist, gastroenterologist, or cardiologist? We kick off each specialty in the Core with an overview of the field, and an interview with a practicing physician so you can get a better idea of what it's really like.
Awesome Features Throughout the Core to Enhance Learning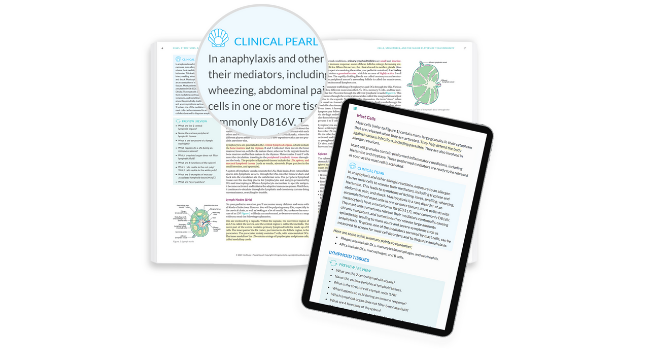 Engage your brain beyond reading alone with these features.
Improve your understanding of all the content covered in the Medical Student Core with features we've added in to help you absorb even more like:
Preview | Review Questions to self-test before and after you read any section
Clinical Pearls cover important, high-yield points that will come in handy in practice
Burgundy Text to highlight words a speaker would emphasize
Bold Text for all important definitions
And much more!
3,000 Step 1 and Step 2 Qbank+ Questions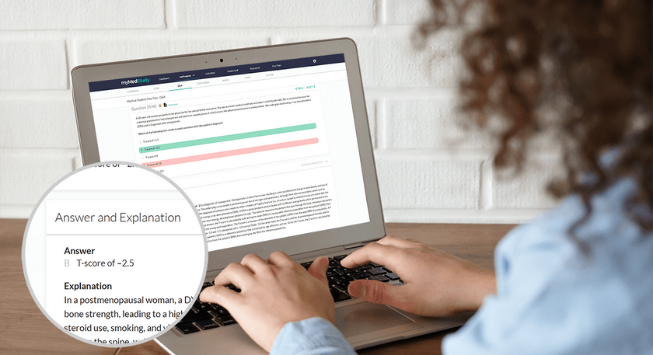 Qbank+ is available for both Step 1 and Step 2.
The Study Strong System includes an unparalleled question bank with 3,000 challenging questions and detailed explanations completely integrated with Core content. Step 1 Qbank+ includes 1,500 questions that enhance your learning of basic science concepts. Step 2 Qbank+, coming this December, includes 1,500 questions that cover clinical concepts. Each Qbank+ was developed by expert physicians to address the most testable concepts in the USMLE® Exam Content Outline and are tailored to give you the most effective self-testing experience with:
Custom Q&A Sessions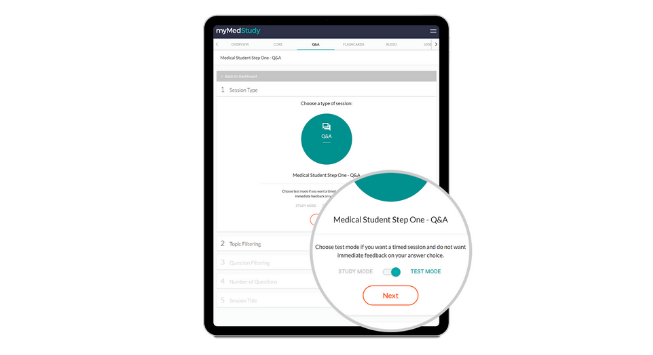 Choose from study or test mode when you set up each session.
Get started by setting up a personalized Q&A session in either study mode or test mode. Choose study mode if you prefer to see the correct answer—with the explanation of why the correct answer is correct and why the other options were incorrect—right after you select your answer. If you want to get a feel for how your exam will go, choose test mode for a timed test that doesn't show you the correct answers until the end. You also have the ability to filter your session by topic, bookmarks, previously skipped or missed questions, questions not viewed, and more.
Hints to Guide Your Learning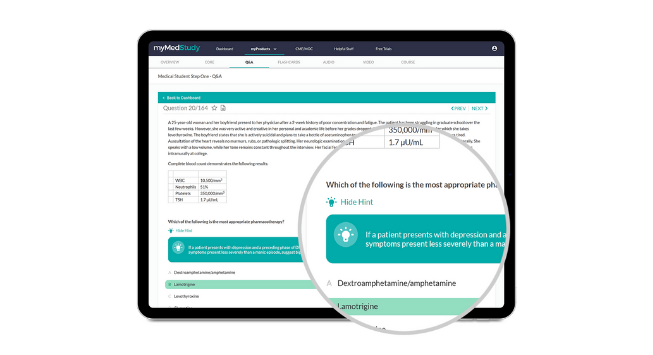 If you need a little help, hints are included with each question.
Every question also includes a hint that you can use (or not) to help you narrow down to the correct answer.
Peer Response and Confidence Levels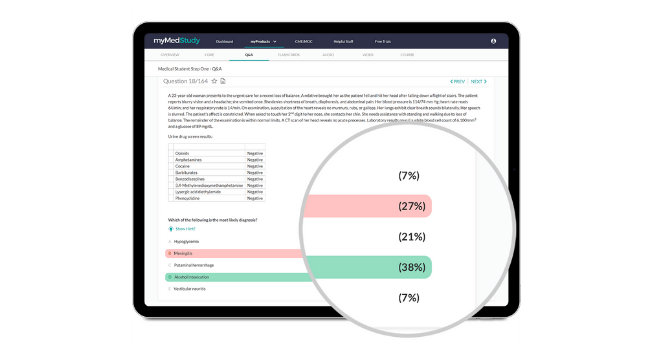 Get an idea of how you compare to other students.
After you choose your answer we'll ask you to gauge your confidence level. You'll immediately see what percentage of other students chose each answer option when they first attempted the question, along with the correct answer (highlighted in green). Once you finish the session you can sort your report by confidence level to help quickly identify any knowledge gaps.
Every Qbank+ Answer is Linked to the Core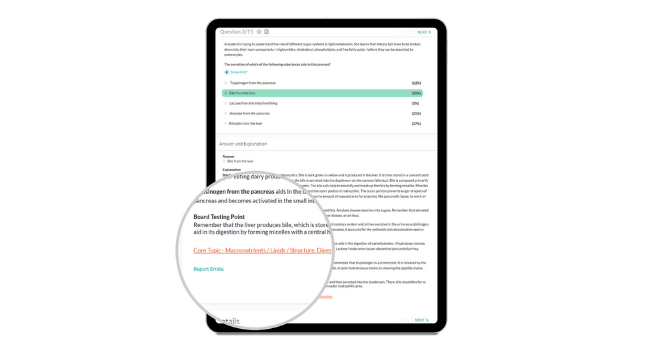 Jump to the Core to dig deeper in a single click.
At the end of each detailed explanation, you can easily navigate to the corresponding topic in the digital Core to review the concept even further. Since the digital Core covers the concepts you'll learn throughout medical school, including complete explanations of all systems, we've made it easily accessible from your Step 1 and Step 2 Qbank+.
Stand Out With Heart Sounds and Skin Signs
Here's a sure way to sharpen your auscultation skills and stand out in your cardiology rotation: Heart Sounds includes over 40 audio recordings and detailed animations and cardiograms of the heart.

Then, pair the Dermatology content in our Core and Qbank+ with over 300 images and 41 topics covered in Skin Signs. Study from the detailed explanations that accompany each image before quizzing yourself in test mode.


Personal Trainer: Your Super-Smart Learning Guide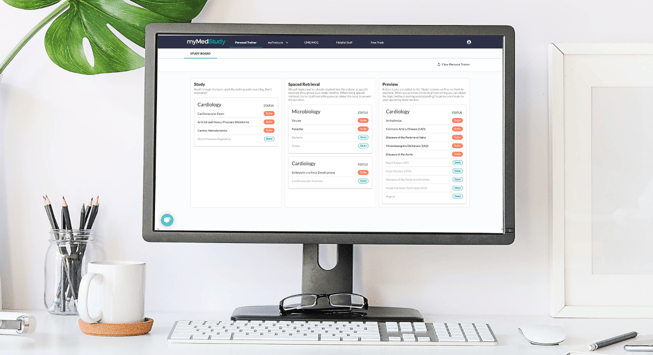 A view of a Personal Trainer study board.
Just when you thought this system couldn't get any better, we present to you, Personal Trainer: your personalized learning guide. Tell it your goals and your Personal Trainer will use evidence-based learning techniques to create your personalized study plan, with weekly Core and Qbank+ tasks based on the content you need to learn and how long you have to learn it.
It's designed with the science-backed MedStudy Method for the most effective way to move the knowledge you are studying into your long-term memory (and reach your study goals!). To read all about the MedStudy Method and how it will help you study stronger than ever before, download StudyWise.
The Complete System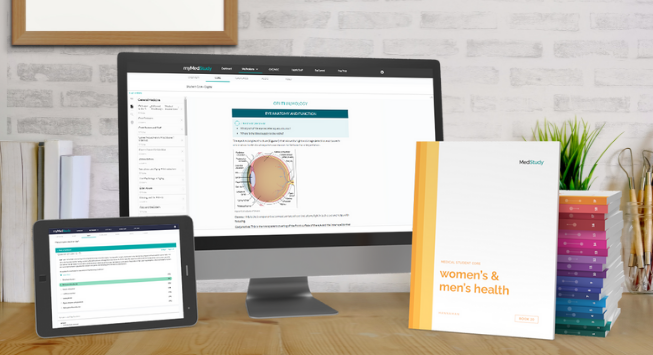 The Medical Student Study Strong System is designed to work together.
This package has got you covered for all 4 years of med school, with everything the system has to offer:
Medical Student Core (printed set of 20 books)

4 years of digital access to Medical Student Core

4 years of digital access to Step 1 Qbank+

4 years of digital access to Step 2 Qbank+

4 years of digital access to Heart Sounds and Skin Signs
4 years of digital access to Personal Trainer
We offer free, 30-day trials of each product (no credit card required!) so you can get a feel for the entire system. Plus, our Heart Sounds and Skin Signs are available as 24-hour free trials.
We are excited to be a part of your journey through med school, and once you've graduated we've got everything you need to get board-certified and maintain your certification for the rest of your career.
Follow us on Instagram for daily study tips, practice questions, and more!
*The United States Medical Licensing Examination (USMLE®) is a joint program of the Federation of State Medical Boards (FSMB®) and the National Board of Medical Examiners (NBME®). None of the trademark holders are affiliated with MedStudy.