MedStudy offers free trials for all 12 of our digital products so that you can try any of our digital products for free before you decide to buy. We're confident that you'll love it.
We give you 30 days to completely explore your free trial—and you get unlimited access to all of our product's digital features during your trial. One of the most-tried is the Internal Medicine Core Free Trial, where you can see the entire Pulmonary Medicine section from our Internal Medicine Core free for 30 days.
Read Through the Entire Pulmonary Medicine Section from the IM Core (for Free!)
When you start your free trial of the Internal Medicine Core Free Trial, you'll see the entire Pulmonary Medicine section from our Internal Medicine Core. You can take the entire 30 days to read through this section, play around with the features of the digital Core, and even go through Preview | Review Q&As that are included.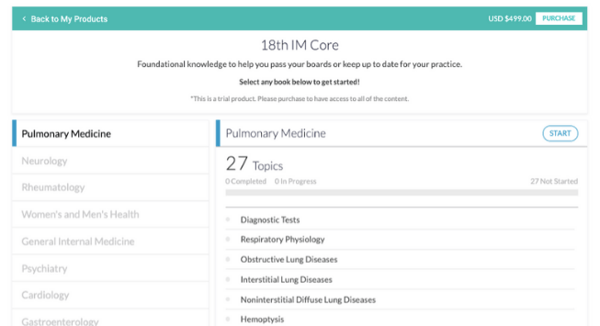 When you sign up for the IM Core Free Trial, you'll get to read through each of the subtopics for Pulmonary Medicine in their entirety.
Core Features Bring the Reading to Life
When you read through the Core, pay special attention to the formatting! We take special care to use emphasis to streamline your study routine. You'll see all of these features as you read through the Pulmonary Medicine section.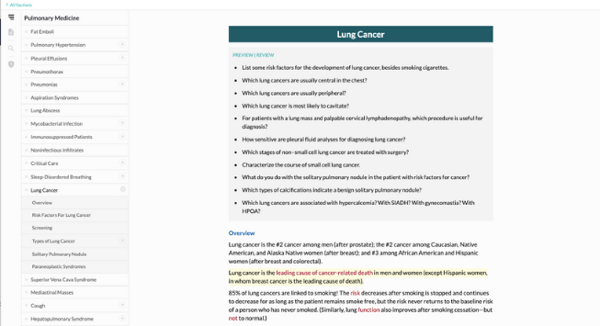 Formatting—including highlighted text, bold words, and burgundy text—brings the words to life as you read through the Core
Preview | Review Questions. Use P|R Questions to preview, study, and review the highest-yield material. See highlighted text for the answers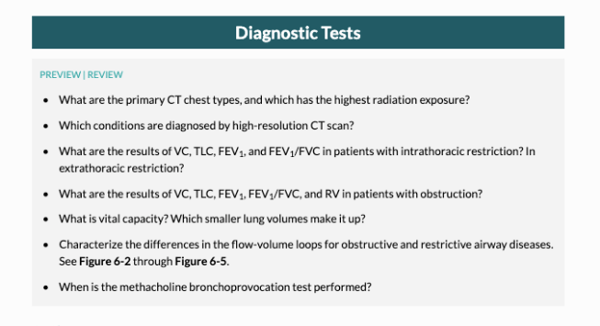 Preview | Review questions from the Pulmonary Medicine section of the digital IM Core.
Highlighted text. Must-know content—including answers to Preview | Review questions—is highlighted in yellow
Hospitalist sidebar. Text of particular interest to hospitalists is flagged with a gray vertical line
Burgundy text. Just as a great teacher emphasizes certain words to get your attention, we use burgundy text to do the same
Bold text. Denotes important lists and defined terms
Medical images & figures. Visualize concepts with medical images—including diagnostic scans and x-rays, photos, ECGs, and exquisitely drawn figures
Tables & charts. Synthesizes the most relevant and related information
Features Specific to the Digital Core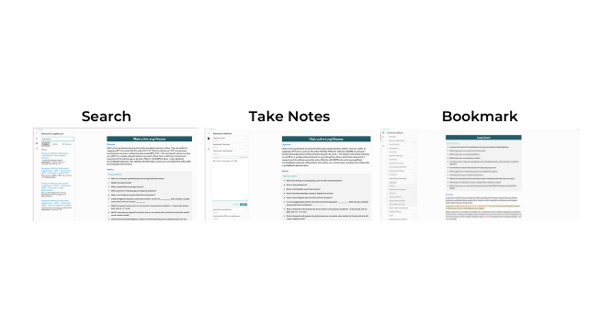 MedStudy digital Core features
You'll also be able to use the digital-only features of the Internal Medicine Core during your free trial:
Search. Search keywords across the topic you're in, the section, or across the entire Core
Take notes. Take notes while you read, and we'll keep everything organized for you (by categorizing your notes according to the headings where you added them). Never search for that missing piece of paper again!
Bookmark. Bookmark your spot to pick back up with your reading in your next session.
FAQ About the Internal Medicine Core Free Trial
"Can I get a free trial of a different section?" Nope–the Pulmonary Medicine section is the only one that you can get as a free trial.
"Which internet browser should I use?" We recommend that you use Chrome to access your MedStudy products, including free trials. You can also use Firefox, Edge, Safari, etc. but note that Internet Explorer is no longer being supported by Microsoft, your products may not work with that browser.
"Where can I find more free trials?" Free trials can be found within your MedStudy account—at the top left of the screen, there's a "Free Trials" callout that you can click on to see our other 11 free trials.
Get even more FREE Pulmonary Medicine Resources in our collection of Pulmonary Medicine excerpts from the Core.