Updated 2/2/22
Dr. Shannon was facing her boards with the anxiety of being a "terrible test taker," knowing she had limited time to study, and the tough job of narrowing in on a comprehensive resource that could teach her everything she needed to know before the exam.
Like many other Pediatricians towards the end of their residency, Dr. Shannon was overwhelmed by the sheer amount of board prep resources out there. Her colleagues were passing around study materials, but she really didn't know which ones were the most board-focused. To make the most of her time, she decided to choose 3 study tools—that's when she turned to MedStudy.
At this point, it was spring and with exams October, her problem became time. How could she get all the knowledge she needed down in time? How was she going to balance studying with working and family?
She Got a Comprehensive Review at Our Online Course
Since Dr. Shannon decided to only use 3 learning tools to prep for her board exam, she knew one of them needed to be very comprehensive. She chose to attend our online Pediatrics Board Review Course about 1-month before her exam.
Right before the course began, she did the 100 practice questions that come along with the course. She also took the time to look through the course syllabus, loving that it was organized by topic.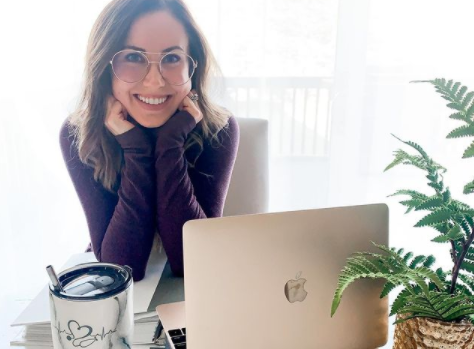 Dr. Shannon on the last day of the Pediatrics Review Course
"You have Preventative Medicine, Infectious Disease, and so on. I thought that was really helpful. If you don't do something organized like this, it's super easy to to get overwhelmed and there is so much content amongst each of the topics that you have to cover. So, MedStudy already having that laid out is really helpful." –Dr. Shannon
She Chose the Review Course Because of Its Flexibility
Like many busy physicians, Dr. Shannon had to work during the Review Course! She marked her syllabus where she left off in the last lecture before her workday, and then came back to the Course after work. She picked up right where she left off,
She went into the clinic and did her patient care, and when she came home, she started the Course from wherever it was at in the day. That way, she knew exactly where she would need to go back and review once the course was over. "On the morning I was on call, I went in super early to see newborns and missed a couple of the lectures. So, I would go back in on the weekend after the course was done and caught up on all of those videos," she said.
The print syllabus is completely unique to MedStudy Board Review Courses. We take great care when we make this syllabus so that course attendees can focus on what's being said, not on taking notes. So, whenever Dr. Shannon logged in for the day, she was easily able to find where the Course was at and put a sticky note that said "Start" on that page. Then, she knew that was where she started and everything else she needed to go back and revisit.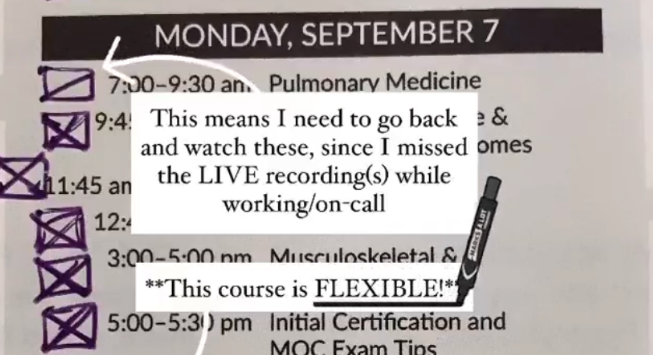 Image from Dr. Shannon's takeover of MedStudy's Instagram account. (Go see her takeover highlights here!)
She Used Audience Response Questions to Stay Engaged During Lectures
Not only does the syllabus have all of the slides and pictures that are being presented during the Review Course, it also has Audience Response Questions (AR Questions). During the course, the presenters show these AR Questions and course attendees can log in and answer them in real-time.
Dr. Shannon liked that it made the course interactive, "I loved the AR questions, primarily because I think we're all a little competitive. And it's nice to understand where you're tracking."
At the end of each section, there's a recap of all of the AR Questions with the correct answers. We give every answer to the questions in one place so course attendees don't have to search too hard for the answers.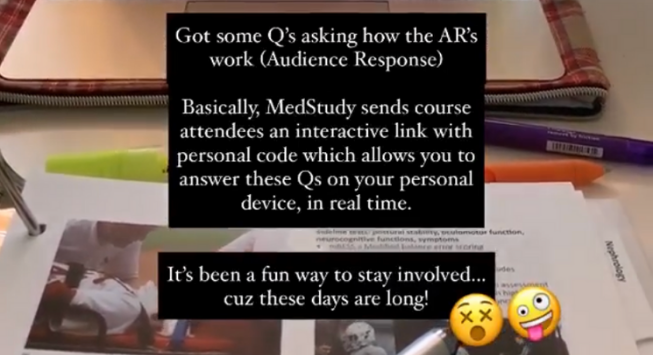 Dr. Shannon stayed engaged with AR questions during the course
She Built Onto Her Learning With Q&As and Flashcards
6 months before her exam, Dr. Shannon started working through her MedStudy Board-Style Q&A Premium and Peds Flashcards one topic at a time. For example, if she was studying Oncology on certain days, she would only go through those Q&As and Flashcards.
She was intentional about how she selected her answers when studying. "For me, it's a matter of answering the questions, and I'm a terrible test taker. I've been honest about that all through my academic training. I'm not one of those people who can just 'pick C, because I don't know, it looked right.'" She had to really lock in the information she was studying so that when she was in the test for real, she could negate the bad answers and come to the correct answer. "MedStudy does a really good job of being like 'KNOW THIS,' where I feel like some other programs like these show good things to know, but the high-yield points aren't emphasized. MedStudy does a really good job of this."
After all of this... Dr. Shannon passed her exam! Huge thank you to @doctor_shannon for chatting with us about her study routine leading up to her boards!
Taking your boards this year and need a plan to sort through the clutter and have dedicated time to really get some studying in? See how MedStudy can help you set up a study plan and execute it with board review materials.