With MedStudy learning tools, you can claim CME credits and MOC points while you are preparing for your MOC exam. Talk about killing 3 birds with one stone! We make it easy to see how many credits and points you have available to claim based on your purchase, and we also have an easy CME submission portal available in your myMedStudy account.
6 Steps to Claim Your CME Credits
First, navigate to my.medstudy.com and log in with the username and password you created when you purchased your learning tools. If you ever forget your password, you can always click "Forgot password" and we will email you a link to reset your password.
Once you've logged in click "CME/MOC" from the menu at the top of the screen. You'll be then taken to your eligible credits page. You'll see a summary of all products you've purchased from MedStudy that had eligible CME and/or MOC credit.

You'll see the product name, the eligible credits it has. And the number of remaining credits you'll see the purchase date and the expiration date of those credits. Click on the product name for what you want to make a claim. We are going to choose the 2017–2018 Internal Medicine Core Scripts Flashcards.
First, you'll fill out the CME application. If you wish to claim the MOC points, you'll come back and fill out this form here. In the beginning, it will always default to the maximum number of credits available. You can always change this amount and claim in any increment.
Click "Start application" to begin. There'll be a summary screen that you can review. If there's something that you want to change (e.g. if the number of credits does not look correct), you can click "Cancel" and begin again. If you're okay with it, click "Okay, start application." You are now viewing the CME application. You'll go through each page and fill out all of the fields, clicking "Next step" at the bottom of each screen.

Once you fill in all fields of the application, you will get to this page where you can verify whether all the information is correct. So please review this section here. If there's anything you'd like to correct, you can click here to return to the form and make any changes. If everything looks good to go click "Submit application."

You've successfully claimed your CME credits! You will automatically receive an email of your certificate, but you can also go right here and click this to view, print, or download your certificate.
How To Claim Your MOC Points
If you want to claim those MOC points, please click "Return" right here and click on "MOC points." Now you'll go ahead and enter your diplomat ID number, your birth date (we only need the month and day). And then you will click click "Claim MOC."
You have now successfully claimed your MOC points!
You will notice that the status says "Not yet submitted to the ABIM or ABP." MedStudy reports these points to the board within one to two business days.

Once these points are reported, you'll receive a confirmation email from MedStudy.
How To See Your Past CME Credits Claimed
You've now successfully claimed your CME credits and your MOC points! To review your history, you can always come up here to the "Claim history" button. You can see a summary of your CME claims, have the opportunity to view and download or print your CME certificates, and below that you'll see your MOC history.
You can claim your CME and MOC in chunks or by section. For example, if you only need 50 CME credits at this time, but you have the Core and are eligible to claim 150, you are able to claim only what you need (just make sure to claim the rest before your product expires!)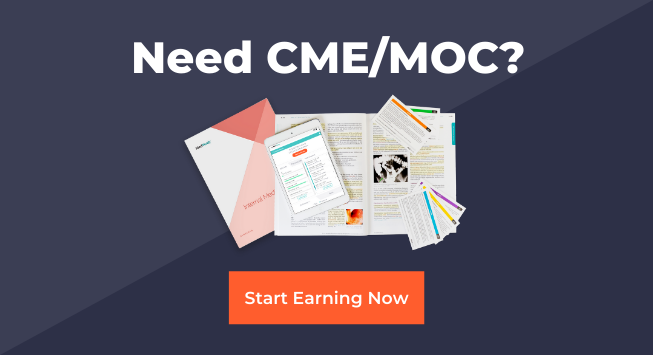 If you need help submitting CME credits or MOC points, give us a call at 1-800-841-0547 or email us.