Updated 1/19/22
Self-testing is one of the most effective ways to improve your recall of essential medical knowledge, especially as you get closer to exam day. We've made our Board-Style Q&As better than ever with features you can use to discover and eliminate your gaps in knowledge: confidence levels and peer response.
How to Use Confidence Levels
Record your confidence level for every question you answer in a study mode session, and get details for the entire session in your reports. Here's how it works:
Check out this feature: Confidence Levels in Q&As
This new feature allows you to record how well you know the material you're testing on. After you've answered any question in study mode you'll see the confidence meter pop up. Choose the option that best reflects your confidence level for that answer.
Choose from "I Don't Know It", "I'm Unsure", or "I Know It!". You'll then see if you got the answer correct along with the emoji indicating your confidence level. It's a great way to see how what you think compares with what you know and review your session results with even more detail.

Choose your confidence level for every answer with this new feature in the Q&As.
After you've finished your study session, don't forget to review your results! We've added a new section to organize all of your answers by confidence level so you can compare your perceived performance to your actual performance. See exactly where your knowledge gaps are, and what you need to review.
Now you can analyze your results with even more detail and determine exactly what you need to review to boost your confidence for boards and daily practice. You'll start to see patterns in your confidence levels and results that can help you get a more clear picture of how you learn over time.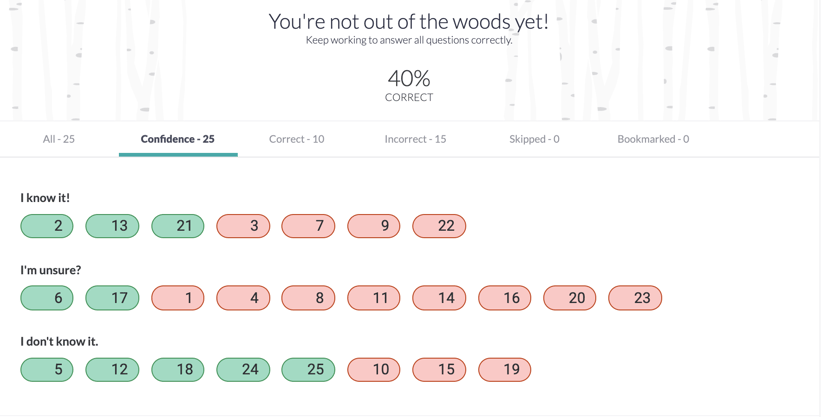 See how your confidence levels compare to your actual performance.
If you decide that you don't want to worry about recording your confidence level for each answer, you can switch this feature off at any time on the "Preferences" tab of your "My Account" page. Make sure to click Save Changes. You can also turn it back on at any time if you change your mind.

Choose to turn the confidence level feature in your Q&As on or off.
See How Your Peers Answer Questions
You can also visualize how your answer compares with others who've answered the same question with Peer Response. You'll see a percentage breakdown of which answer option other physicians chose for each question.

See how others responded to each question after you submit your answer.
These features are available in the Internal Medicine Board-Style Q&As, Pediatrics Board-Style Q&As, and Medical Student Qbank+. Head over to your myMedStudy account to start a free trial or try these features out in your product now.
We're constantly working to make our products even better for you. This was a scheduled feature update and it's completely free to you as a MedStudy user. Have an idea for how we can make MedStudy products better? We'd love to hear it.