Did you know MedStudy free trials are available for each of our digital pediatrics products? We've got entire sections and snippets of content from our Core, Q&As, Flashcards, videos, and more for you to try, all for free! Here are the details of what you'll get when you sign up for a free trial.
Core | Q&As | Flashcards | Video Board Review | Audio Pearls | QuickRef for MOCA-Peds | Heart Sounds | Skin Signs
Read a Sample of Our 10th Edition Pediatrics Core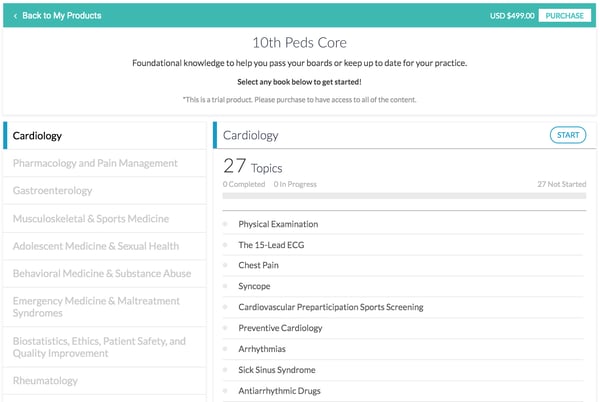 Read through topics like physical examination, the 15-lead ECG, chest pain, and much more
With the free trial of the digital Pediatrics Core, you'll get digital access to the entire Cardiology section in a "digital eBook" experience. With the digital version of our Pediatrics Core, you'll get some great features, like:
Search. Search keywords across the topic you're in, the section, or across the entire Core
Take notes. Take notes while you read, and we'll keep everything organized for you (by categorizing your notes according to the headings where you added them). Never search for that missing piece of paper again!
Bookmark. Bookmark your spot to pick back up with your reading in your next session.
Interlinked Content. If you have the Core, Q&As, and Flashcards, all as digital products, you'll see an icon to switch between products to the same topics. That way you can read about a topic in the Core and immediately self-test with the Q&As and Flashcards to help you remember better for your future exam or practice.
Start your free trial of Pediatrics Core here.
Answer Questions From Our Pediatrics Board-Style Q&A for 30 Days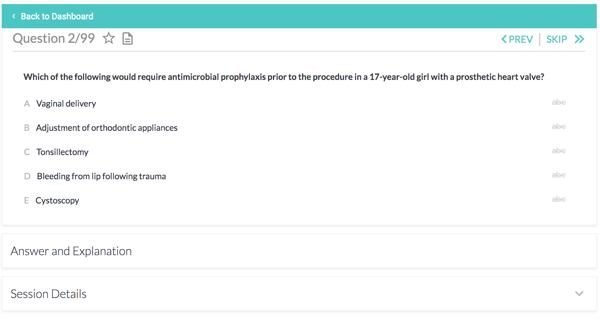 Answer all 108 of the Pediatrics Cardiology questions online

Get the entire Cardiology section of our Peds Board-Style Q&A free for 30 days. Practice answering questions in the format you'll see on your board exam, improve recall speed, gain confidence, and easily assess what you know and what you need to focus on with this perfect study tool.
You can go through questions in either study mode or test mode. In study mode, you'll be able to see the correct answer (with the explanation of why the correct answer is correct and why the other options were incorrect) right after you select your answer. You'll also be able to narrow down the answer by crossing off answers you know to be incorrect. In test mode, you'll be timed and then see your report card at the end.
Start your free trial of Pediatrics Q&A here.
Start Flipping Our 2022-2023 Pediatrics Flashcards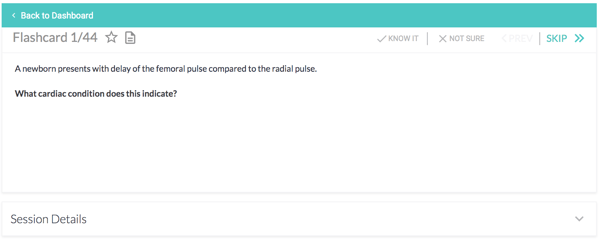 Flip through all 44 cardiology questions
When you flip through the free trial for the Pediatrics Flashcards, you'll be able to see the full Cardiology section. Flashcards are a fun way to exercise recall of diseases, syndromes, and fundamental facts. Plus, the digital version comes along with some cool features.
Self-assess with confidence. Mark each Flashcard as 'Know It' or 'Not Sure'.
Filter. Filter all 1,000+ Flashcards by topic or by question type (skipped, questions marked 'unsure,' unanswered questions) .
Bookmark. Bookmark your spot to pick back up where you left off.
Track your progress. Track progress through your study session based on the number of questions answered.
Start your free trial of Pediatrics Flashcard here.
Watch a Full Section of Our 2021-2022 Edition Pediatrics Video Board Review
Watch the Cardiology (full section) in the Peds Video Board Review free trial
When you watch the free trial for the Peds Video Board Review, you'll be able to see the full Cardiology section with physician educator, Michael Ralston, MD (over 3 hours of free content!) You'll also be able to watch snippets of each of the other lectures.
To watch the content from a phone or other device, you can download the MedStudy Media App and watch the lecture from anywhere.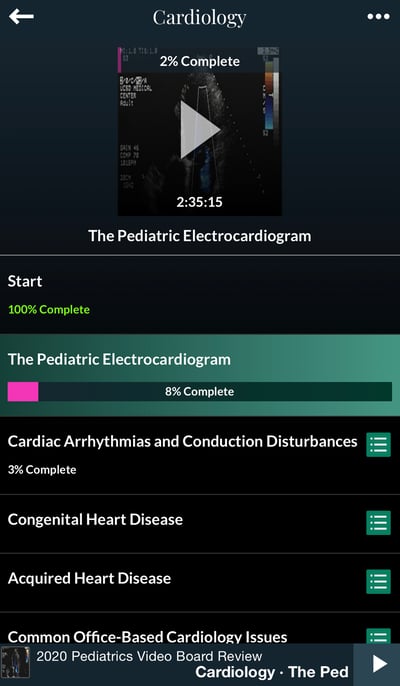 Use the MedStudy Media App with the online format to take videos with you on your mobile device
Start your free trial of the Pediatrics Video Board Review here.
Check Out Our Pediatrics Audio Pearls to Save Time
Listen to almost 4 hours of free content from the Cardiology section
Our 10th Edition Core Audio Pearls contain high-yield lectures for each of the topics covered in our Core. With the free trial, you'll be able to access the full Cardiology section. It's accessible through your internet browser or the myMedStudy Media App for your phone.
Start your free trial of the Pediatrics Core Audio Pearls here.
See a Sample Learning Objective From Our MOCA-Peds Study Tool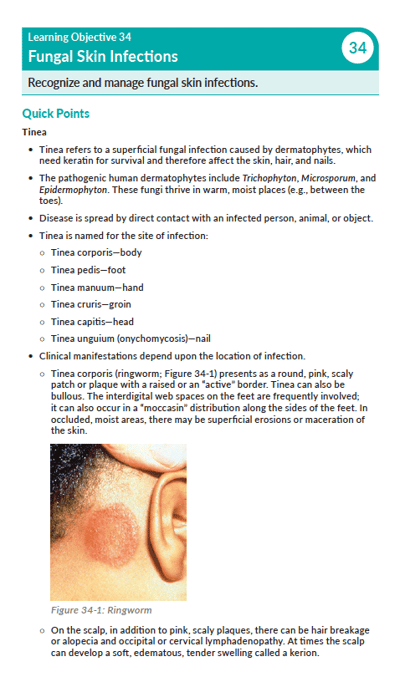 You'll be emailed a PDF of learning objective #34—Fungal Skin Infections
We've developed the perfect tool to use during MOCA-Peds: a quick reference guide that covers all 45 learning objectives from the ABP.
Sign up to get your free sample learning objective here.
Check Out MedStudy's Clinical Skills Free Trials
We offer two clinical skills products, Heart Sounds and Skin Signs. The free trials for these are a bit different than for the rest of our products. You can give each of these a try (in their entirety!) for 24 hours. Yep, that's right, you get to try out the entire product, first!
Give Medstudy Heart Sounds a Try for 24 Hours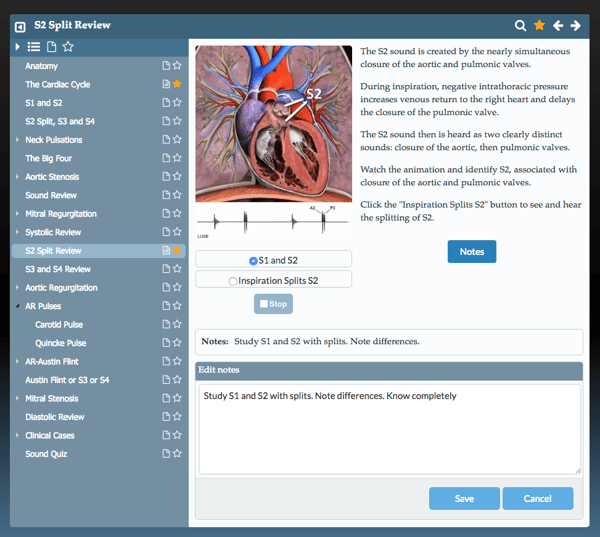 Watch interactive cardiograms and animations to help you visualize what you are hearing

Keep your clinical skills sharp by reviewing over 40 different heart sounds and murmurs. You'll be able to:
Switch from study mode to test mode to quiz yourself.

Connect what you hear with associated physiologic structures and blood flow.
Anatomic landmarks show you where to listen.
Detailed explanations identify what to listen for.
The Big Four heart murmurs are thoroughly covered: AS, MR, AR, and MS.
Start your free trial of MedStudy Heart Sounds here.
Try Out Medstudy Skin Signs for 24 Hours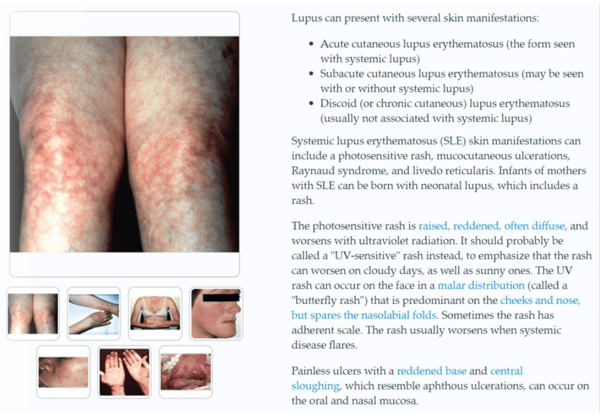 The detailed explanations help you review definitions, causes, clinical details and associations

MedStudy Skin Signs allows you to see explanations of specific skin signs help you understand systemic processes, and lookalikes to give you practical knowledge to draw from.
Some features include:
"Think" reveals a summary of the discussion with salient memory clues
"Notes" allows you to take notes in each slide.
Interactive text and images highlight the features of a skin sign as it is described, and treatment information provides the next step in care.
Start your free trial of MedStudy Skin Signs here.
With MedStudy's free trials, you'll be able to get a good feel for each product before you decide to upgrade to the full product.