If you've recently Googled "online meded videos for internal medicine," you're not alone. (Medical professionals have to continue learning in spite of competing priorities!) But how do you know which meded video is right for you? At MedStudy, we offer review videos in two formats: Video Board Review and Online Review Course.
Which online meded videos for internal medicine are best for you?
Both experiences have benefits, and they each appeal to a different kind of learner. So, which format is right for you? The below checklist will help you decide.
Which column has the most statements that are true for you?
| | |
| --- | --- |
| A | B |
| ☐ I like to interact with speakers and ask follow-up questions. | ☐ I study best when there is no one around me. |
| ☐ I get energy and inspiration from interacting with people who share similar interests and goals. | ☐ Sometimes my best study time is at odd hours, like early morning or the middle of the night. |
| ☐ I'm inundated with responsibilities at work right now, and it's hard to focus on studying. | ☐ I need to get up and move around a lot while I'm studying, or I get fidgety or uncomfortable. |
| ☐ I learn better if I'm actively engaging with others and held accountable during study sessions. | ☐ I like to study in a variety of places, such as coffee shops and the park. |
| ☐ I don't need to start studying right away. | ☐ I want to start studying right away. |
| ☐ I do better when a schedule is set. | ☐ I'm a self-starter. |
| A total = _________ | B total = _______ |
Is your A total higher than your B total? Then we recommend you attend an Online Review Course.
If your B total is greater than your A total, Video Board Review is likely the best format for you.
Now that you know, here are the perks that tag along with each.
Best of Online Review Course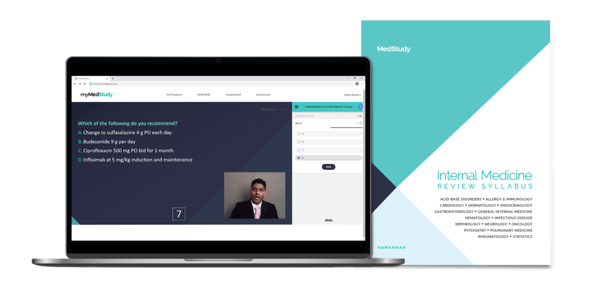 Our online Internal Medicine Review Course, June 10-14, 2023, covers the topics from the ABIM and AOBIM exam blueprints in five days of expert-guided lectures where engaging speakers guide you through both exam prep and practice updates. Plus, you'll be able to interact with the speakers, ask questions in real-time, and then have access to the recorded sessions for 12 months.
The Internal Medicine Review Course includes:
13 expert-lead sessions from the best physician educators

Opportunities to ask each speaker questions about the content in their lecture

480-page full color printed syllabus

100 unique board-style practice Q&As

12-month access to every recorded session

Supplemental videos: Statistics and Acid-Base Disorders
Best of Video Board Review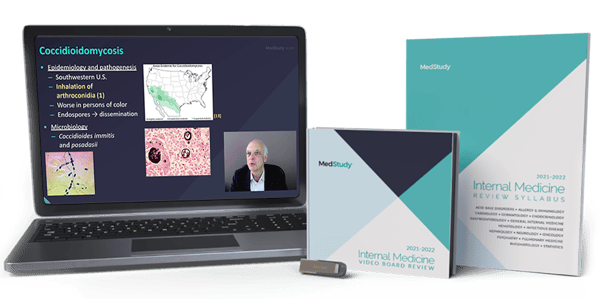 On the other hand, our Video Board Review provides the same comprehensive ABIM or AOBIM review in a more flexible format. For these videos, we search high and low to find the most awesome, engaging speakers. Plus, we create a beautiful, full-color printed syllabus to show the content from every single slide and guide you through your review of each Internal Medicine boards topic. While reviewing the latest IM guidelines and updates, you'll earn CME credits and MOC points—all in your own time, at your own pace, and in any location.
The Video Board Review includes:
Over 39 hours of all new laser-focused internal medicine board review videos

15 engaging experts cover all topics from the ABIM & AOBIM exam blueprints

500+ page full-color printed syllabus

Flexible formats: Choose from online streaming or a USB flash drive

NEW! Q&A Short Cuts. Test your knowledge with high-yield Q&A sessions. Review just the questions and answers from each lecture in this truncated video.

Free shipping to the continental U.S.

Max CME Credits & MOC Points: 39
If you're still not sure about which one is best for you, dive into the free trials! Video Board Review and Online Review Course offer a chance to preview these in-demand learning tools for free.
One thing that comes with both review formats? Confidence. Whichever you choose, you'll be exam-ready, and that can make all the difference.