This is one in a series of blogs, where we're tackling the parts of being a doctor that you weren't tested on in medical school: healthcare inequity, the elements of professionalism as a doctor, reflecting on any biases you may have, etc.
Our mission is to make learning medicine easier. But we know it's not just how you learn medicine—the way you apply your knowledge in clinical settings is immensely important, too. This blog series is meant to help you navigate the patient situations you face daily and improve your patient care.
Facing Discrimination from Patients
Many physicians deal with discrimination from patients.
Patient discrimination against healthcare providers is a widespread problem. From overt bigotry, to refusing care, physicians have long suffered bias directed at them from patients.
A 2019 AAMC study reported residents and med students being called names, and hearing anti-gay slurs and racial epithets from patients. Female students also reported receiving offensive remarks, whistles, and comments.
Almost 25% of gay physicians surveyed report demeaning comments from patients.
One in three Black physicians say they have experienced racist remarks within the last year.
Another AAMC study found that 30% of physicians have been rejected by a patient because of their race, religion, gender, or other personal features.
A survey of Muslim physicians in the US found that 24% had experienced frequent religious discrimination during their career. 10% of them had had patients refuse care from them, citing their religion as the reason.
As a doctor, your chances for biased encounters are as significant. One in three doctors in the U.S. hail from a foreign country, and women make up about half of medical students.
Bias Fuels Physician Burnout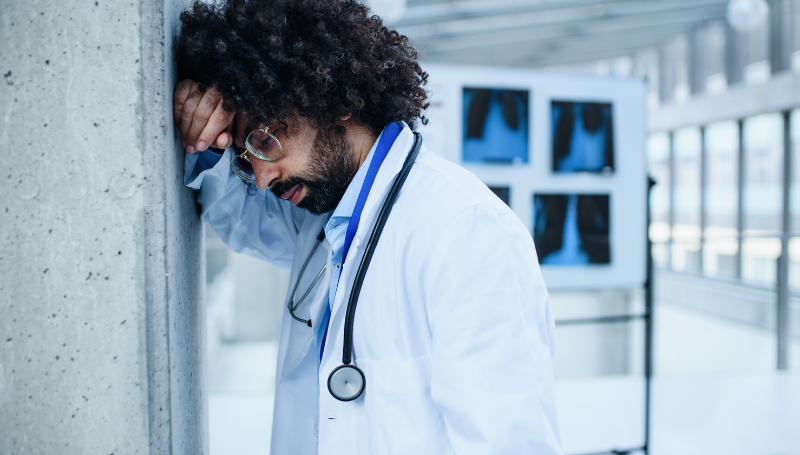 Physicians who experience discrimination or bias are more likely to experience burnout.
Every person carries some sort of bias with them into their daily life. Some patients may hold implicit biases, the unconscious attribution of particular qualities to a member of a certain group. Other patients may be consciously, or explicitly biased towards a certain group of people. Either way, a high stress situation like being sick, injured, or in the hospital can result in patients acting out of these biases.
Facing bias from patients can drain energy, erode confidence, and decrease morale. A 2019 AAMC study found that residents who experienced discrimination or harassment several times a month were three times more likely to experience burnout.
"The negative impact can be huge. Often it triggers disbelief, fear, and resentment. It also can cause significant self-doubt. A learner may think, 'How can I be a doctor if I can't handle this?'"

David Acosta, MD Chief Diversity and Inclusion Officer, AAMC
How to Deal With Patient Discrimination
How physicians can deal with patient discrimination.
Dealing with patient bias is situational. A Stanford study on discrimination recommended dealing with biased patients by assessing their medical state, trying to build a therapeutic alliance, depersonalizing the event, and providing support and assurance of competence. Debriefing with colleagues after the event is important as well.
If it feels appropriate, confront the bias head on. Politely correct someone if they say something discriminatory, mistake you for not being a doctor, or are looking to the wrong member of your team for answers.
"During my second year of residency, I worked with an amazing female fellow in the ICU who helped me find my voice in high-stakes situations. She encouraged me to correct people when they were looking to the wrong members of the team for orders or guidance. She taught me something important at that moment — you have to confront bias head-on."

Cassandra Fritz, MD
Focus on establishing common humanity with patients. By sharing small aspects of your story you can help people separate you from their biases. Giving patients the opportunity to get to know you as a person can help establish a respectful and trusting relationship.
Remember, you aren't the only physician who has to deal with bias from your patients, maybe there is a colleague who can identify with your experience. Talking through difficult situations like this with associates can help promote authenticity in your team, and serve as a reminder that you are not alone!
Join our community of 30,000+ physicians who get regular study tips, board prep advice, and get special offers on MedStudy tools.