We're not shy about how much we love self-testing. It's the perfect study strategy for building confidence in your medical knowledge, acing exams, refreshing your daily practice, and advancing in your career. That's why we are always hard at work making sure that our Peds Qbank is the perfect partner for your study journey.
Check out these 6 reasons why our Peds Board-Style Q&As is the study tool for you.
1. Stay current on your medical knowledge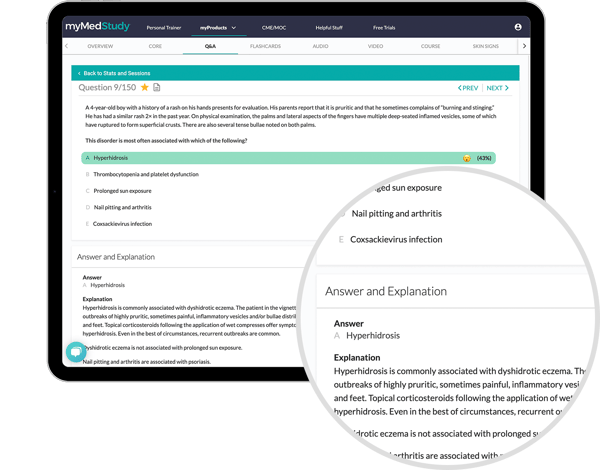 The Peds Qbank is routinely updated, so you'll always be reviewing the latest and greatest
We have over 2,000 questions in our Peds Qbank, all written and reviewed by expert physician educators. And, we add in new questions throughout the year, so you know you're always reviewing the most up-to-date guidelines and content.
2. Tailor your Peds Qbank+ to your knowledge gaps
Every time you begin a new Q&A session you have the ability to customize your qbank experience. Quiz yourself in study mode or try test mode for a timed session to practice answering questions in an exam format. Set filters to include any specific pediatric medicine topics or select all of them! You can even create sessions from questions you have previously bookmarked, skipped, or answered incorrectly. Now, you can spend your time on precisely what you need to study and no extra fluff. During your Study Mode sessions, you can record your confidence level for every answer.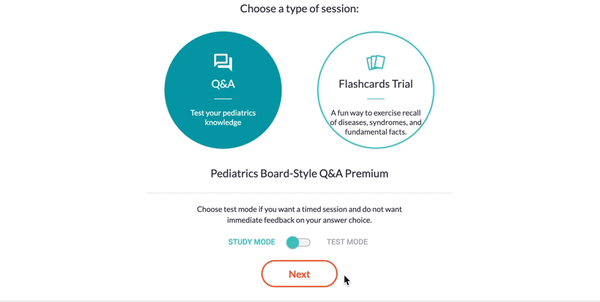 Filtering in Peds Qbank
3. See how other pediatricians answered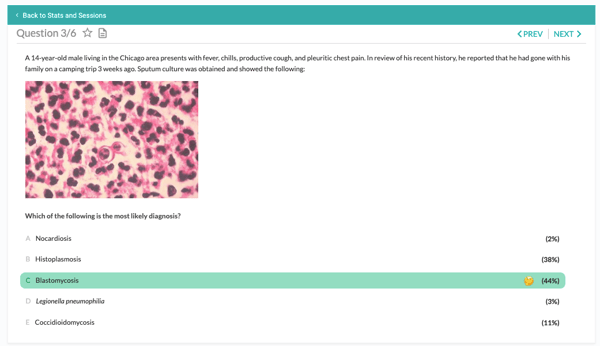 See how other pediatricians answered the same questions
Once you answer a question, you'll see how your answers compare with other pediatricians who have answered the same question as a percentage in the "Peer Response" column. You'll see a breakdown of which answer option other physicians chose for each question.
4. Spend less time studying
This is one we're especially excited about. It's our mission to help you get the most effective review in less time so you can have some time back in your life. So, we've "interlinked" all the content in our 11th Edition Peds learning tools. Now, after reading through each Answer and Explanation, you can click to that topic in the Peds Core for a deep-dive. That way, you won't waste time searching for further explanation.
Interlinking between Peds Core, Flashcards, and Peds Qbank
We also have search capabilities to our Peds Qbank. Try searching by topic, subtopic, keywords, and more to find any question instantly.
5. Track your progress
As you work through your Peds Qbank we keep track of your progress so you can see how far you've come. See what questions you got right, wrong, or skipped over for every pediatric topic. You can even clear your progress and start over. As an added bonus, you can reset your Peds Qbank as many times as you would like and start fresh.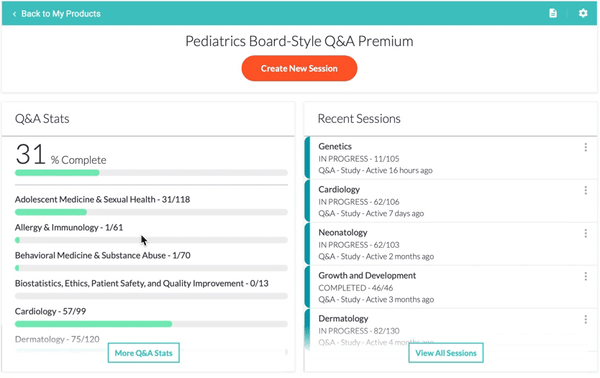 Track Progress in the Peds Qbank
6. Earn CME and MOC quickly
Earn CME and MOC credits with Peds Qbank
If you need to claim any CME credits or MOC points this year, look no further. For every 4 questions you answer correctly you earn 1 CME/MOC credit. Start earning the day you purchase and build up to 100 credits each year. Once you've earned all you need, you can claim your CME credits and submit your MOC points to the ABP from your myMedStudy account.
Start self-testing your way to a more effective review today with the Peds Board-Style Qbank+, or ease your way in and start a free-trial for 30 days (no credit card required!).