When doctors ask us how they should be prepping for their upcoming exams, our answer is always the same. Practice self-testing! It's the most effective, science-backed way to learn medicine.
Practicing recall of board-relevant internal medicine information while you're self-testing will help you remember up to 50% more than re-reading the information alone.
It's also important to get practice with the format that the exam will be in. That's why we created our Internal Medicine Board-Style Q&As to help you build your recall of essential board-relevant facts and get comfortable with the exam format.
Here's how to set your own ABIM self-assessment with our Q&As:
Start Your ABIM Self-Assessment in Test Mode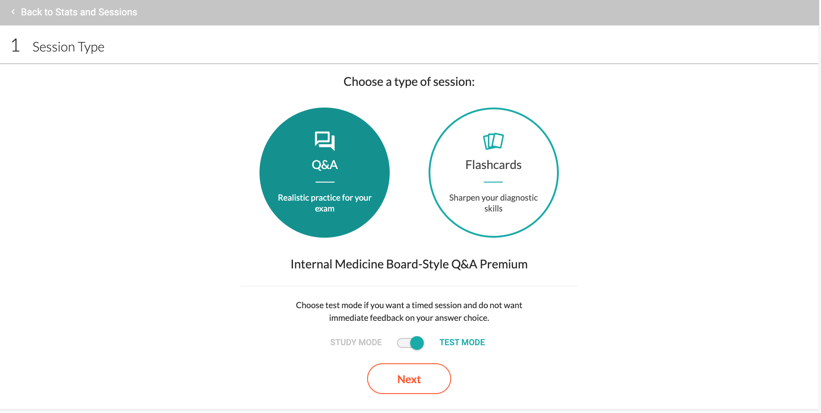 Choose between study mode or test mode when you set up your Q&A session.
When you set up your Q&A session, you can choose between test mode or study mode.
For a realistic ABIM self-assessment, we recommend choosing test mode for the timed option. This way, you'll have a running timer just like you will during the actual exam and you won't get any feedback on your answers until after you submit the test.
Cover Topics You'll See On Your Board Exam

Choose topics to cover on your practice ABIM self-assessment.
Set up filters to choose what topics you cover in your practice test. If you want to set up your ABIM self-assessment test like your board exam, you can click 'Select All' to randomize questions from every topic throughout your practice exam.
Set the Time and Number of Questions for Your Practice Test

Choose 60 questions over 2 hours for a realistic ABIM self-assessment test.
Choose how many questions you want to answer in your session and how much time you want to spend.
An ABIM board exam can have up to 240 questions broken up into four two-hour sessions with up to 60 questions in each. This leaves you two minutes to answer each question.
Set up your own ABIM self-assessment test session by choosing a session of 60 questions and a test duration of two hours.
Analyze Your Results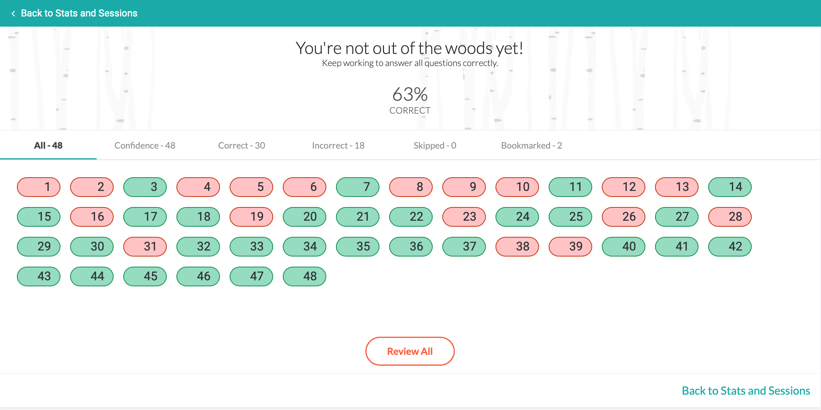 We'll generate a report of your results on your ABIM self-assessment test for you.
After you submit your test, you can see a report of your overall performance, what questions you answered correctly, incorrectly, as well as any that you skipped or bookmarked. You can go back and review any of these questions to see the correct answers and explanations.
Then, quickly fill any knowledge gaps by digging deeper into any of these explanations. Our online learning tools are interlinked so you can save time switching between study formats. Click on the link at the end of the explanation to instantly jump to the relevant content in the Core.
Review all the answers that you missed and make sure you understand what you got wrong. Take another test set up the same way at a later date so you can gauge your progress and see what sections you need to keep reviewing.
We recommend that you self-test periodically throughout your board prep sessions and ramp it up the last few months before your board exam. This will ensure that you have a strong knowledge base that you can easily recall when you need to during your exam.
Get 12 months of access to our Internal Medicine Board-Style Q&As or start a free trial now to start self-testing now and build your confidence for your upcoming ABIM exam.