If you're on the hunt for a Step 1 study schedule, look no further. We'll show you how to study for Step 1, which is now a pass/fail exam.
Creating a study plan for your Step 1 USMLE® exam is crucial to being efficient while covering all the material you need to know. Your study "game plan" is key to your success, and we're here to help you set it up and avoid burn-out.
Research has proven that there are specific learning truths that unlock your brain while you study and sink the concepts you're studying into your long-term memory.
So, whether you've already started on the material or you're just getting ready to dive in, this study plan will narrow your scope and make you more efficient. By the time your exam rolls around, you'll be competent and confident. Let's get started.
First: Choose Your Learning Tools
Choosing your learning tools is the first step in figuring out how to study for the Step 1 exam. The material you use to support your Step 1 study schedule should fully cover all subject areas on the USMLE Content Outline.
If you haven't found it already, allow us to introduce MedStudy's Medical Student Study Strong System which offers exactly what you need to ensure you truly learn the foundations of medicine. And guess what? That means the content outline for the Step 1 exam is covered in our comprehensive learning system.
MedStudy Founder Robert A. "Tony" Hannaman, MD, introduces the Medical Student Study Strong System
Even better? The system combines this focused content with evidence-based learning techniques to help you through all of med school. So you'll invest in one system, and then use it to build the foundation for your entire medical career—cultivating success in all your course work and your USMLE exams.
Plus, our physician contributors are dedicated specialty and subspecialty educators who use the USMLE content outline, many years of user feedback, and their own experience (teaching, writing board questions, etc.) to create our products based on what is expected of a competent provider. We use only that material as MedStudy content.
Pro Tip: Integrate Multiple Study Tools into Your Step 1 Study Schedule
We're sure you already know that reviewing a concept from different angles (e.g., in different formats) deepens your understanding and memory of that concept. At MedStudy, we integrate this science-backed truth into our learning tools so that you can approach must-know information in three ways:
Concise, conversational text in 20 beautifully illustrated books (in both print and digital formats!) that encompass the Student Core
Two Q&A banks that help enhance your understanding of the core material while providing detailed explanations in our Step 1 Qbank+ and Step 2 Qbank+
Your super-smart, personalized learning tool: Personal Trainer. Tell it your study goals, when your exam is, and when you'd like to start studying and get weekly personalized learning plans built according to your study pace.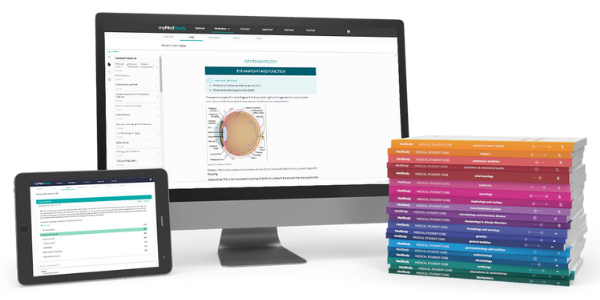 Med Student Study Strong System.
Next: Understand How You're Going to Study for Your Step 1 Exam
Years ago, our Editor-In-Chief, Robert A. (Tony) Hannaman, MD, started a quest to determine the best way to transfer required medical knowledge into long-term memory so it would be durable and easily accessible. He combined the latest brain science on how memories are made with the best evidence-based learning techniques and distilled them into a universal study method: The MedStudy Method.
It's all in StudyWise—our free, quick-read guide that breaks down the best way to truly learn medicine for immediate recall and retention. We break your study plan down into three simple phases:
Preview

Study

Spaced Retrieval
Each phase utilizes very specific techniques and is an optimization of the way we naturally learn that works with any study material. PSSR is foundational to your study plan.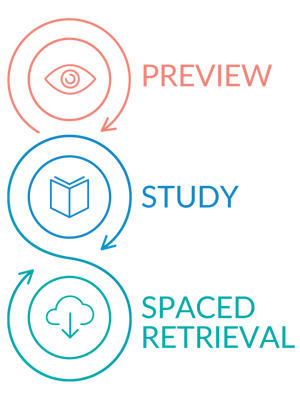 Preview
During the Preview phase, relax and see what you can remember.
At this stage, you're only getting ready to study—this is a low-stress exercise in which you simply look at the topics and attempt to recall everything you know about them; you're not trying to learn new information. Because this is a preview exercise, you do not look at answers. You only go over the questions and see what you can dredge up with a little pondering (i.e., effortful recall).
Study
This is where you begin to digest the material in the study units of the Student Core.
The goal is to seek understanding, but know that you are not supposed to know the material already, nor are you supposed to have it memorized it at the end of this study period. During this phase, you are satisfying your curiosity and simply aiming for an understanding of the facts, concepts, and processes.
Spaced Retrieval
Okay, now we get serious about moving the study unit material into long-term memory.
After you study a unit from the Core, mark a date in your calendar to do a "practice exam" on that same section at progressively longer intervals. For example, use the table of contents to mark the date two days, 10 days, and six weeks later to review that section in Qbank+. Now you're doing spaced retrieval!

Medical student studying with the Core and Qbank+.
Next: Implement Your Step 1 Study Schedule With Personal Trainer
If you're using the Medical Student Study Strong System, you'll have access to our free Personal Trainer that will create this study schedule for you! No calendaring necessary!
Preview each topic the day before you are going to study it. For example, in the Student Core you can use the Preview | Review questions to dredge up all the info you can remember on that topic. This will help make your brain "sticky" when you're doing a comprehensive review of that concept the next day.
After you've completed the comprehensive review, set a reminder to complete that section's Q&As in two days, 10 days, and then six weeks later. (Or if you're using Personal Trainer, it will schedule the Q&As for you!) This spaced retrieval of information will lock it into your long-term memory so you'll be able to access it when you need it—whether that's for an exam, residency, or your career as a practicing physician.
Study Q&As Exclusively
In the weeks before your exam, do nothing but Q&As in Qbank+. And remember to practice recall incessantly with every phase of study and while you work! This means that, with Q&As, recall as much as you can about the topic before you look at the answer choices.
Step 1 Qbank+ on a tablet in test mode.
Then, make sure you know why the correct answer is correct and why each distractor is incorrect before you move on to the next question. If you are not sure, look it up or review that section in the Core.
Some med students make the mistake of solely using a Q&A bank to prepare for exams. While answering questions might seem like the most efficient test prep strategy, it really doesn't work that way. Q&As are best used as a tool for recalling information you already know well. So first complete a comprehensive review of all the material. (This preps your brain for how the concepts will present in the exam environment.) Then dive into the Q&As in your Qbank+.
Pro Tip: Use Interlinked Content
Our Student Qbank+ is interlinked with the digital Core. So you can easily toggle between content in the Q&As and the Core to achieve deeper understanding.
The Week Before Your Exam
In the final week, try to relax. Don't cram! There are a few test-taking strategies you can do to help prep yourself this week. But mostly just stick to your Q&As. Relax. Don't cram!
On Step 1 Exam Day
On the day of your exam, keep your normal daily routine in place. Make sure you're comfortable and your mind is in a positive place. Our favorite exam day advice? Call a loved one on the way to your exam for a positive pep talk. You've got this!

Medical Student Core includes 20 printed books.
To experience this content and go several steps deeper in setting up your own Step 1 study schedule, try MedStudy's Medical Student Study Strong Student System for free for 30 days! Be careful; you just may fall in love.
Still interested in the science of learning and want more evidence-based study tips, check out StudyWise.
Finally, connect with us on social and let us know when you ace your Step 1 exam. We can't wait to hear the good news!
---
The United States Medical Licensing Examination (USMLE®) is a joint program of the Federation of State Medical Boards (FSMB®) and National Board of Medical Examiners (NBME®). None of the trademark holders are affiliated with MedStudy.