Blog updated on 11/22/21
We had customers tell us that they needed a way to easily search through the Core. Our Core is meant to be your foundational resource for board exam prep and building your knowledge for your daily practice, so it's HUGE—there are 998 pages in the 19th Edition Internal Medicine Core, and 1,016 pages in the 10th Edition Pediatrics Core—that's a ton of medical information to work through!
So, we set out to give myMedStudy users a way to quickly isolate and find relevant information. We wanted users to be able to search by topics and find the information they're looking for… and now it's here!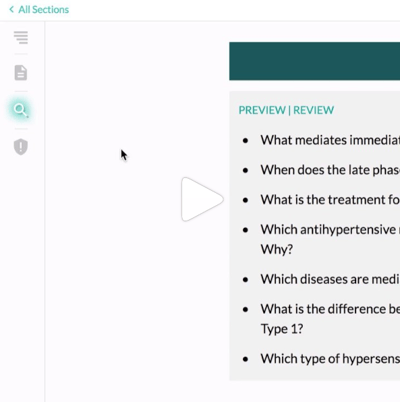 Previewing the new search feature in myMedStudy
How To Use the Search Feature
Search will save you time and help you find information faster. Being able to search will also help you identify relevant information across different topics and sections—being able to quickly find the answer you're searching for will boost your confidence in your medical knowledge.
Start your search by selecting the magnifying glass icon on the left side of the page.
Find the search icon on the left-hand side of the page.
Once the search bar slides out, you have a few options: You can search in the current topic (in this example, Genetic Collagen Disorders), the section (in this example, Rheumatology), or in all sections (to search through every section in the product).
Once you click on an item in the search bar, you'll be taken to the heading under which the searched term occurs. You'll be able to see the context in the search panel itself.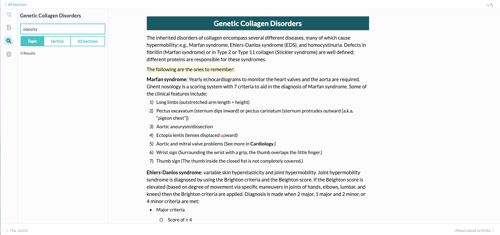 Search in the topic you're currently reading.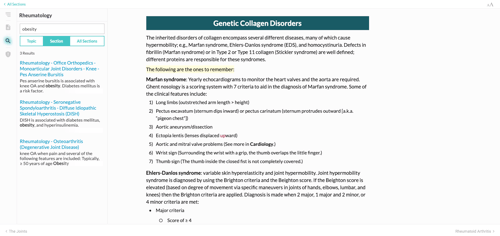 Search in the section you're reading.
Search through every section in the product.
You can search for exact terms by putting quotation marks around the term (e.g., "long limbs" will search only for that term, whereas long limbs without quotation marks will search for all occurrences of "long" and "limbs."
We know doctors are busy people, so we've added search into these products:
Moving forward, all digitally-released products will have search functionality.
New Product Release: Peer Response Feature
You can also visualize how your answer compares with others who've answered the same question with Peer Response. You'll see a percentage breakdown of which answer option other physicians chose for each question.
We're constantly working to make our products even better for you. This was a scheduled feature update and it's completely free to you as a MedStudy user. Have an idea for how we can make MedStudy products better? We'd love to hear it.