Can't make it to our highly-rated Review Course in person? Take it online! We make remote attendance a pleasure.
For 5 years, we've been fine-tuning your remote board review experience. You'll be able to fully immerse yourself in the learning experience without any of the travel hassles.
But, what does a "live stream" course really feel like? For starters, it does offer you some pretty awesome features that aren't possible when you attend in person.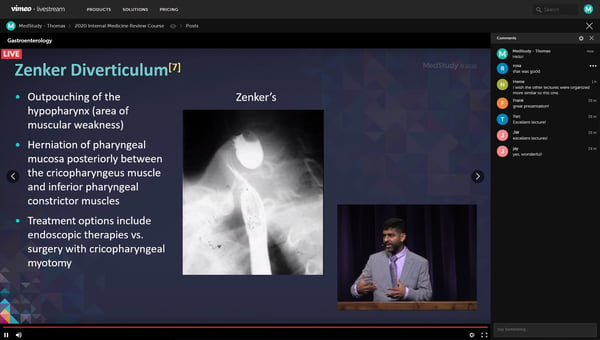 An inside look at MedStudy's online board review course
Professionally-produced HD video
The audio and video quality is better than being there in person! You'll be able to see and hear everything in the room very clearly. The slides and the speaker are crystal-clear. You can see the speakers—including their gestures—like you're sitting right in front of them in the course room.
Pause the session, then pick up right where you left off
This feature—which you can't get at the onsite course (of course!)—is especially appreciated by our online attendees. While watching the live presentation, you can pause it at any time, and then press play to continue where you left off.
Use the Chat feature to talk to other attendees during the course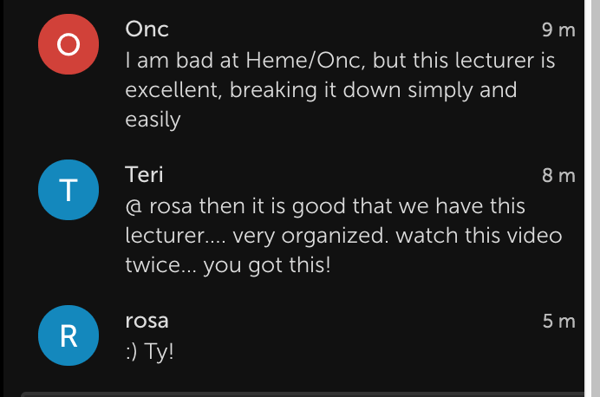 Online attendees use the chat feature during our March 2020 course
All online attendees can use the chat feature to communicate with each other during the course. We see a lot of chat during the sessions where physicians are working together in the chat to build camaraderie, cheer each other on during intense review, problem-solve together, and answer each other's questions.
If you have any questions during a session, there's a single email address given to you at the beginning of the course for correspondence with all course speakers. They often answer your questions live right there during the session, or send you an email back afterwards.
Create a comfortable study environment
You're in control of your study environment when you take an online course
When you take an online board review course, you have the flexibility to study from wherever you want—your home office, a coffee shop, the break room. Make sure your study space is comfortable for you, your internet connection is strong, and you're ready for an awesome board review.
Use your printed syllabus to take notes while you watch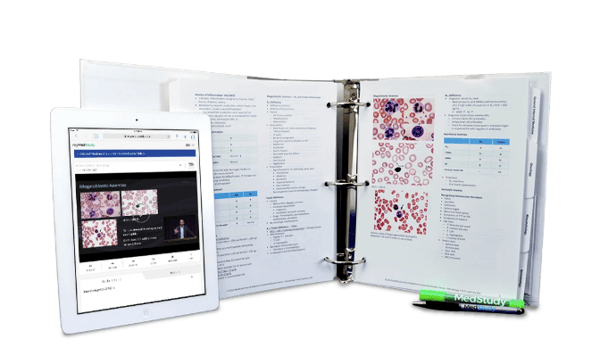 The online course syllabus
Unique to the MedStudy online board review course is the high-quality, professionally-produced printed syllabus that accompanies your course. Our raved-about 700+ page full-color syllabus contains every slide shown throughout the course, formatted for easy reading. Additionally, each section starts with a table of contents and ends with the answers to all of the audience response questions. All abbreviations used throughout the course are listed in the back.
We take great care when we make this syllabus so that you can focus on what's being said, not on taking notes. And, as always, your MedStudy order ships free!
Return again and again to the course videos for one year after the course ends
Yet another unprecedented bonus of the MedStudy review course: Session videos are available the next day after the presentation! You'll have access to all the course videos for one year after the course ends.
We've been hosting our online board review course for 5+ years, and we take great care to make sure our online course experience is top-notch.