Our Internal Medicine Board Review Course presenters are highly lauded in their specialties, and some are recognizable on the national stage we're looking at you, Raj Dasgupta, MD, FACP, FCCP, FAASM. You might recognize our pulmonary medicine speaker from "Chasing The Cure" with Ann Curry, "The Doctors," "CNN," and "Inside Edition."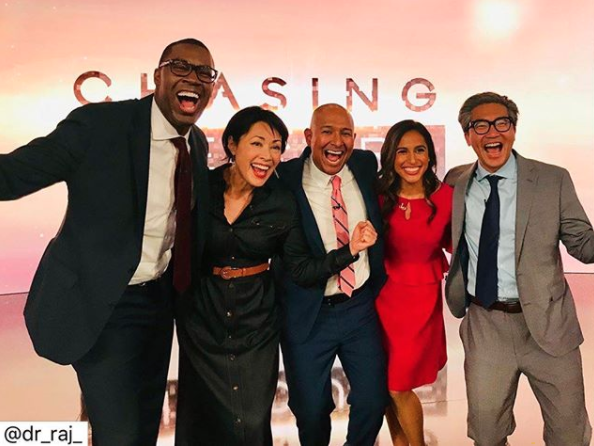 Raj Dasgupta on the set of "Chasing The Cure" with Anne Curry.
Raj Dasgupta says that his "passion is teaching and integrating the basic science with clinical medicine. I truly feel medicine should be fun and interactive." He is currently Associate Professor at the University of Southern California (USC). He is also quadruple board certified in Internal Medicine, Pulmonary, Critical Care, and Sleep Medicine.
He has been working with MedStudy since 2014 and has used his extensive Pulmonary Medicine knowledge in projects like the Core Audio Pearls, Q&As, and of course, has been a speaker for our Courses and Video Board Reviews over the years.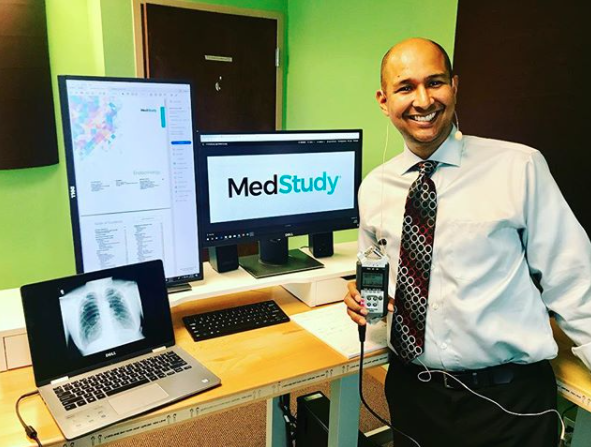 Raj Dasgupta's Tips for Studying at MedStudy's Review Course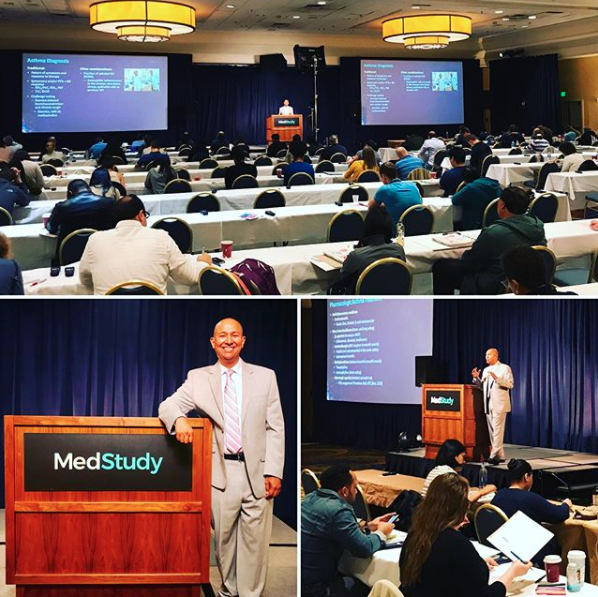 Raj Dasgupta, Pulmonary Medicine course speaker lecturing at a previous IM course.
Photo from his Instagram.
What do you like most about speaking at MedStudy courses?
MedStudy is my second family. I love interacting with the staff and all the attendees.
What advice do you have for those who are attending the course?
Have fun and ask lots of questions. Focus on the 'high yield' topics that the lecturers emphasize on during their presentations. Stay healthy during the course by continuing to exercise, getting enough sleep and trying to eat healthy.
Do you have any resiliency tips?
Spend the most time on topics you do not feel comfortable with. Set a study schedule up to the day of your board exam and stick with it. Be positive!!!
What is your favorite memory from a MedStudy course?
That's easy, giving my MedStudy Pulmonary/Critical Care lecture in Cancun, Mexico. Also, sharinh the stage with my wife, Dr. Koolaee who teaches Rheumatology.
Want a sneak peak into Raj Dasgupta's teaching style? Check out this snippet from him speaking at a previous course.
Raj Dasgupta discusses asthma related diseases at a previous IM Review Course
To learn more about Raj Dasgupta visit rajdasgupta.com
Meet more of MedStudy's physicians by registering for the next Internal Medicine Board Review Course. You'll see more outstanding MedStudy course speakers and contributors.