We've been hard at work on a new Digital Core experience, and are proud to say that it's truly better than ever. Whether you are preparing for a board exam or building your knowledge for daily practice, this Core is everything you need. Read on to get a sneak peek of what's new in the Internal Medicine Digital Core, the most success-proven and accessible internal medicine review available.
Get the Most Up-to-Date Internal Medicine Books Online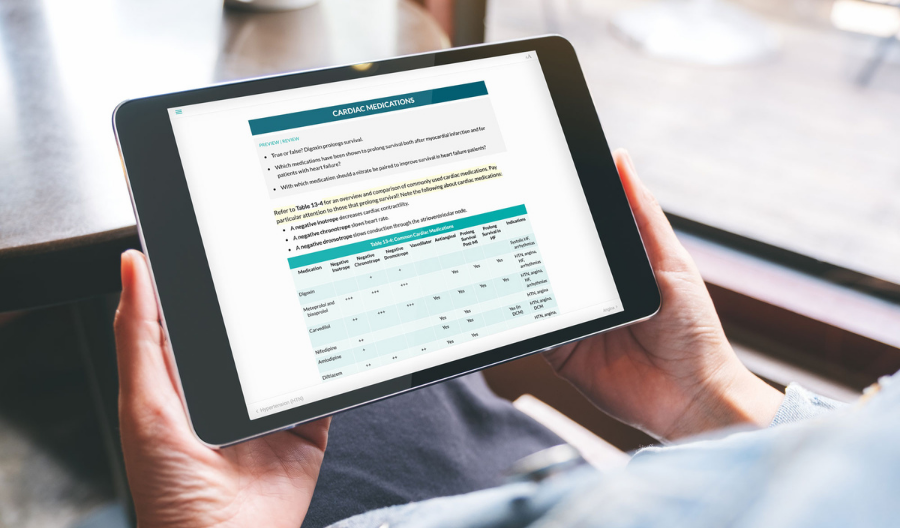 The Digital Core can be accessed from anywhere on any internet-connected device.
The new Digital Core is future-proof! To make sure you always have the most up-to-date content, we are updating the Digital Core on an ongoing basis. So, if there are any new guideline updates in that time or new edition releases during your three-year access period, rest assured that you'll always have the latest content in the Digital Core.
How Can You See What's Been Updated?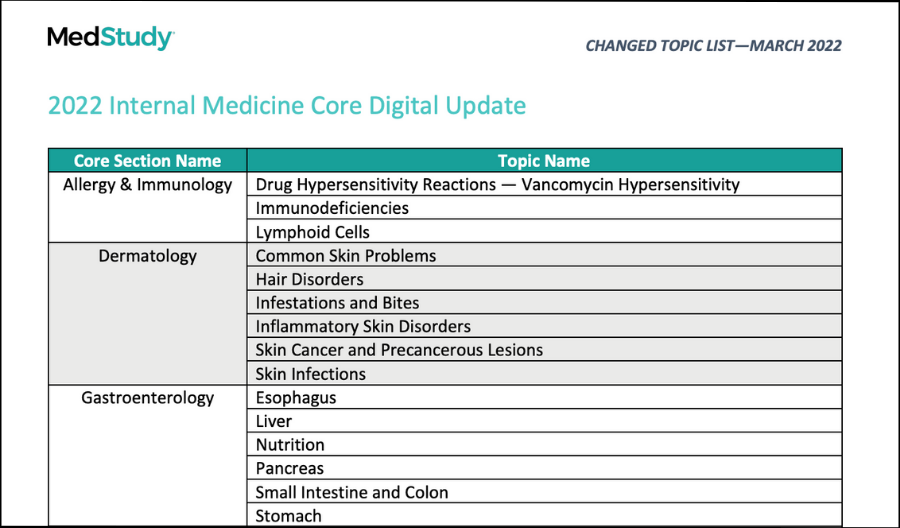 Every time we make an update, we share every section that has changed.
If you want to find exactly where our team made changes in the last update, you can check anytime! Just click on 'Helpful Stuff' in the top menu of your myMedStudy account and then choose 'Corrections'. Under the IM Changed Topics menu, you can then click on the Digital Core.
This will show you which topics had changed in the most recent update. Search for any of these sections in the Digital Core to instantly check out what's new!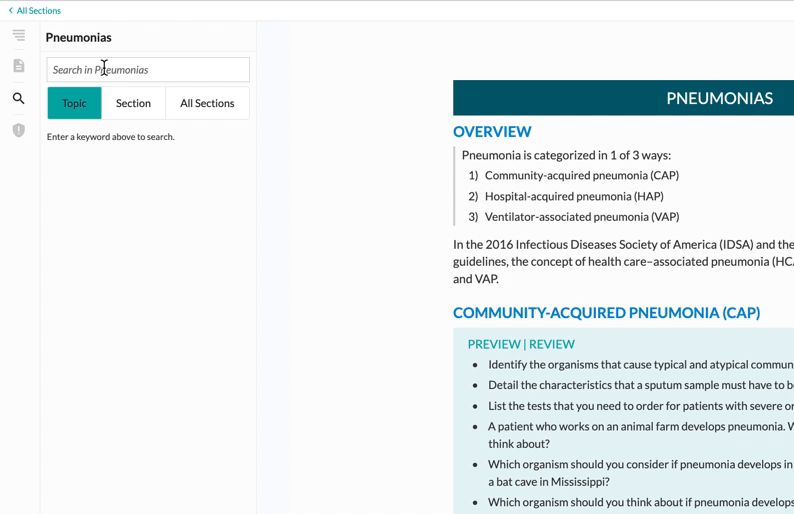 Instantly search for any topic in the Digital Core.
Access Your Internal Medicine Books Online Longer Than Ever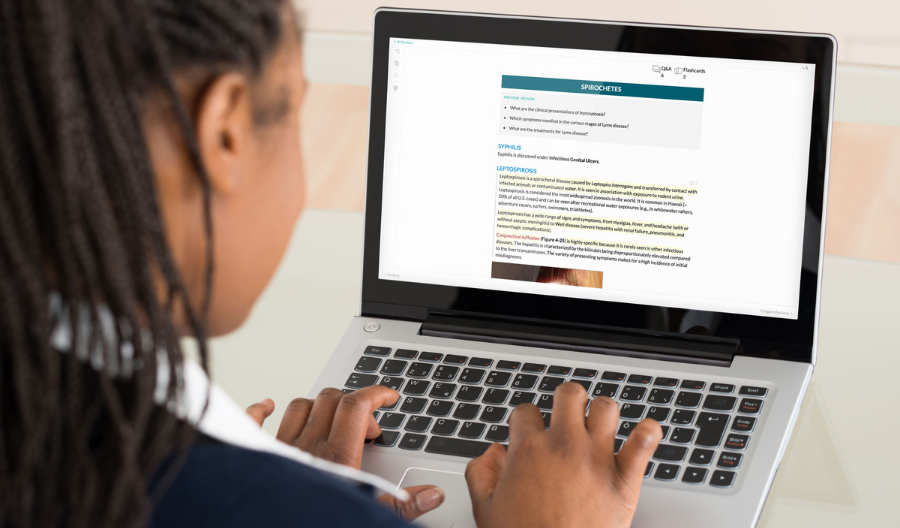 Access for the Digital Core lasts three years after you activate.
Now, when you purchase the Internal Medicine Digital Core, you'll get access to all the material for three years after you activate your product in your myMedStudy account. Instead of getting access until a set date, like books that are published in editions, you will get three full years of access from your date of activation.
The Digital Core Includes the New Personal Trainer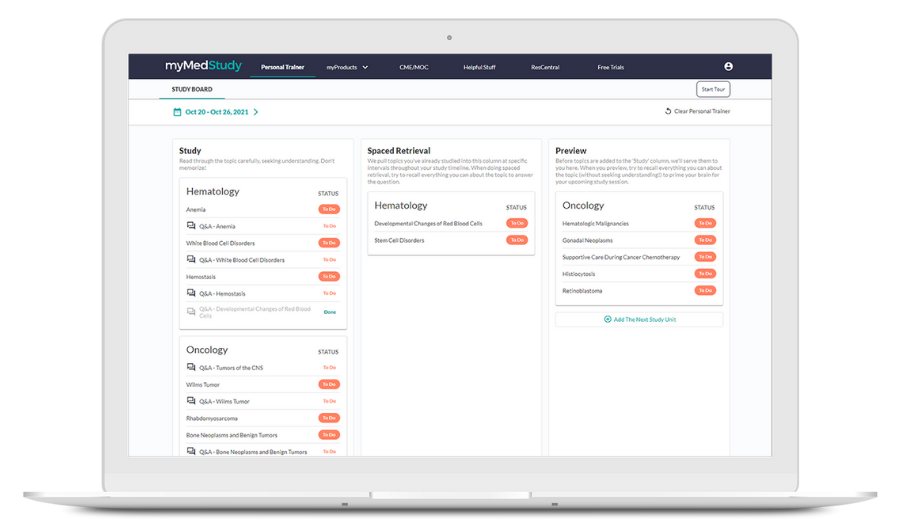 Personal Trainer is included with the Digital Core for free.
Personal Trainer is your new super-smart learning guide, and it's included with the Core for free.
You'll get personalized, adjustable learning plans built according to your study pace and goals. Personal Trainer uses Core topics and Preview | Review questions combined with the MedStudy Method to move what you need to know into your long-term memory.
Personal Trainer walks you through the most effective ways to learn, retain, and easily recall all the medical information as you need it, whether you're seeing patients or getting ready to ace your Internal Medicine boards.
Get Essentials and Have All the Latest
Get access to print and digital learning tools with the All-Access Essentials.
Get the Study Strong Digital Essentials to access the new Digital Core along with Core Scripts® Flashcards, and Board-Style Q&As (plus Personal Trainer!). All these essentials are designed to work together to give you the most effective review possible.
Choose the new All-Access Essentials to add on the printed version of the Core and Core Scripts® Flashcards, and save $600 by bundling everything together!
Start a free trial of the Study Strong Digital Essentials today to get 30 days of access to the Digital Core and see how it works perfectly with the Q&As, Core Scripts® Flashcards, and Personal Trainer.