When you're looking to purchase a review course for internal medicine, it's important to get it right! What do we mean by that? Well, it's important to make sure that the course material gives you a review on what you already know, helps you to find your knowledge gaps, teaches you guideline updates, and streamlines your study process.
What should you look for to help you do that? Here are our six best tips for picking the perfect course!
A Course That's Designed To Fit Your Schedule (Or Not)
Our course is five days long and chock-full of distraction-free sessions! There's so much info to study, and with your busy schedule you'll want to look for a course that allows you dedicated time to study with minimal distractions. Internists who attend our online Internal Medicine Review Course love that they're able to set aside a few vacation days (or CME days) to soak up the knowledge from the course.
Can't take the time out of your schedule? That's okay too. You'll have access to all of the lecture footage for one year after the course is over. This way, you can watch the latest videos whenever you can fit it in. Plus, lectures are uploaded to your MyMedStudy account the day after they are given, so you don't have to wait to re-watch.
A Review Course That

Aligns With the ABIM Exam Blueprint

Snippet of last year's Internal Medicine Course Cardiology section

Have you reviewed the ABIM exam blueprint yet? While we'll never know exactly the questions that'll be on the exam, we can look to the ABIM blueprint to discover the topics that they'll be testing on, as well as the percentage weight of each topic in the exam. The Internal Medicine Review Course is carefully created according to the ABIM blueprint.

Our courses aren't taught by just one physician—we find expert physician educators for each topic to give you an engaging and board-focused review.
A Course That Gets You Ready to Answer Board-Style Questions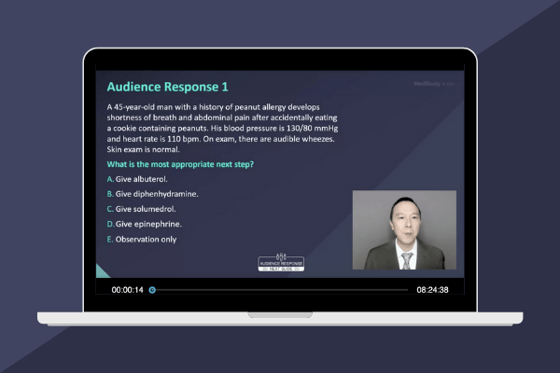 Q&As are presented during the Internal Medicine Course
New this year! The Internal Medicine Review Course integrates self-testing into your board prep using Q&A Video Shortcuts. It's a separate video that combines every audience-response Q&A into one perfect review tool. Plus, you'll receive 100 board-style practice Q&As.
During the lectures, our expert physician educators present live Q&As. Attendees love the interactive nature of the Q&As, you get to respond to these questions in real-time, and then see how your answers compare to other course attendees. Plus, you can quiz yourself throughout the entire course to identify any knowledge gaps. The lecturers give thorough explanations of why the correct answer is right and why the distractors are incorrect.
A Course That Teaches You Proven Study Techniques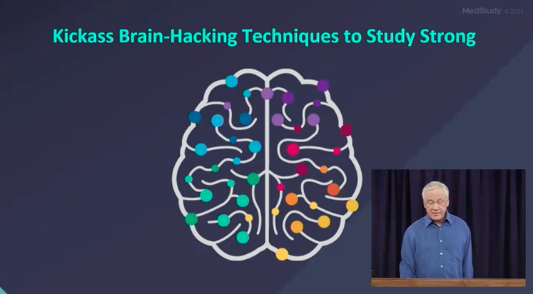 During the Internal Medicine Review Course, the founder of MedStudy gives study tips from the MedStudy Method
To get the best review that you can, you'll want to make sure that the course you pick aligns with study strategies that are proven to make sure you remember more of what you study and review.
When you attend a MedStudy Review Course, you'll notice that we have a segment called "Kick-Ass Brain-Hacking Techniques to Study Strong." In this segment, MedStudy's founder, Tony Hannaman, MD will give you some inside tips and his best advice for study practices and how to ace your exam. Plus, he'll go over exactly what you can expect going into your exam.
Ready more about the MedStudy Method in the StudyWise guide, a free downloadable PDF.
A Course That Builds Camaraderie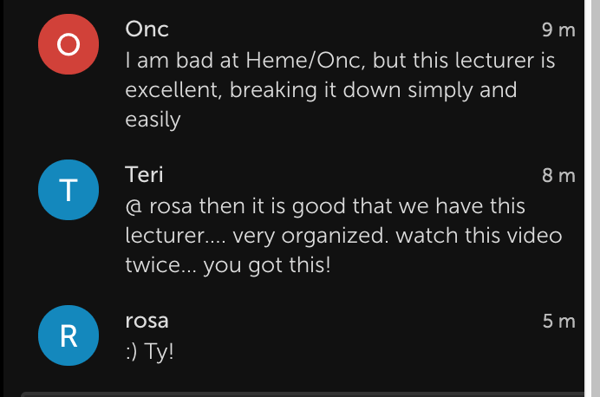 Online attendees use the chat feature during a Board Review Course
You know that you'll stay engaged by answering questions during your course, but you'll want to make sure you can interact with other course attendees, too. All MedStudy online course attendees can use the chat feature to communicate with each other during the course.
During the lectures we see a lot of physicians using the chat to build camaraderie, cheer each other on during intense review, problem-solve together, and answer each other's questions.
A Course That Provides CME and MOC
If you're like many of the other physicians looking for an Internal Medicine Review Course, you might need Continuing Medical Education Credits and Maintenance of Certification Points. You'll probably want a review course that allows you to claim CME Credits and MOC points. We make it easy to claim 40.25 CME and MOC after the course.
Sign up for our upcoming Internal Medicine Review Course to build confidence in your knowledge and ace your exam!