Do you ever feel like your Medical CME and MOC requirements are an obligation you'd rather not have? Sometimes in the scramble to earn the credits you need on time, you just choose the activity that's cheapest or easiest—a.k.a. the path of least resistance. Instead, why not take the road less traveled? Be the master of your own fate by earning credit for doing the things you want to do anyway. Here are some of our ideas to help you see your Medical CME requirements as more than just an obligation.
Keep a Running List of Things You'd Like to Learn More About
Fun fact! Curiosity stimulates the parts of our brain associated with pleasure and reward and increases activity in the hippocampus, which is associated with memory. And, as a physician, we know you're a lifelong learner who's always looking to acquire more medical knowledge!
To stimulate this curiosity, get a little notebook (or use the Notes App on your phone) and start a running list of interesting patient cases that come up throughout the day that you'd be interested in reading/learning more about. When you associate learning about a specific disease or condition with a patient, it "sticks" in your brain better.
If you have free time throughout your day, pull out your list and do a search in your Digital Core for that topic and read up! From your Digital Core, you'll also be able to see the interlinked questions and Flashcards associated with that topic. After you've read up on the topic, go over to those Q&As and Flashcards to test your knowledge on that topic. You'll be earning Medical CME and MOC while indulging your curiosity.
Free trials of the Digital Cores are available! Indulge your curiosity with a free trial now!
Make a CME Review Course Course Part of Your Yearly Plan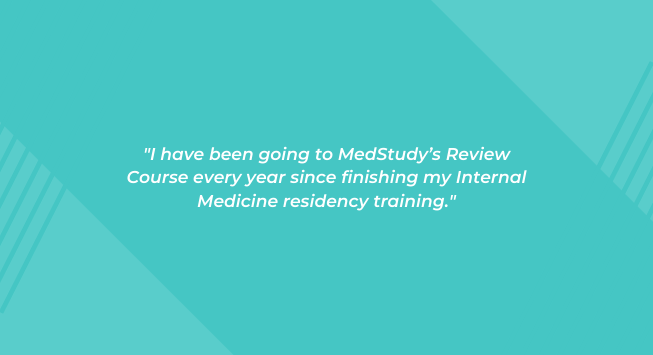 Myo Chang, MD's quote on attending the MedStudy Review Course each year
Join us for an Internal Medicine Review Course or Pediatrics Review Course. Our IM and Peds Courses are specifically designed to make it easy to learn new guidelines and updates, while also earning Medical CME credits.
One Internist with the VA Northern California Health Care System attends a MedStudy Review Course every year! He told us that he has attended courses from other medical education resources, but keeps coming back to MedStudy's Review Course because it helps him learn and remember more.
Work Through Board-Style Q&As for Last Minute CME
Want to knock out two birds with one stone? Work through some Internal Medicine Board-Style Q&As or Pediatrics Board-Style Q&As. You'll prepare for your upcoming boards (or using them just to keep your knowledge refreshed!) while also earning some quick, last minute CME. You accrue 1 credit for every 4 questions that you answer correctly. With 12-month access to the qbank, you can earn a maximum of 100 points. It's the fastest way to earn all the CME credits you need!
Plus, you can claim points right away. Since the Q&A Premium is an online product, you get immediate access upon purchase and can start answering questions and earning credits right away. It's easy to use from your phone or mobile device, too. Just use your device's Internet browser to access your myMedstudy account.
Start a free trial of the Q&As, that way you can get a good feel before you purchase!
Turn Everyday Activities Into Study Time
You don't have to put your life on hold to study! You can study during your everyday activities with Internal Medicine Audio Pearls or Pediatrics Audio Pearls. They are the perfect study-on-the-go option to fit the busy physician lifestyle.

Our audio CME internal medicine option can be accessed from your mobile device and used anywhere you're on the go (as long as you have Internet access, of course.) That means you can transform your commute to work, hiking, time at the gym, or walking the dog into much-needed board prep time.
Snippets of each section in the 19th Edition Internal Medicine Audio Pearls on YouTube
ProTip for using the Audio Pearls: If you prefer studying with more than one format (i.e. print and digital), the Audio Pearls are a perfect format to stack on top of reading through the Internal Medicine or Pediatrics Core books—listening engages more of your brain than reading alone!
Free trial available now! Start a free trial of the Audio Pearls.
Turn Earning Your Medical CME Into a Lucrative Side Hustle
Did you know that you can get paid to earn CME? For those wondering, a "side hustle" is a gig that you do on the side and keep your current job! You can get paid to earn Medical CME by teaching medical students or residents at an approved Category 1 CME activity. You'll earn CME at a 2-to-1 ratio for your own lecture, and while you're there, earn 1-to-1 CME by sitting in on your colleagues' lectures as well.
PS, MedStudy is always looking for qualified health care providers to join us. We have a team of superb physician educators, who help MedStudy create the best medical learning solutions out there! We're always hiring medical writers, editors, and course speakers. Think you fit the bill? Fill out our contributor form to get started!
Hopefully, with these creative ways to earn and claim Medical CME and MOC, you're no longer looking at your requirements as a dreadful obligation. Whether you're simply indulging your curiosity or turning it into a side hustle, we're here to help you get those requirements filled with our Medical CME and MOC solutions.