*Updated 02/28/2022
In early 2022, IM docs started utilizing the American Board of Internal Medicine (ABIM)'s new longitudinal assessment for its Maintenance of Certification (MOC) program. Here's what you need to know about this self-paced Longitudinal Knowledge Assessment (LKA).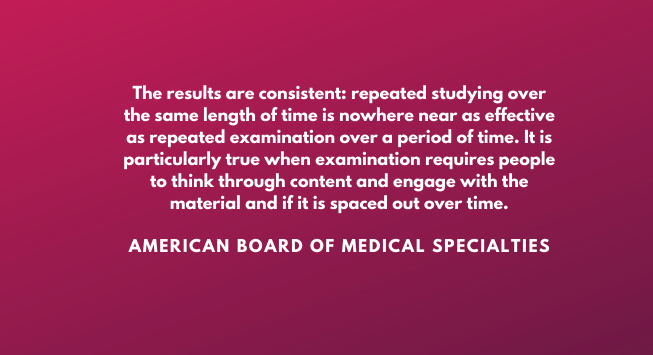 About ABIM's Longitudinal Assessment
What Is the Longitudinal Knowledge Assessment?
Physicians told the ABIM they need a more flexible learning experience that they can do on nights and weekends (without all the high security at test centers!) and wanted questions that provide feedback about why the right answer is right, and also why the wrong answer is wrong.
Instead of studying everything you need for the traditional 10-year MOC exam all at once, the LKA helps you assess your medical knowledge in chunks.
This ABIM longitudinal exam format allows you to log on from anywhere, and answer questions at your own pace—using the same resources you use while treating patients. You just have to answer the required number of questions in a set amount of time.
The ABIM Longitudinal Exam includes 120 questions offered per year for five years. You can skip 100 questions over the five-year period.
ABIM Longitudinal Exam vs Knowledge Check-In
This ABIM MOC assessment option replaces the two-year Knowledge Check-In Exam that was rolled out in 2018, but you still have the traditional 10-year MOC exam as an option.
This kind of exam supports the science-backed information about how adults learn best: frequent information with quick feedback, repetition of material, and identifying gaps in knowledge.
What Is the Longitudinal Assessment Like?
The exam is more flexible. You have a set amount of time to answer a set amount of questions—you are in charge of your own exam schedule from there—and you can do it from anywhere that has a stable internet connection!
There are more learning opportunities. With each question, you get immediate feedback about the correctness of your answer, and opportunities to learn why your answer was correct or incorrect.
An open book testing experience. The ABIM followed suit with other medical specialties, so this exam is open book, meaning

you can use any resources during the exam

that you use when treating patients.
Pay less over time with multiple assessment options. The LKA is included at no additional cost for each certificate you are paying to maintain.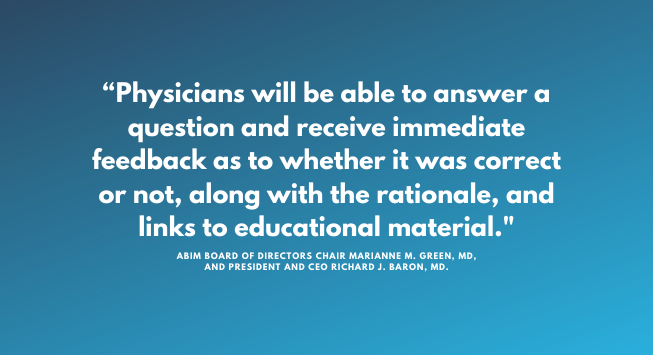 Quote from ABIM Board of Directors
How Many Questions Are on the Assessment?
The ABIM Longitudinal Knowledge Assessment uses the same MOC blueprint as the 10-year exam. The 600 questions presented to you quarterly over five years are pulled from any of the content areas on the blueprint.
The ABIM Longitudinal Exam presents 600 questions for you to answer over the five years—120 questions per quarter. You can skip up to 100 questions throughout the five-year testing time.
What's the Longitudinal Assessment Passing Score?
Since you get immediate feedback about the correctness of your answers as you go, you know how you're doing and where you stand throughout the LKA. At the end of the five-year cycle, the ABIM will let you know if you met the passing score.
If you are successful, you'll be able to continue with the LKA, if not, you still have the opportunity to take the traditional 10-year MOC exam to maintain certification.
How Do I Register for the LKA?
To register for the LKA, you must meet these three requirements:
Your specialty must be eligible,
You're interested in the LKA rather than the traditional 10-year exam,
And you must be due for an assessment in 2022.
If you meet the above, then there's still time! The first quarter is open until March 31 (then those questions expire). As per the ABIM, you can only start the LKA in your assessment due year. Remember: Start early in the calendar year to avoid missing any questions.
That being said, the very last day to enroll in the LKA for 2022 is June 30, 2022.
So log on to the ABIM Physician Portal to register today! And while we're talking about it, have you downloaded your important dates calendar?
Remember, even though this is an open book exam, you still need to study! Ready to start? Our IM learning tools cover all the topics on the blueprint for the exam.
Plus, here's a short video to provide a little motivation and show you ways to pulverize procrastination.
Already taken the LKA? Let us know how it's going at support@medstudy.com.