When it comes to the world of ABIM MOC, understanding it all can be challenging. So we've gathered 2024 dates, costs, requirements, and more to help you sort it all out.
Here's what you need to know.
What are the ABIM MOC requirements?
In order to maintain ABIM board certification, all physicians must participate in the MOC program. To participate in ABIM MOC, you must:


have an active, valid, and unrestricted medical license
earn MOC points every 2 years through a variety of educational and self-assessment activities. You must participate in an MOC activity every 2 years, and you must earn 100 points total every 5 years
pass an MOC exam to assess your clinical knowledge and judgment in internal medicine or a specific subspecialty
How many points do I need in 2024?
You need 100 MOC points every five years in order to remain certified by the American Board of Internal Medicine. Every 2 years, you must participate in an MOC activity. The number of credits you earn will count towards the 100 needed every 5 years. Depending on which ABIM exam you're taking, every few years you will need to pass a MOC assessment as well.
What should I use to earn MOC points?
Depending on what you're looking for, there's a range of ACCME-accredited solutions for physicians to earn MOC points. If you need to earn points quickly, internists love the new Qbank+. Like to plan out your MOC? Sign up for a 2024 review course!
Pro Tip: Earn MOC points and CME credits at the same time. It's difficult enough to try and keep track of the different CME and MOC requirements. The good news is that our learning tools count for both your MOC and CME requirements.
What is the ABIM MOC cost?
The annual ABIM MOC cost is $220. If you keep additional certifications, each will cost $120 annually. Then, if you plan to take the traditional 10-year MOC exam, it will cost an additional $700.

Image detailing the annual ABIM MOC cost from ABIM.org
Pro Tip: Being on top of your fee schedule is worth it! The ABIM will give you a 5% discount if you pay your annual MOC fees before the year they are due. Then you don't have to worry about late fees, either. You are able to pre-pay up to ten years in advance.
What are the 2024 ABIM MOC important dates?
Got your calendar ready? Let's talk about the 2 MOC options and important dates.

All ABIM-certified physicians need to know when their MOC points are due each year. For 2024, ABIM MOC points need to be submitted by 12/31/24. You still have plenty of time to earn and claim.

If you're up for recertification in 2024, you'll need exam-specific dates for your Part-3 MOC requirement. ABIM-certified physicians have 2 options for MOC exams in 2024—the ABIM Longitudinal Knowledge Assessment and the traditional, 10-year MOC exam.
1. The ABIM Longitudinal Knowledge Assessment
The longitudinal pathway is a newer option from the ABIM that allows physicians to maintain their certification in a more practical way on a five-year cycle. The LKA was created to give practitioners greater flexibility, convenience, and relevancy. It includes both a participation requirement and a performance standard.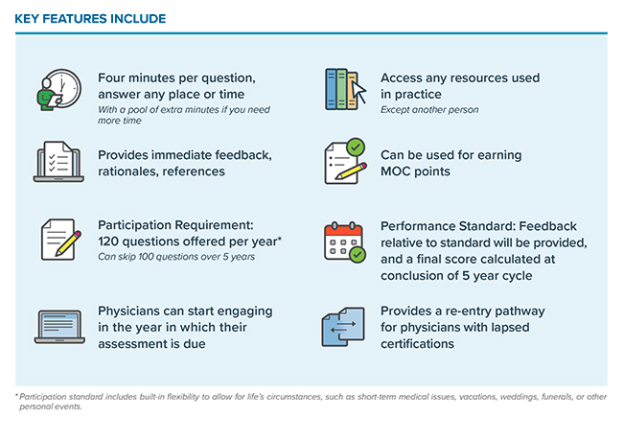 An overview of the features ABIM offers for the Longitudinal Assessment MOC Exam.
Enrollment for the LKA opens Dec. 1, 2023 and closes June 30, 2024. Other important dates include the question schedule:

Questions schedule for the ABIM LKA subject to change
2. 2024 ABIM MOC traditional exam dates
The traditional exam is available to all specialties and requires you to take the exam for about 10 hours, every 10 years, in a designated testing center to stay certified. You will be allowed to use UpToDate® as a resource throughout the exam. You can register for Spring exams through February 28 or Fall exams through August 15.
Spring 2024 Exam Dates
April 2, 4, or 8
Fall 2024 Exam Dates
Oct. 8, 14, or 15
What exactly is the Longitudinal Knowledge Assessment?
The LKA is new way of maintaining certification that will assess your medical knowledge throughout a 5-year period instead of once every 10 years. It allows you to log on from anywhere, and answer questions when your time allows—and, did you hear that it's open book? Just be sure to answer the required number of questions in a set amount of time each quarter. You can expect to answer 120 questions each year for 5 years and can skip 100 questions over that period.
What is the cost of the LKA?
If your plan is to participate in the LKA for the first certificate you maintain, then no payment is required—the LKA fee is included in the annual MOC fee. According to the ABIM, an internal medicine physician with one certificate will save $100 over a 10-year period when they choose to participate in the LKA instead of the traditional 10-year recertification exam.

Image detailing the savings over a 10-year period by choosing the LKA instead of the traditional exam on ABIM.org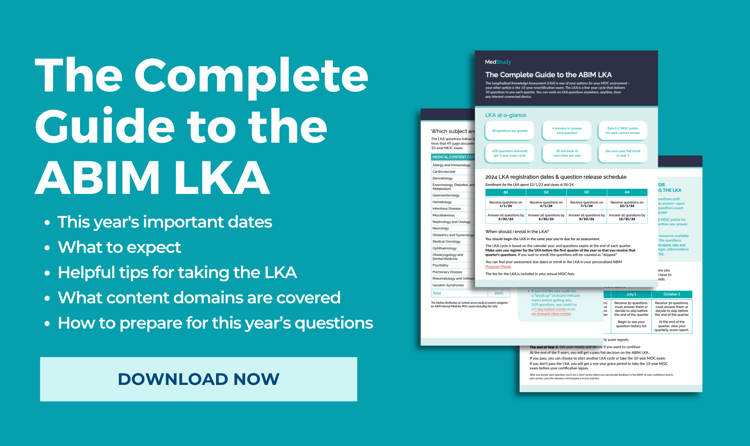 How do I claim MOC points?
To submit for ABIM MOC points from any of MedStudy's ACCME-accredited learning tools, you'll have to first claim the CME from the product. Once you've claimed CME, you can submit for MOC. Once you submit your MOC points, we'll reports these points to the ABIM within one to two business days, and you'll receive an email from MedStudy confirming that we submitted your MOC points to the ABIM.
Now, let's wrap up with some additional info to help you: