Our Med Student Study Strong System is finally here! We've taken thirty years of expertise in helping internists and pediatricians ace their boards and crafted a revolutionary new learning system for medical students. If you're a med student who has never used our learning tools, you might be curious about the experience. Here are the questions we've been asked the most since we released our med student materials.
What is the Med Student Study Strong System For?
This evidence-based system was built to support you through all four years of med school. The Complete System is designed to guide you through your classes, and help you confidently and competently take on Step 1 and Step 2 exams. We crafted all the content with med students in mind so you can start your career off on a solid foundation of medical knowledge.
We'll also guide you through our science-backed MedStudy Method for the most effective study sessions, so you can easily move what you're learning to your long-term memory. Plus, our method trains your brain to study more efficiently-- a useful tool for the rest of your medical career. This means you can keep using the MedStudy method with our learning tools for the most effective test prep for your board certification exam, for future recertification exams, and to eventually maintain excellence in your practice.
What's Included in the Study Strong System?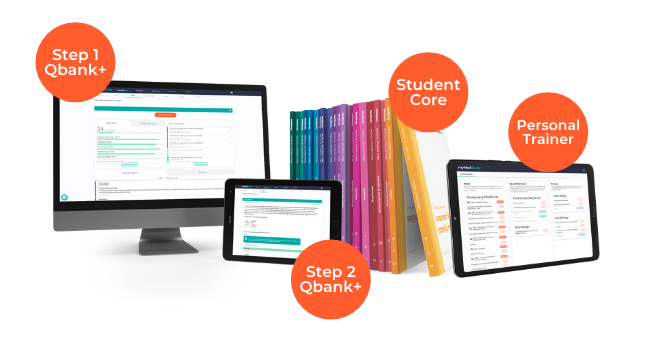 The Study Strong System includes the Medical Student Core, Step 1 Qbank+, Step 2 Qbank+, and Personal Trainer.
The Complete System covers the essential knowledge you'll need to get through all four years of medical school and ace your step exams. We designed these four learning tools to work together and make learning a breeze.
This set of medical school books comprehensively presents and clearly explains what you need to learn in med school to become competent physicians.

From basic science to clinical knowledge, our casual and concise Core content covers all the medical knowledge you must master—and makes learning it easier. You'll get this comprehensive

set

of twenty printed books with a shelf case, plus a digital book you can use on your mobile device.

1,500 Step 1 Qbank+ questions.

Enhance your learning of basic science concepts and ace your Step 1 exam with these practice questions. Qbank+ is completely integrated with Core content for the most efficient study session. Learn medicine and prep for exams and patient care—from day one!

1,500 Step 2 Qbank+ questions to build your confidence for your Step 2 exam and

enhance your learning of clinical concepts. Every question has crystal-clear explanations detailing why the correct answer is correct, and why the incorrect answers are incorrect. It's the perfect self-testing tool.

The Med Student

Study Strong System includes a Personal Trainer to guide you through the material using study techniques that promote the creation of long-term memories. Personal Trainer customizes learning plans according to your study goals and pace so you can focus on studying the content while Personal Trainer tracks your progress.
How Long Do I Get Access?
The Complete System gives you access to all the learning materials for four years, so you can use them to study for classes and exams throughout medical school. You'll get:
4 years of digital access to Medical Student Core

4 years of digital access to Step 1 Qbank+

4 years of digital access to Step 2 Qbank+

4 years of digital access to Personal Trainer

Keep the printed Core for life to use as a reference throughout your career.
Are you ready for a better way to learn medicine? This
system of four interlinked learning tools adds a little method to the madness of retaining medical knowledge. Get yours now to build a sound (and easily recalled!) knowledge base and reduce stress during med school.

We offer free, 30-day trials of each product (no credit card required!) so you can get a feel for the entire system.
Follow us on Instagram for daily study tips, practice questions, and more!
*The United States Medical Licensing Examination (USMLE®) is a joint program of the Federation of State Medical Boards (FSMB®) and the National Board of Medical Examiners (NBME®). None of the trademark holders are affiliated with MedStudy.