Coming up on your Internal Medicine In-Training Exam? You got this! Here are some quick facts about ITEs so you can feel confident on exam day.
What's the In-Training Exam For?
The ITE is a comprehensive exam used as a tool to help you and your residency program assess your progress through residency. It also helps identify knowledge gaps before you take your Board exam. It's typically required for all residents.
How Long Is the In-Training Exam?
You'll be in for a long day! The total testing time of the exam is nine hours.
Do I Get Breaks during the Exam?
You sure do! Seven of the hours are for test taking, and then there are 10-minute breaks and a lunch break over the nine hour time span.
How Many Questions Are on the Exam?
The In-Training Examination is a 300-question exam. You can't fail the exam! Only questions answered correctly are counted toward the score.
What Will the Exam Cover?
The exam content is modeled after the ABIM Board Exam blueprint. Here's a breakdown of the topics you can expect to see on the exam from the ACP: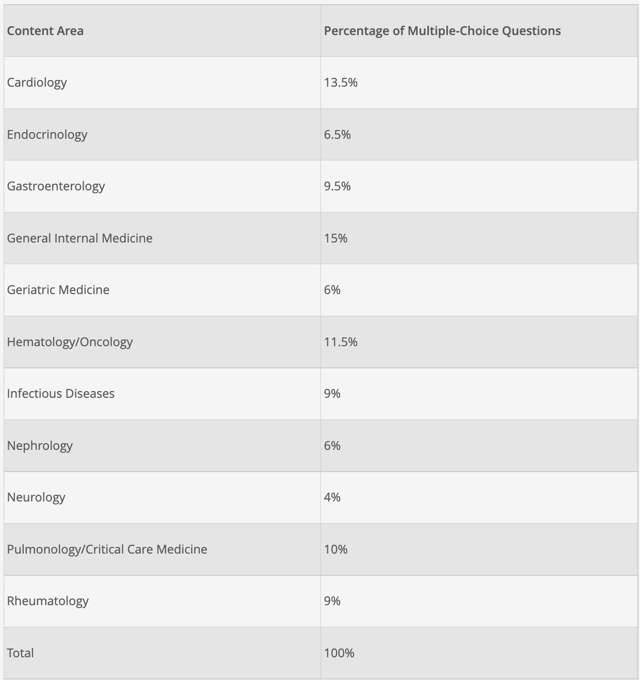 Percentage weight of each topics for ITEs
Is There a Practice Exam?
There sure is! You can take the Internal Medicine In-Training Examination Practice Test a couple weeks before the real thing to get a good feel for how it will go.
Also, you can always answer our Internal Medicine Board-Style Q&As and set up an assessment in Test-Mode.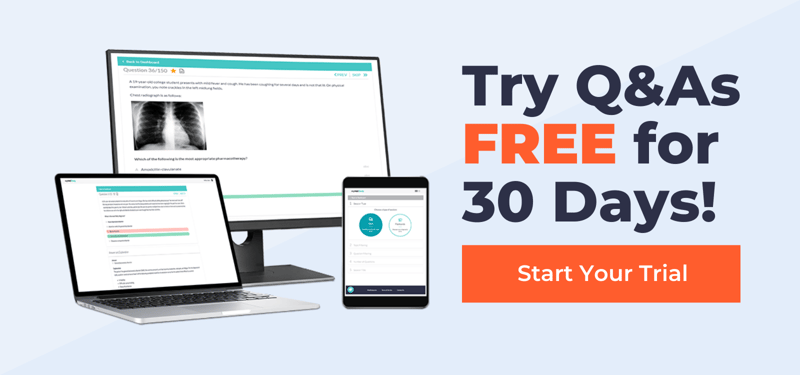 When Will I Get My Results?
You can find your results online about 4–6 weeks after the exam window.
Who Sees My Results?
Your program will receive a report showing the percentage of questions you answered correctly and a ranked list of all the examinees.
What Do My Results Mean?
Your results are a guide for you so that you'll know what to focus on during your studies for residency and boards!
If you're in your first or second year of residency, think of your ITE score as setting a baseline for your knowledge. Use your score and report to focus on the topics you didn't know as well for next year's ITE.
And if you're a PGY3, you're already well-prepared to take the ITE! Your score will help you fine-tune the learning objectives you need to brush up on before boards.
Remember! Preparing for the "real deal" (A.K.A- ABIM Boards) is a marathon, not a sprint. Pace yourself! Keep up with your daily studies—try your absolute best not to cram. Make time for yourself to do things you enjoy, too. Dedicating a little time to those things each day will keep you feeling refreshed and motivated, helping you stay on track with your goals long-term!
Want even more info? Check out our other IM ITE related blogs:
Your 5-Minute Guide to Taking The Internal Medicine ITE
Everything You Need to Know Before You Start Your ITE Exam Prep
What To Do With Your ITE Exam Results
6 Ways to Prioritize Self-Care Before Your In-Training Exam