Are you in medical school and starting to think more deeply about what specialty to choose? To help you make an informed decision, we interviewed dermatologist, Maren Shaw, MD about her career. She explained the best parts of dermatology, how she knew it was the specialty for her, and what she does to keeps her work/life balance.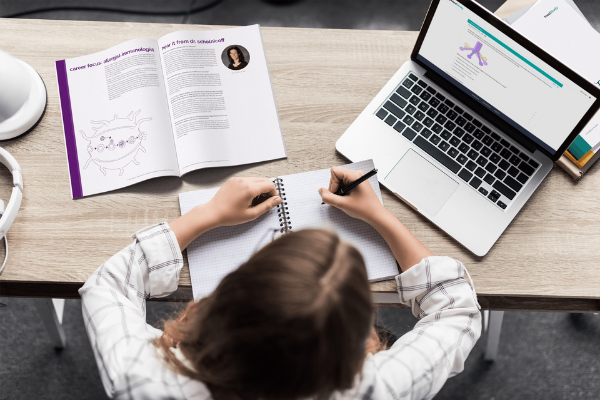 Study with the Medical Student Study Strong System
The Deets on Dermatology:
Dermatologists are specialists in the diseases that affect skin, hair, and nails. Most dermatologists (general dermatologists) treat both adults and children suffering from various types of skin disease. Common skin diseases treated by general dermatologists include acne, eczema, and skin cancer. Dermatology is primarily an outpatient specialty. Most of our patients are treated medically; however, we also do many outpatient procedures. Common dermatologic procedures include taking skin biopsies and performing minor skin surgery, such as excising atypical moles or skin cancers. Some dermatologists also see patients on an inpatient basis. In a hospital setting, we are often consulted to help in the diagnosis and treatment of various rashes, such as drug eruptions and skin infections.
How Do I Become a Dermatologist?
To become a dermatologist, you'll need to complete an internship—this can be in pediatrics, internal medicine, surgery, or general medicine—followed by a residency in dermatology. (A pediatric dermatologist's internship should be in pediatrics.) Dermatologists can further specialize by doing a fellowship in pediatric dermatology, Mohs micrographic surgery (a special technique to treat skin cancer), cosmetic dermatology, or dermatopathology. There are also highly specialized fellowships for hospital dermatology, immunobullous (blistering) diseases, melanoma, and a few other very specific skin diseases. Some dermatologists are actually double board-certified in both internal medicine and dermatology (Med/Derm) or pediatrics and dermatology (Ped/Derm). These Med/Derm or Ped/Derm dermatologists may choose to treat some of the rarer skin diseases with complex internal manifestations, such as genodermatosis.
Hear What a Career as a Dermatologist Is Like From Dr. Shaw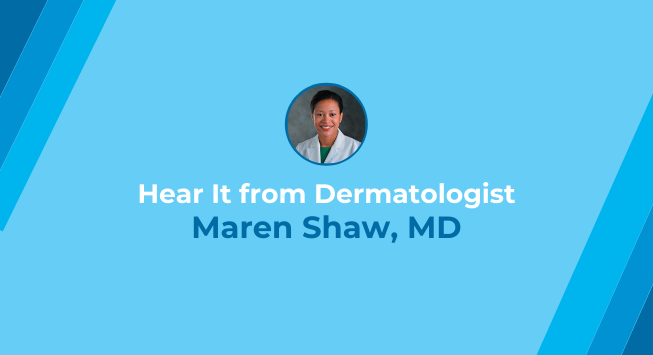 What do you love about dermatology?
I love dermatology because it allows me to practice both medically and surgically, to see patients old and young, and to treat a wide range of conditions.
My job is never boring. I'm never sure what the day will bring. Of course, there are common conditions I see more often (e.g., rashes, acne, warts, skin cancer), but there are also the rare dermatoses that only present every few years. Making the correct diagnosis on those rare skin diseases gives the satisfaction of solving a mystery.
How did you know that this specialty was "the one" for you?
I took a year off between 3rd and 4th year of medical school and did a clinical research fellowship in the dermatology department of my medical school. That provided me with intimate exposure to what it was like as a dermatology resident and a dermatologist. If you are unable to decide, you may want to take a few 2- to 4-week electives during your 4th year in the different specialties you are considering.
What tricks do you have for keeping a balance between a stressful career and a personal life?
As a working wife and mother, work-life balance is very important to me and is one of the factors I used to help decide my specialty in the first place. Dermatology permits a real separation from career and personal life. Of course, there are always people who are going to show you their rashes and moles at parties, but for the most part, you are able to leave your work at the office at the end of the day. I currently see patients 4 days a week, which is a pretty average schedule for most dermatologists. I used to work 5 days a week but found it difficult to manage everything at home when I was always working during regular business hours (when repair people could come to the house, or I could bring my kids to the doctor). So, now I work 4 days and love it.
Want to check out the Medical Student Study Strong System? Start a free trial of the now and get the full Musculoskeletal section for 30 days.

An inside look at the Musculoskeletal section as part of the Medical Student Study Strong System
Study With the
Medical Student Core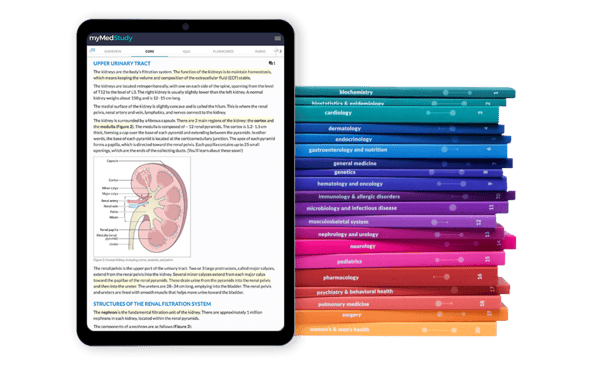 Study with the Medical Student Study Strong System
A cool feature of the Medical Student Core is the Career Focus section at the beginning of each topic. These sections present an overview of the specialty, as well as an interview with a specialist, that paint a clear picture of what your future holds should you venture down that path.
Start studying with the Medical Student Study Strong System now to see the entire Dermatology Career Focus section. We've taken 30 years of expertise in helping Internists and Pediatricians ace their boards and crafted the revolutionary Medical Student Study Strong System. This comprehensive learning system combines focused content with evidence-based learning techniques to ensure you truly LEARN the foundations of medicine as you work toward your goal of becoming an awesomely competent doctor.
Read Our Other Career Focus Blogs
Interested in reading about careers in other specialties? Read these interviews with other docs who dish on the deets of their careers: