Whether you are preparing for a board exam or building your knowledge for daily practice, the Digital Core is the best foundational internal medicine resource. How can you make the clear, conversational text in the Digital Core an even more effective learning tool? Let's take a look.
Take Your Digital Core to the Next Level With Interlinked Content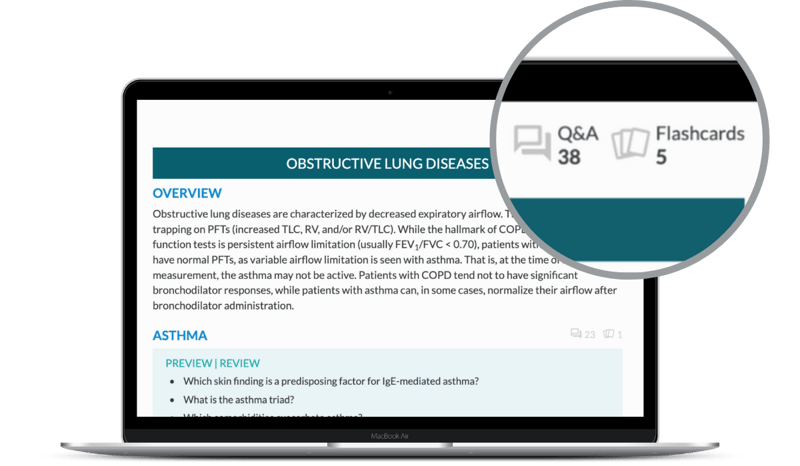 The Digital Core is linked to online Flashcards and Q&As.
All the Digital Core content is interlinked with our Digital Core Scripts Flashcards and Board-Style Q&As to help you achieve a comprehensive understanding of the must-know information that's required to ace the ABIM/AOBIM board exams and maintain your core competency as a kick-ass internist. For example, if you're reading about cardiomyopathy in the Digital Core, you can then jump to the same section in Q&As or Core Scripts Flashcards to quiz yourself on that information. It works in the reverse, too!
How to Test Your Knowledge After Reviewing in the Digital Core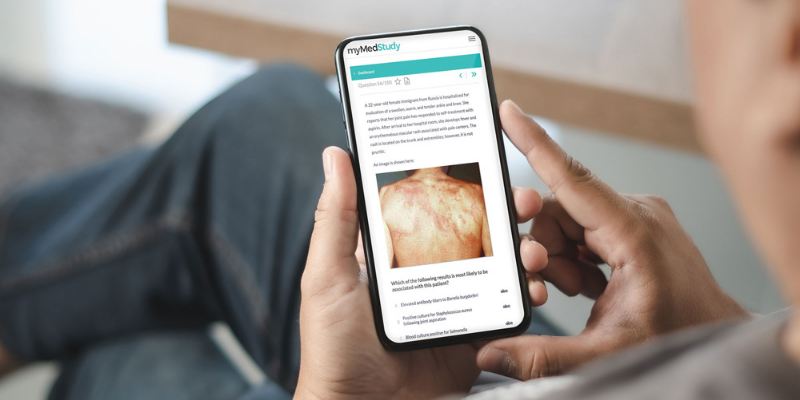 Answer questions in Board-Style Q&As after reading that section in the Core.
If you've been following us for a while, you'll know that our very favorite form of studying is self-testing. It's an integral part of the MedStudy Method. So we've made it simple and fast to test your comprehension of what you just read in the Digital Core. This, in turn, builds recall of what you just studied!
At the beginning of each topic in the Digital Core, you'll see links to instantly create a new session of Digital Flashcards or Board-Style Q&As to start reviewing the same topic in a different format. Reviewing and practicing recall of a concept using various formats deepens your understanding and memory of that concept.
Boost Your Study With Digital Essentials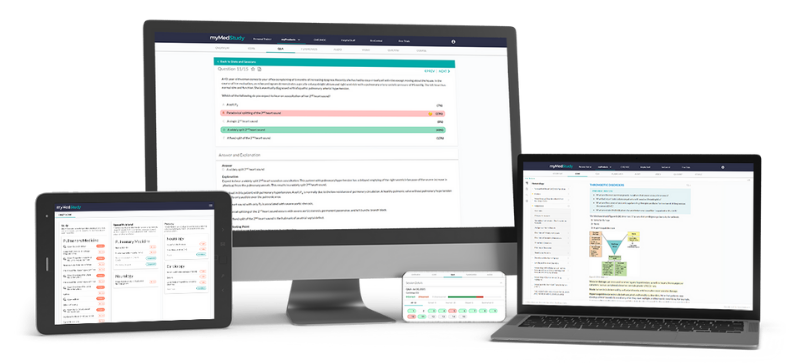 The Internal Medicine Digital Study Strong Essentials.
Dive deeper into concepts, reinforce your medical knowledge, and quickly learn what you need to know for the long haul with Internal Medicine Study Strong Digital Essentials. All these learning tools are fully interlinked, so you can learn more effectively and even track your progress through your study board. In a single click, you can go from Core to Flashcards, Flashcards to Core; Q&As to Core, or Core to Q&As.
The Study Strong Essentials also include Personal Trainer, your new super-smart learning guide. Personal Trainer will build personalized study plans to cover all the content you need to review in your Core and Q&As to meet your study goals in time.
Want to see how the system works together to give you a more effective review than ever before? Start a free trial of the Study Strong Essentials today!