Fred Zar, MD has been lecturing and working on MedStudy content since 2012. Over the years he has been the Infectious Disease speaker at countless Internal Medicine Review Courses. He let us in on a story about one of his favorite course interaction with an attendee.
"While presenting a case of botulism from Montana, and saying tongue in cheek to the audience, 'Imagine you are the only doctor in Montana...' During a break I entered the hotel elevator with one of the attendees. He smiled and thanked me for the presentation so far, and then said, 'By the way...there are no doctors in Montana.' He responded to my puzzled look by showing me his name badge which read 'Butte, Montana'...and then said, 'Because I am here!' We both had a good laugh."
Dr. Zar not only has a sense of humor that comes through in his lectures, he also has a vast knowledge of Internal Medicine and Infectious Disease. He completed Medical School at University of Illinois College of Medicine, his residency at Illinois Masonic Medical Center, and fellowship at University of Illinois Hospital. He is now Professor of Clinical Medicine and Program Director of Internal Medicine Residency at University of Illinois at Chicago.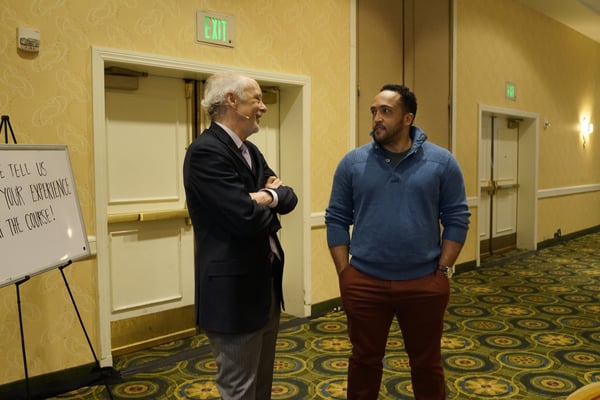 Dr. Zar speaking to an attendee at a previous IM Review Course
Dr. Zar's Tips for Studying at our IM Review Course
Here's an inside look at what he had to say about MedStudy's Internal Medicine Board Review Course and advice for those preparing for upcoming exams.
What should course attendees know about you?
I have been an Internal Medicine Program Director for over 30 years. My nightly wellness activities include playing blitz chess online for at least an hour.
What do you like most about speaking at MedStudy courses?
Because the course demands the most up-to-date information be presented, preparing for my presentation requires constant surveillance of the literature and guidelines which helps me stay current in my practice of medicine.
What advice do you have for those who are attending the course?
Enjoy the vast amount of knowledge the course reminds you that you have, and complement it with the additional teaching points you will learn.
Do you have any resiliency tips?
In my attempts to assure the residents that I train pass their boards, one common feature of those that sail through the exam is that they commit to a study plan early, allot time for it around their busy schedules, and assure that they complete all that they promised themselves that they would. Not only does this allow them to enter into the exam with knowledge, but also with confidence.
Want a sneak peak into Dr. Zar's teaching style? Check out this snippet from him speaking at our Internal Medicine Board Review Conference last year.
Dr. Zar reviews an Audience Response questions at a previous IM Review Course
Meet more of MedStudy's physicians by registering for the next Internal Medicine Board Review Conference where you can see more outstanding MedStudy course speakers and contributors.