Are you taking an ABP exam this year? Or maybe you just need a good review for practice? Then our Pediatrics Review Course will be perfect for you. Since pediatrics review courses vary based on who is hosting them, we're answering some questions you may have about how a MedStudy review course works.
What's a Pediatrics Review Course? | How's it different from the Video Board Review
Can I get a discount? | Are the lecturers any good? | Does the course come with questions?
What will the watch arty community be like? | Will I get any print materials?
How's the quality of the videos? | Can I claim CME/MOC?
What's a Pediatrics Review Course?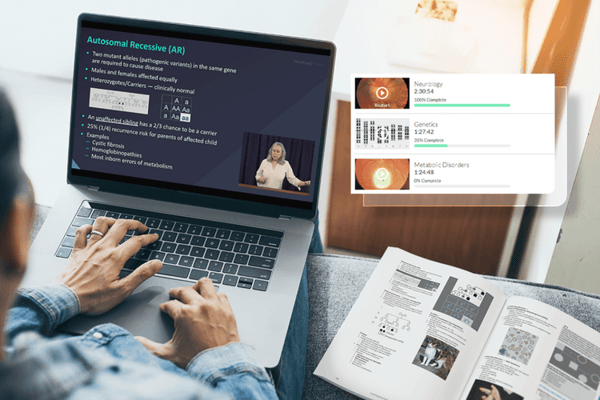 Get the newest lectures while engaging with the speakers at our Pediatrics Review Course
Not only is the Pediatrics Review Course a comprehensive live review of the topics covered on the ABP board content outline, but it's also great for practice review with the latest guideline updates. You can get the review—and CME—you need by attending online or in person August 10-15 (choose to join onsite or you can livestream online).
All course footage is sent to each attendee at the end of each day's session, which makes it a flexible review too! This way, you'll be able to review on-demand as your schedule allows for a full year after the course is over.
If you choose the in-person course, you'll get:
An effective study without the distractions of your home or office
To meet speakers and interact with them during the course or ask follow-up questions after each lecture
To move logically through the set schedule alongside people with similar interests and goals
Plus, if your office knows you're out of town, they won't call you with questions and interrupt your review.
What MedStudy Board Review Course attendees say about their experience
If you choose the online version of the course:
You will be in control of your study environment

You will have the flexibility to study from wherever you want—your home office, a coffee shop, the break room. (Just make sure your study space is comfortable for you and your internet connection is strong.)

You'll have the ability to chat and interact online with physicians from around the world

You can ask clarifying questions that will be sent to each speaker and answered as the course progresses
Whether you choose the online or onsite version, studying doesn't have to end just because the course is over. Once the event has wrapped, you'll see the lecture footage in your myMedStudy account and have the full color, printed syllabus available to boost your review. You can also take the practice questions as many times as you need to over the next 12 months to make sure you have the material locked into your long term memory.
How's it different from the Pediatrics Video Board Review?
MedStudy's Pediatrics Video Board Review is a professionally edited recording from the review course. Although these videos allow much flexibility (you can watch the videos anytime and from almost anywhere), you are not able to engage with speakers.
Bonus features of the Video Board Review also include the ability to add bookmarks and notes with ease, track your progress through the videos, and practice recall of the must-know information with a dedicated Question Review Video. Plus, you'll still get to deepen your study with the full color, printed syllabus.
Access the Video Board Review in one of two ways:
Watch the videos right away online through your myMedStudy account
View view the videos from a device of your choosing using a USB in 3–5 business days from purchase
But don't forget that with the live course, you'll be able to engage with both the speakers and other attendees during the event. Your review will be complete once the course is finished (all you'll have to do is practice recall until your exam!). And you'll be able to watch the videos for one year after the event is over.
Can I get a discount?
Groups of 5 or more are able to purchase all MedStudy learning tools at a discounted rate. Reach out to our group partner team at any time to discuss the custom package you need.
Are the lecturers any good?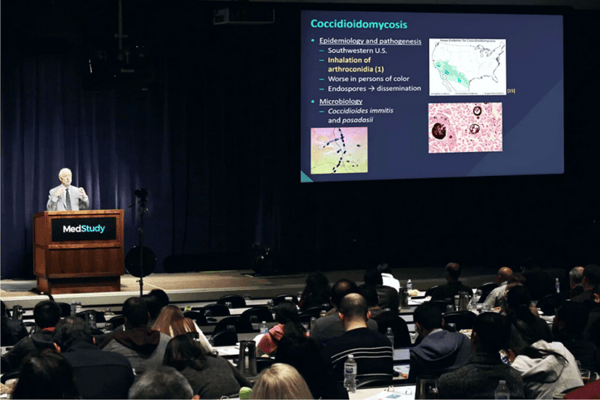 Fred Zar, MD, giving a lecture at the Pediatrics Review Course
Simply put, our lecturers are amazing. We search far and wide, high and low to find the best specialists who engage and impress our Course attendees. Many of our presenters are highly lauded in their specialties, and some are recognizable on the national stage. Throughout the event, you'll get guidance from 17 world-class speakers on exactly what you need to know for board exams and updating your knowledge for practice. Plus, they'll answer any questions you have during their presentations.
Our lecturers only focus on reviewing the information that will actually be relevant, so you won't have to worry about sifting through excess information that won't be on the boards. And you won't have to sit through lectures from the same doc for every specialty since we hand-select top speakers for each specialty to fill your review with engaging lectures.
Does the course come with questions?
During the course, you'll be asked Audience Response Questions (and you can see how your peers answered!). Each Audience Response Question is included in your syllabus, too. Because you'll have access to the recordings of the course for 12 months, you'll be able to review these Q&As on the syllabus and in the videos as well.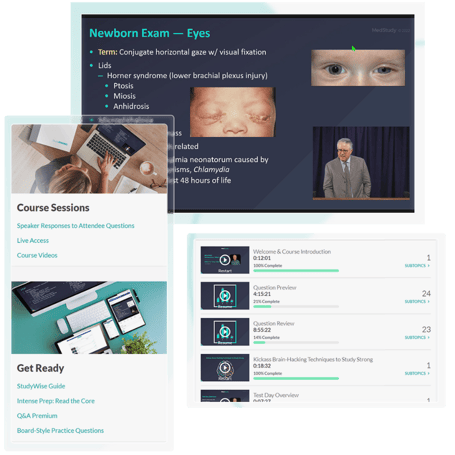 The Pediatrics Review Course comes with options for practicing recall of key information.
What will the course community be like?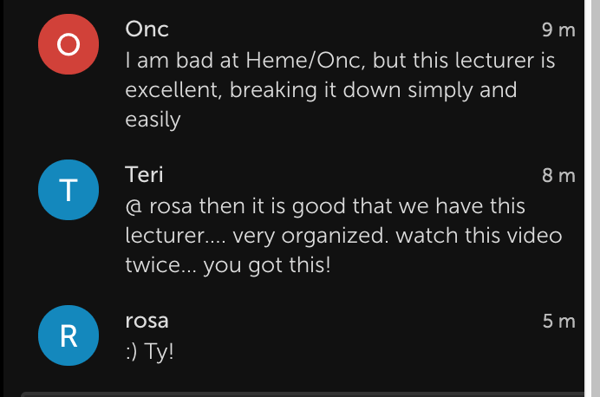 Attendees using the chat feature during the Pediatrics Review Course
If you attend online, you are able to use the chat feature to talk with other attendees during the course. All attendees can use the chat feature to communicate with each other during the event. We see a lot of chat during the sessions where physicians are working together in the chat to build camaraderie, cheer each other on during intense review, problem-solve together, and answer each other's questions.
If you attend the course onsite, you'll be able to review alongside other attendees in person. Course takers will also have opportunities to form study groups and test their knowledge with each other between lectures.
Whether you attend online or in person, the speakers will be available to answer any questions you may have.
Will I get any print materials?
Yes, you'll receive a printed full-color syllabus. Unique to MedStudy, is the high-quality, professionally-produced printed syllabus that accompanies your review course. Our raved-about full-color syllabus contains every slide shown throughout the event, formatted for easy reading.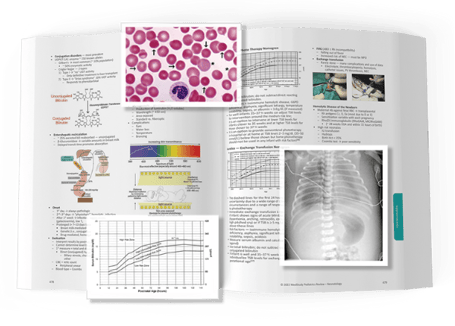 The full-color, printed syllabus is a course attendee favorite
Additionally, each section starts with a table of contents and ends with the answers to all of the audience response questions. All abbreviations used throughout the course are listed in the back. We take great care when making this syllabus so that you can focus on what's being said, not on taking notes. And your course syllabus ships free to the contiguous U.S.
How's the quality of the course videos?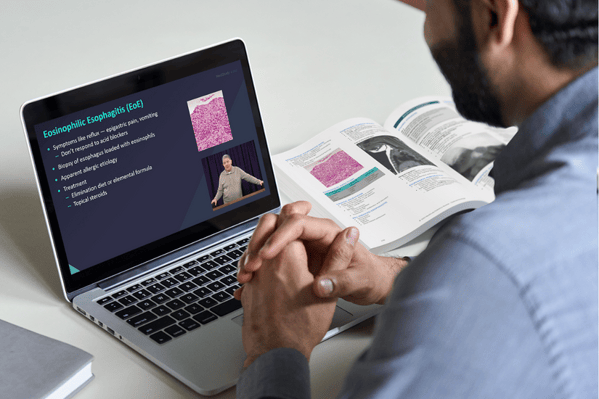 An inside look at the slides during the online event
The course videos are professionally-produced and HD quality with very clear audio and video. You'll be able to see and hear everything that's happening during the lectures including the slides and the speakers. You can see the speakers—and their gestures—like you're sitting right in front of them in the course room.
Can I claim CME credits and MOC points?
Absolutely! If a pediatrics CME course is what you are looking for, this review course has you covered. When you attend the course, you're eligible to claim 52.5 CME credits/MOC points. After the event is over, you can easily claim from your myMedStudy account under "CME/MOC." And, if you have any trouble claiming, you can always reach out to our Support Team for help. We have a dedicated CME manager on staff to support you through the claiming process.
Still have questions about the Pediatrics Review Course that you'd like us to answer? Let us know.