Thinking about Internal Medicine Video Board Review for your board preparation? You've come to the right place! We've got the answers to your most frequently asked questions on the ABIM review videos.
What's the IM Video Board Review?
The Internal Medicine Video Board Review is one of our most-loved study tools. It's a pre-recorded course that is ready for you to start watching and reviewing right away. Our users really like that they're in control of how and when they study for their boards. These videos are specifically designed for MDs and DO who are preparing for their ABIM exam (MOC or initial certification) but they are great for practice updates as well.
Which Formats Do the ABIM Review Videos Come in?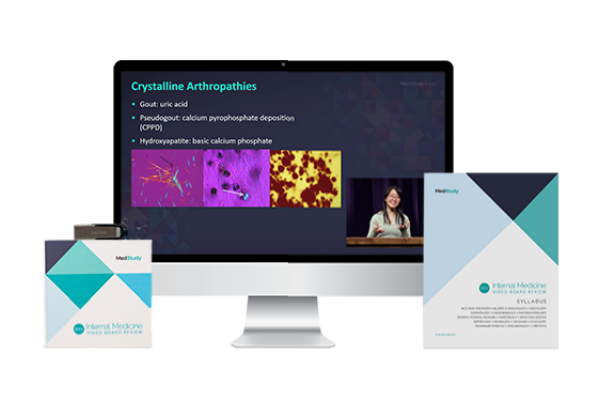 Internal Medicine Video Board Review on USB and Online Streaming
Choose the format that works best for you! We have two to choose from: Online streaming or USB.
If you choose to go with the online streaming ABIM review videos, you will access them by going to your myMedStudy account. You'll log in using your email address and password. They will be under the "My Products" section until the CME expires. If you decide to go with the USB, you have lifetime access to the videos and are able to download them onto one computer.
Which Format Should I Choose if I Travel on Planes a Lot?
If you're a big traveler, we recommend the USB flash drive so that you can access the videos without the internet.
Note! You will need to log in using the internet the very first time you use a new device to authenticate it. But, after you've logged in on that device, you can watch them from your USB without internet access.
Which Format Should I Choose if I Want To Watch Them From My Phone or Tablet?
If you'd like to watch the videos on your phone or portable device like a tablet or iPad, you'll definitely want to go with the online streaming ABIM review videos. That way, anywhere you have internet access, you can log in and see them right from your account. You aren't able to download the videos from the USB onto your phone or iPad, if you'd like to watch them from a device, you'll want to go with the online streaming.
Bonus! We even have an app that you can download to see all your ABIM review videos (and other products.)
Which Features Are Included with the Online Videos?
If you choose the online videos, there's a variety of features that help streamline your review:
Q&A Short Cuts.

A single video session

that goes through each of the Q&As presented by the speakers.
Bookmark.

Quickly find and bookmark your favorite videos
Take notes.

Take notes while you watch, and we'll keep everything organized for you (by categorizing your notes according to the headings where you added them). Never search for that missing piece of paper again!
Playback.

Playback videos at your preferred pace—up to 2x normal speed. You can also rewind in 45- and 15-second increments
Track your progress.

Track progress through your study session based on the number of topics started and the number of topics completed
See a menu of subtopics.

Easily select which topic to listen to next
Want to experience it for yourself? Start your free trial of our IM Video Board Review now.
Here are some other questions that are frequently asked about our ABIM Review Videos.
Which Internet Browser Should I Use To Access the Videos?
We recommend using Google Chrome, but you can also use Microsoft Edge, Firefox, or Safari. We recommend avoiding Internet Explorer as that browser is no longer supported.
How Do I Claim CME From the Video Board Review?
You will have to log in to your account and take a post-test in order to claim the CME credits and MOC points.
And, yes! You can claim them in chunks. For example, if you only need 20 credits this year, you can claim just that amount and save the rest for later! (Just make sure to claim before the expiration date!)
How Current Is the Content for the Video Board Review?
We release a new Video Board Review every year, so you always know you have updated videos. Plus, the videos are professionally edited, and you'll get an outline of each of the subtopics under each specialty, so you can narrow down exactly where you're at in the videos.
What All Comes With the ABIM Review Videos?
The Video Board Review includes supplemental materials:
520+ page full-color printed syllabus
Up to 39 CME credits and MOC points
How Long Are the Videos?
All together, the Video Board Review includes over 39 hours of laser-focused videos for Internal Medicine board review. The ABIM review videos range from a few minutes to a few hours. You can easily pause a video and pick back up where you left off. You can also drill down by topic and subtopic to watch only what you think is necessary. We provide the time for each section, and the desktop and mobile app allow you to speed up the pace of the videos.
What's the Difference Between the Video Board Review and the Review Course?
The difference between the Video Board Review and the Review Course is how you watch. The Video Board Review is a self-paced set of pre-recorded lectures, and the Review Course is an active attendance to lectures with the ability to talk to speakers and other attendees.
How Long Does the USB Take To Ship?
The USB will ship to you 3-5 business days as long as you live in the continental US. Plus, it'll be FREE!
Have any other questions you'd like us to touch on? There are several ways to get help from the MedStudy team. And, if you've settled on the format you want, you can head on over to our website and get started now.