Self-Care | Stuff To Wear | Fitness Resources | Stuff To Eat | Learning Resources
We know that most of our readers are not like the majority of the population who are adjusting to work from home life and trying to find ways to entertain themselves while in self-quarantine. Your free time is most likely sparse right now with the whirlwind of caring for others, caring for yourself, and staying up-to-date on new changes in medicine.
To help remedy this we've compiled a list of free resources and tools for you to use during these uncertain times. We hope these help you to take some time for self-care, some coffee, maybe some new shoes, and to help stay sharp on topics related to COVID-19.
Self-Care Tools for Doctors
You're so busy taking care of others right now, we want to remind you to take care of yourself as well.
Free Physician Support Line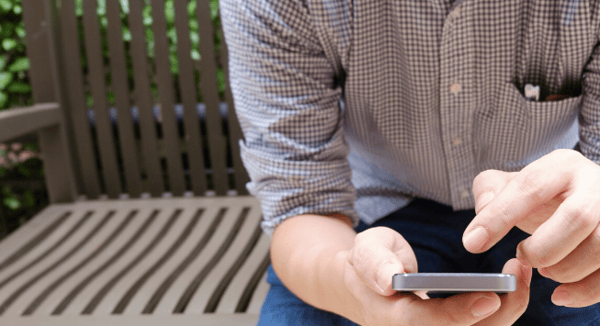 There's a free and confidential support telehealth line for physicians.
Psychiatrist and author, Monisha Vasa, posted in early April that she's proud to be a part of a nationwide effort of psychiatrists coming together to provide confidential crisis support to physicians. It is a free and confidential peer support telehealth line run by volunteer psychiatrists for US physicians as they navigate these uncertain times.
It's okay to not be okay while all of this is happening. If you need to talk with someone, you don't need to make an appointment—their hours are 8am-12am EST, 7 days a week.
Headspace Plus is Free for Public Healthcare Workers Through 2020

If you work in public health, Headspace is offering you their Plus version for free for all of 2020. Headspace offers guided meditation, stress and anxiety coping techniques, and encourages mindfulness. If you're a healthcare professional, make sure you have your National Provider Identifier (NPI) and email address ready and you can redeem for free.
Stuff To Wear
Shoes are mighty important for healthcare workers! Here are two companies working hard to get healthcare workers free shoes right now.
Crocs Is "Sharing A Free Pair For Healthcare"

The company Crocs is trying to get FREE shoes into healthcare workers hands.
Crocs is donating a free pair (with free shipping too!) to healthcare workers on the frontlines of the pandemic. Starting at 8 p.m. ET on the weekdays, you can "get in line"
for your free pair as they are giving a limited number (10,000) each day.
Allbirds Shoes Are Supporting Healthcare Workers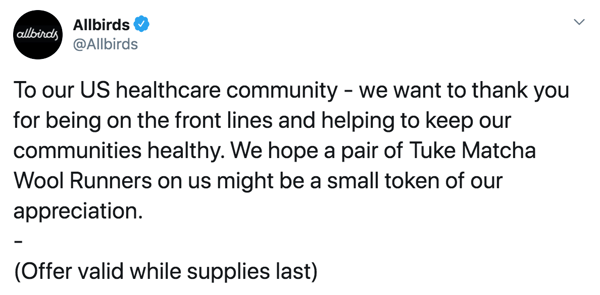 Allbirds tweeted on March 20 that to thank healthcare workers for all you are doing right now, they will be donating a pair of Tuke Matcha Wool Runners to healthcare workers until supplies run out. Email together@allbirds.com for your pair.
Free Fitness Resources
We know you might be having a hard time finding time to say active, and, of course, your normal gym is probably closed. We've rounded up some free apps and online tools for you to use in the meantime!
Free Fitness Apps—
Down Dog, Yoga for Beginners, HIIT, Barre, and 7 Minute Workout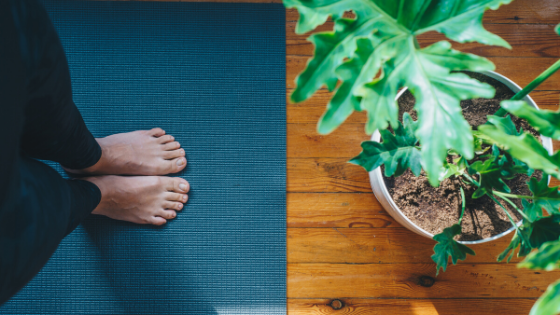 Down Dog is offering free Yoga streaming through May 1.
As soon as you go to the Down Dog website, you will see an alert message that due to the current outbreak, they are offering all of their apps—Down Dog, Yoga for Beginners, HIIT, Barre, and 7 Minute Workout—completely free until May 1st for the general public, however, since you are a healthcare provider, they are offering you free access until July 1, 2020.
Peloton Has Extended Their Free Trial to 90 Days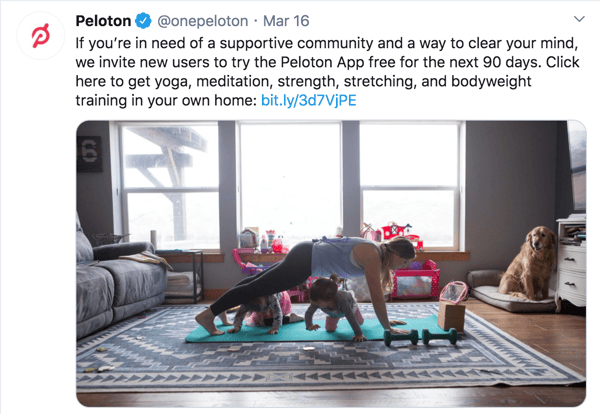 If you haven't check out the Peloton app and their online workouts yet, now is the perfect time—they've extended their free trial to 90 days! You don't even have to own any Peloton equipment, you can still access yoga, HIIT, stretching, dancing, cycling, running, walking, and more.
CorePower Yoga Offering Free Classes Live and on Demand
You can either catch a live class at 8am, 1pm, or 6pm MT, or you can access their collection right now for no cost! Deets below directly from their YouTube Live.
OrangeTheory Fitness is Uploading a Workout Each Day to YouTube
OrangeTheory has been uploading daily workout videos to their YouTube Channel. You can access these videos from OrangeTheory's at home health coaches for free.
OrangeTheory's YouTube workout video uploaded on April 6
Free Food and Beverages For Healthcare Workers on the Frontlines
(We know, we know, free doughnuts and coffee could have gone under the self-care section, too!) But we decided to separate it out so you wouldn't miss it. Get your free Krispy Kreme Doughnuts and Starbucks coffee while you can.
Krispy Kreme Doughnuts is Giving You Free Sweet Treats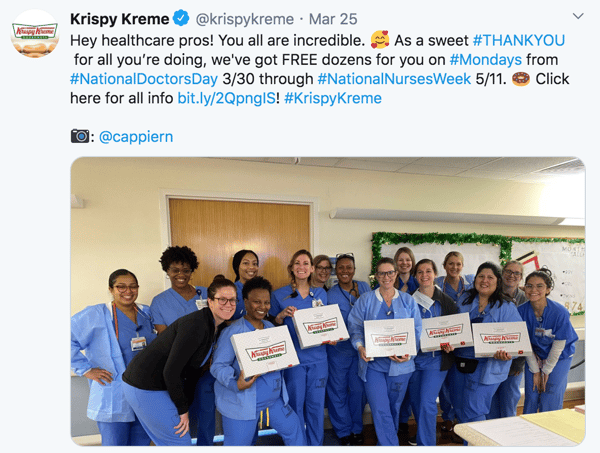 Every Monday through May 12 you can head through Krispy Kreme's drive through and get free dozens to take to work or home to the family!
Krispy Kreme will provide all healthcare workers free dozens of our iconic Original Glazed® Doughnuts. Just go to a Krispy Kreme drive-thru, tell us what you need and show us your employer badge. That's it. Pick up some free dozens on the way to work for you and your colleagues, or maybe a free dozen on your way home to family after a long shift.
Starbucks is Offering Free Coffee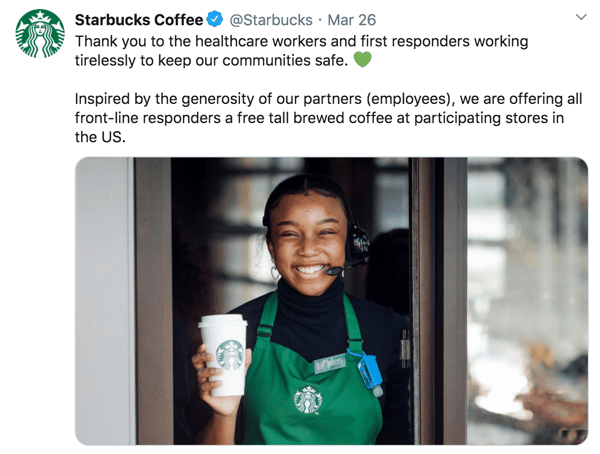 Stop by your local Starbucks and pick up a free coffee (if they're still open). They're offering free tall drinks for healthcare workers right now as a thank you!
Free Healthcare Resources to Stay Sharp
We've been thinking about ways that we can support you during this demanding time and decided to help the best way we know how, by providing you with education tools!
We've also pulled in ScrubPocket—they're giving away free ventilator reference cards right now (just pay $2.99 shipping).
Free Internal Medicine Core Sections on Diseases Related to COVID-19
We pulled resources for diseases related to COVID-19 out of our Internal Medicine Core. Here's what you can access all completely for free:
Acute Respiratory Distress Syndrome - you might see patients with ARDS as a complication of COVID-19. This content we pulled is meant to be a resource for healthcare providers to see an overview of the disease, plus diagnosis and treatment.
Invasive Mechanical Ventilation - with all the talk about ventilators, we pulled information we have on ventilation out of our Internal Medicine Core and made it available to you. You'll see modes of mechanical ventilation, weaning and failure to wean, noninvasive ventilation, and nutritional support.
Hypoxemia - dives into the 6 causes of hypoxemia (low oxygen tension).
Interstitial Pneumonia - the content we pulled on pneumonia will give you an overview of idiopathic interstitial pneumonias and cryptogenic organizing pneumonia.
Free Pulmonary Section in all Internal Medicine Products for 30 Days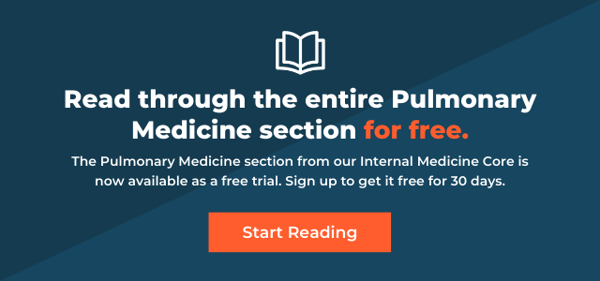 We've made all of our free trials for Internal Medicine the Pulmonary sections to assist you with COVID-19 patients. You can access the full Pulmonary section for 30 days with each of our IM free trials.
Get a
Free Ventilator Badge Reference Card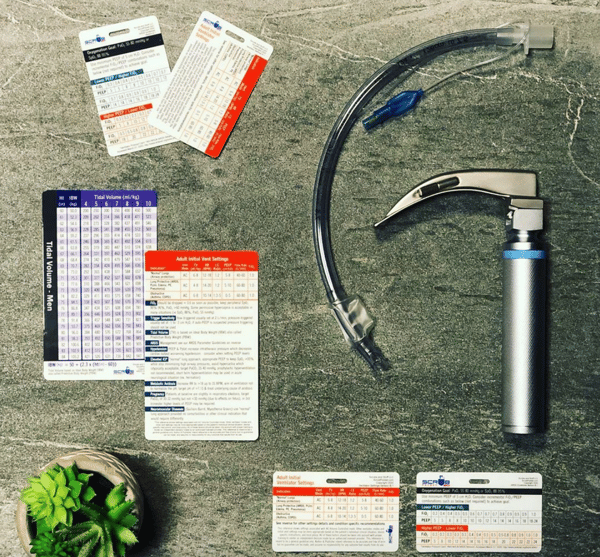 @ScrubPocket is offering free references to healthcare providers during the COVID-19 Pandemic
@ScrubPocket posted on Instagram on March 27 that they decided with all the discussion about ventilator supply there will also likely be a lot of healthcare providers around vents who are less familiar with them. They put together vent related reference cards and are giving them away for free, they just ask that you pay the small shipping fee.
We hope that these free resources help inspire you to take much needed self-care time and stay sharp around COVID-19 related diseases. We'll also be posting questions from the pulmonary sections of our Q&As and Flashcards in the coming month on Instagram to help give you brain breaks and keep you sharp! Turn on post notifications on Instagram to be updated when we post.