Humble brag: Our Internal Medicine Review Courses are the best. So if you're looking for exam prep, need to earn CME/MOC, or just want to update your knowledge for daily practice, join us!
March 11-15, 2023 | Online only
June 10-14, 2023 | Denver, CO | In-person or online
2023 Internal Medicine Review Course Schedule
First, feast your eyes on this all-star lineup. You'll find 5 full days of dedicated review covering every topic on the ABIM/AOBIM exam blueprint, built-in breaks, 13 engaging speakers, and more.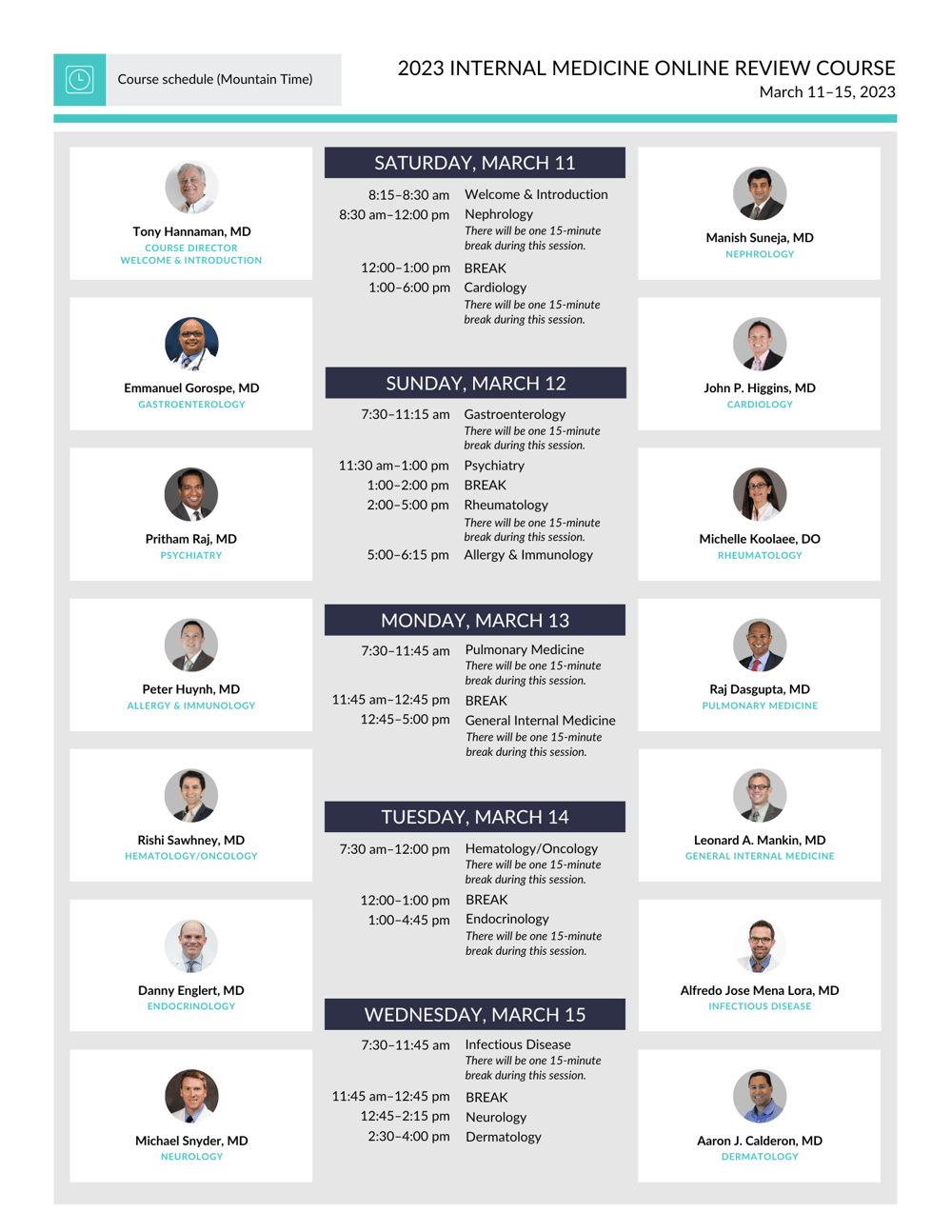 Now let's get excited about the schedule.
1. Schedule covers every topic on the ABIM/AOBIM blueprint
Not only does the course cover every primary medical content category from the ABIM/AOBIM blueprint, but the time spent on each topic is weighted according to the percentage assigned to each for a typical exam.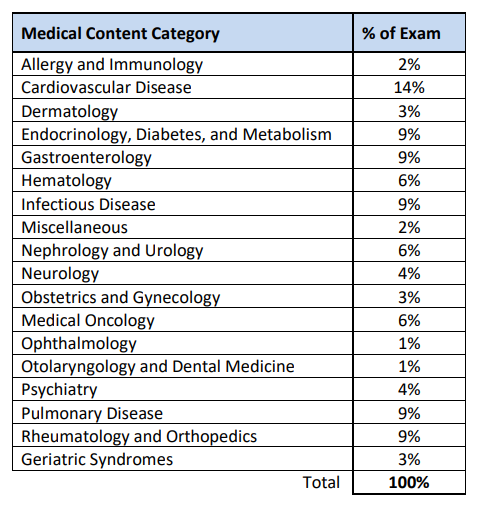 For example, we dedicate 5 hours to Cardiology—the topic with the highest percentage in the blueprint. But we only review Allergy and Immunology for 1.5 hours since it's just 2% of the medical content category.
This way, you'll get the review you need—without the fluff—in every expert-led session.


2. Review with the very best IM course instructors

Speaking of experts, we've rounded-up the very best physician educators on each topic. These engaging experts make sure you get exactly what you need to know to achieve your goals.
Like Manish Suneja, MD, who is not only presenting on Nephrology for MedStudy, but also the the University of Iowa's Carver College of Medicine's:
Clinical Professor of Internal Medicine-Nephrology

Vice Chair for Education

Director of the Internal Medicine Residency Program at the University of Iowa's Carver College of Medicine.
Or our Cardiology physician educator John P. Higgins, MD, MBA (Hons), MPHIL, FACC, FACP, FAHA, FACSM, FASNC, FSGC who is:
Professor of Medicine at The McGovern Medical School (University of Texas)

Senior Cardiologist at Lyndon B. Johnson General Hospital

Director of Exercise Physiology,

Memorial Hermann Institute for Sports Medicine and Human Performance

Sports Cardiologist with the Houston Rockets and Rice Athletics
And don't even get us started on course codirector Aaron Calderon, MD.
Want to get a taste for the physician educators' styles? Check out these snippets from last year's course.
3. Built-in time for questions, networking, and breaks
Have questions for our exceptional instructors? No problem. There is ample opportunity to ask your questions and get the information you need to reach your goals. Plus, the schedule boasts time for Audience Response questions—where you answer questions and interact with the instructor.
We've built-in plenty of breaks, too.
What should you do during these breaks? Besides the obvious (restroom, anyone?), use this time to get to know your fellow attendees and interact with your peers. And if you're attending the review course in person, the networking sessions can extend beyond our schedule. Attendees often form groups for post-course excursions.
4. Enjoy dedicated study time without interruptions
This IM review course schedule allows you to dedicate your time to meeting your goals—whether that's putting in the hours to earn CME, pass the boards, or maintain practice excellence—without interruption.
As a physician, we know your time is precious. And interruptions at your office or home can make study sessions that lack structure, well, frustrating. Our schedule gives you all the information you need and the space and time to review it.
Other time-savers at the course
Lastly, use these tools to help you get the most out of the course schedule:
Rely on our comprehensive course syllabus so you can actually listen to what the instructors are saying and spend minimal time taking notes.

Need to take a call during one of the sessions? Not to worry. You will have access to course footage until 2024.

Get your brain sticky by reviewing the Audience Response questions or Q&As before the course. Not only will this prime your brain to take in new information, but it's a great way to identify any knowledge gaps.
Pro Tip: Read through the brand new 20th Edition Internal Medicine Core at least once in preparation for the course.
Doesn't it sound too good to pass up?! We hope to see you there.
Related Content:
Internal Medicine Review Course FAQs—Answered
Onsite vs. Online: Which Learning Environment Is Best for You?