Key points
95% of our online course attendees said that they would recommend it to other pediatricians
Pediatricians who've attended our review course say it's a comprehensive dedicated review of the ABP & AOBP content outlines, it helped them identify and remedy knowledge gaps, and the speakers were wonderful
We tailor the course to cover every topic that you'll see on ABP/AOBP board exams, so you'll go over exactly what you need to know as a Pediatrician. Each lecture includes tips for acing your board exam and taking your daily practice to the next level
There's a different physician reviewing each topic, so you don't have to sit through one lecturer for an entire 6-day course
We work for the entire year to bring together the best teachers in Pediatrics for our annual Peds Review Course. Each teacher covers a topic from the ABP & AOBP content outlines, delivering the content and any updates you must know concisely.
Whether you're taking the boards or need a knowledge update to refresh your practice, you'll love your experience at our peds board review course.
At the end of each of our courses, we have our attendees tell us what they thought in the form of a survey. MedStudy's Pediatric Certification Review Course is the best pediatric board review course around, according to our attendees.
97% of attendees would recommend the course to a colleague
95% of Peds review course attendees said the course helped identify and remedy knowledge gaps
93% of attendees said the overall course format and organization effectively enhanced their learning
Let's dive into more of the pediatric board review course reviews we got from our attendees:
Our Peds Board Review Course is a great kick-start for board prep
Sometimes you just need a dedicated time for board prep. If you need to study without the distractions of everyday life, our review course might be perfect for you.
Whether you choose to join in-person or online, the review course really forces you to focus. Since the days are packed with sessions, you'll definitely need to dedicate some time to your review. And if you need to re-watch a session—or you need to miss for some reason—you will have access to every single lecture recording for 12 months after the course wraps up.
"It was the kick start I needed to really focus. Lectures were really focused on high yield board information. It forced you to focus in a classroom, really actively learn, and was a great resource to review info closer to the exam." —Sameeia Iqbal, MD
The online livestream is a great review course experience
Speaking of that flexibility—pediatricians are loving the flexible option of taking the review course online. In fact, 95% of our online course attendees said that they would recommend it to other pediatricians.
We've been holding online courses for over 5 years now and have perfected the experience. You'll be able to fully immerse yourself in the learning experience without any of the travel hassles.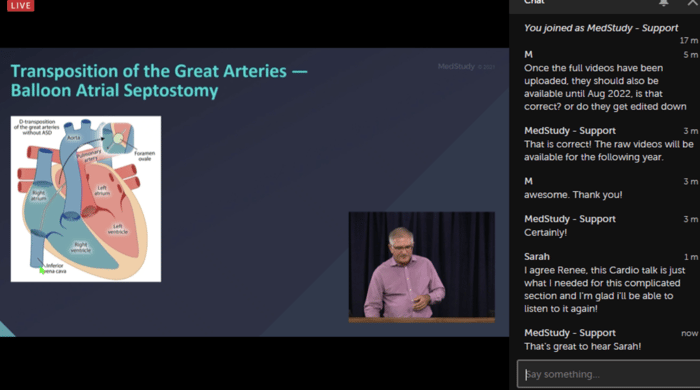 The chat is a great way to talk with other attendees and get help
Our online course is an interactive experience. You can chat with other attendees and even ask the speaker questions during their session. The chat is a great place for attendees to encourage each other throughout the 6-day course, answer each other's questions about details in the lectures, and of course, get assistance from our support team.
Our peds review course can help identify knowledge gaps
A knowledge gap in a topic is the difference between what you know about that topic and what there is yet to learn and remember about it. 91% of course attendees said that the content met their personal educational objectives.
Identifying these gaps can be tricky! If you're not sure where to start, our Pediatrics Review Course is a great option for you.
The course is perfectly tailored for busy physicians like you so we get right to the essential medical information you're looking for. We tailor the course to cover every topic that you'll see on ABP/AOBP board exams, so you'll go over exactly what you need to know as a Pediatrician. Each lecture includes tips for acing your board exam and taking your daily practice to the next level.
Every lecturer includes "audience response" questions within their lecturers, these will help you focus your study on topics you need to brush up on. All of these audience response questions (and their answers) are included in the course syllabus.
"It does a great job of letting you know where your weakness are, and helps you find ways (including providing resources) to help you remedy your weak spots." —Peds Course Attendee
The course brings dynamic speakers for each topic
Our courses aren't taught by only one speaker—we find superb physician educators for each topic to give you an engaging and board-focused review. 91% of attendees said that the course format enhanced their learning.
There's a different physician reviewing each topic, so you don't have to sit through one lecturer for an entire 6-day course.
"Concise and organized review of topics. The syllabus is great so I could follow the lectures without worrying about writing down all of the information."—Chao-Ching Wu, MD
Our Cardiology Speaker, Dr. Ralston, got excellent reviews from Peds course attendees
Mohannad Mannaa, MD | Pulmonary Medicine
"One of my favorite speakers; I could feel the passion he has for his field, which translates to more effective transmission to the listeners. His deep knowledge of his practice allows him to explain the concepts in a memorable and easy-to-understand manner. I really enjoyed his talk!"
"Bring him back! Love his understanding of anatomy and his explanations; less memorization and more understanding for me!"
"Dr. Mannaa involved pathophysiology and explained the points in a manner you can remember/think about it during the exam. It was a lecture, not just reading brute facts."
Beth Vogt, MD | Nephrology
"Very engaging and thorough. This was a difficult section for me and Dr. Vogt did an excellent job making it feel so much more manageable!"
Michael Ralston, MD | Cardiology
"My favorite speaker by far! Dr. Ralston did an amazing job breaking down a difficult section!! I'm excited to listen to his talk a few more times to solidify all the knowledge he conveyed to us."
Megan Street, MD | Emergency Medicine & Maltreatment Syndromes
"Excellent energy delivering her topic, very easy to follow and listen to. Was a relief having her as the final speaker of the course!"
The course helps you get a focused review of ABP and AOBP content outlines
We scale which topics you study (more or less of) based on the exam content outline. That means that the content in our course will be reflective of what you'll see on the exam.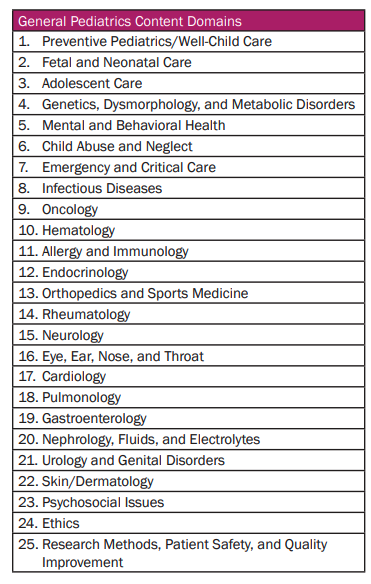 ABP board exam content outline
When you consider the broad scope of Pediatrics, it's hard to know what to focus on for your exam. Our speakers present only what you need to know for the boards in a 6-day course, so you can cover everything you'll need to know in less than a week. MedStudy's Pediatric Certification Review Course is the best pediatric board review and CME course around, according to our attendees. You don't need to take our word for it:
"This course was GREAT and I would recommend it to other residents in my program. Fantastic." Anthony Johnson, MD
"I really enjoyed the course and would definitely recommend to fellow peds docs and come back for MOC." Sabrina Clark, DO
Join us for the upcoming pediatric board review course to see why 95% of our course attendees recommend it to their fellow pediatricians.
Related content