Our team has been hard at work on a whole new myMedStudy view, and we are thrilled to share it with you! We've completely redesigned the website to help you access your products, claim CME, and find helpful information faster than before.
Our goal is to help you use the same products you love in an even more effective way, and make it easier for you to fit learning medicine into your life.
Your Account Has a Whole New Look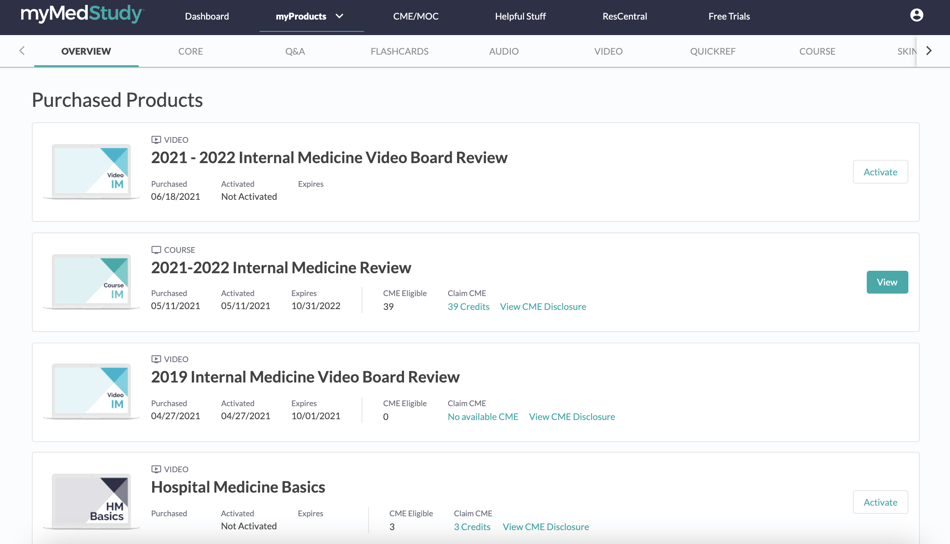 A glimpse of the new My Products Overview page.
Now when you click on the My Products tab, you'll see the Overview page with all your MedStudy products listed along with important details for each one. Everything you need to know about your products is right here.
Under each learning tool, you'll see the purchase date, activation date, and expiration date. You'll also see the amount of CME/MOC credits you can earn for each product and a link to start your CME application in just one click.
To open any of your digital products, simply click the View button on the right and you're right there!
You can also open any of your digital learning tools by clicking Core, Q&A, Flashcards, Audio, Video, QuickRef, or Course in the white bar at the top of the screen and you'll jump right in. If you have more than one product in any of these categories, you'll see all resources of that format and you can choose which one to open.
Totally Redesigned Course Page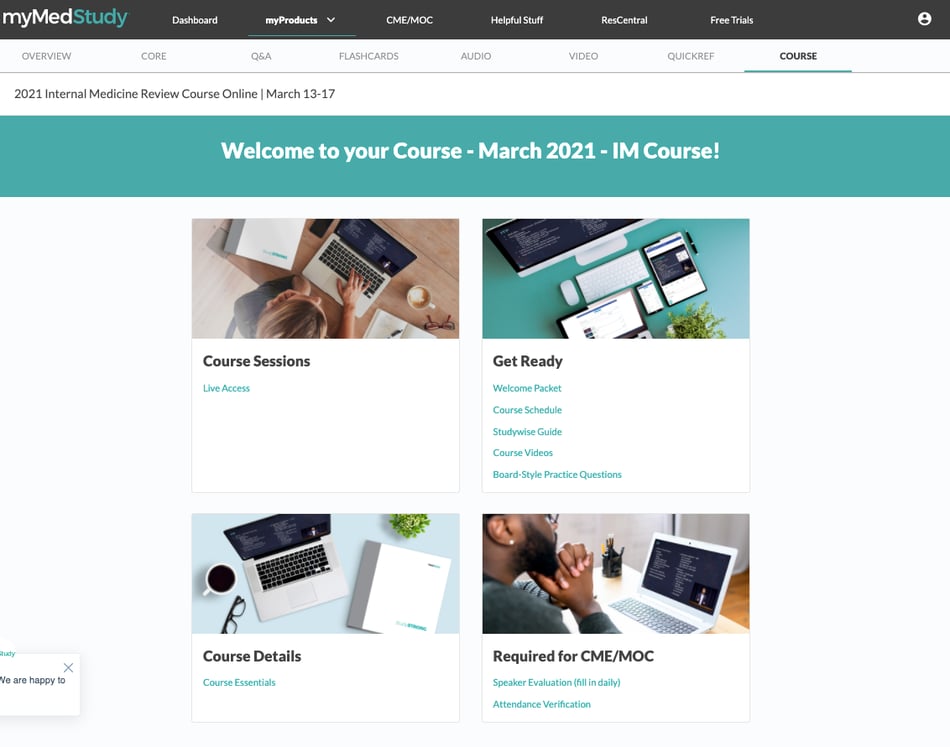 See our brand new course page in myMedStudy.
Our brand new Course page brings together all the elements you need to succeed with your Review Course on one easy-to-navigate page. Everything needed to get ready for the course like the Welcome Packet, Course schedule, StudyWise guide, supplementary videos, and board-style practice questions are all here.
Do you need to claim CME/MOC credits for the course? You're just one click away from the speaker evaluations and attendance verification you'll need to submit in order to claim.
This page is also where you'll watch the live streaming lectures during the Course and access all the saved footage for 12 more months so you can keep reviewing.
Streamlined Process for Claiming CME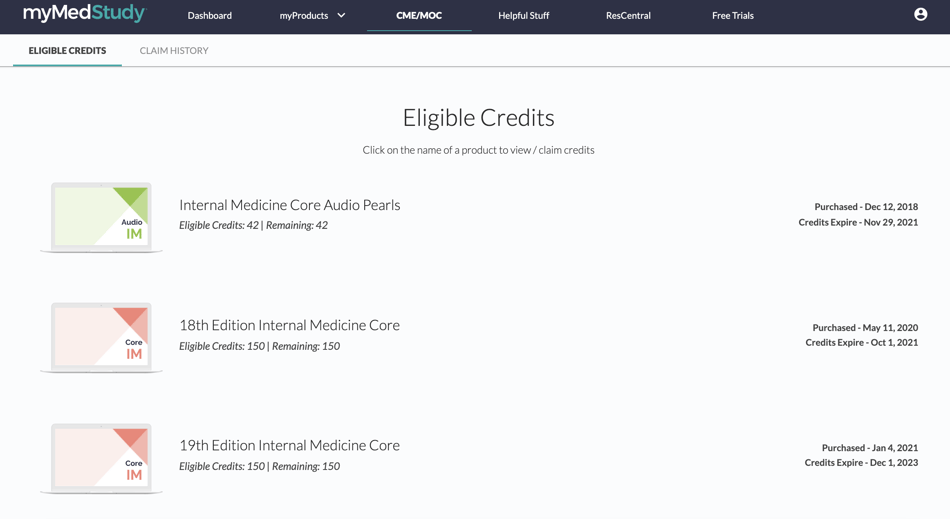 Claiming your CME/MOC credits is even simpler now.
Click on the CME/MOC section, and you'll be on the Eligible Credits page. This is where you can start a CME/MOC application for any of your products. You'll see the number of credits you are eligible to claim for each resource, the number of credits that are remaining, the date you purchased each product, and the date your credits will expire.
You can also switch over to the Claim History page to see all the credits you have already claimed and access any of your CME certificates in one convenient place.
New! Access Helpful Stuff Right From Your Account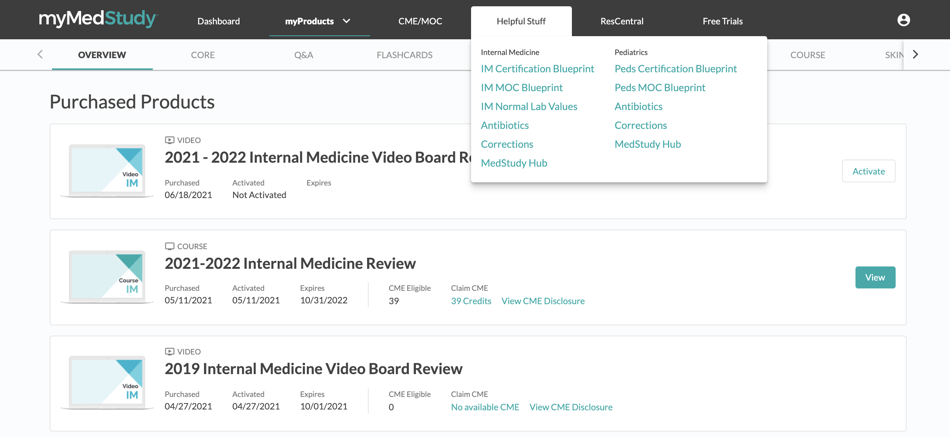 Check out the new Helpful Stuff we've added to your account!
We've gathered even more resources to help make learning medicine easier than ever for you. In the new Helpful Stuff menu, you'll find extra resources to guide your learning tailored to your specialty.
Internists will be able to access the IM Certification Blueprint, MOC Blueprint, Normal Lab Values, Antibiotics Review, Corrections, and the MedStudy Hub in a single click.
Pediatricians will see the Peds Certification Content Outline, MOC Content Outline, Antibiotics Review, Corrections, and the MedStudy Hub.
Try Any of Our Digital Products for Free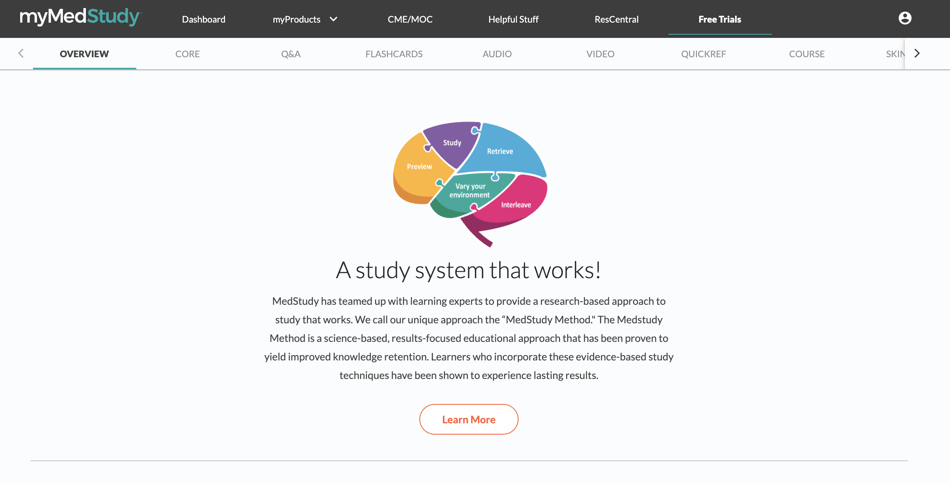 Start a free trial today to experience any of our digital products.
Want to try out a new product before you buy? In the Free Trials section of myMedStudy, you can start a 30-day trial of the Core, Q&A, Flashcards, Audio, Video, QuickRef, or a Review Course for free! You'll get access to one section, or previews of each, and get to explore the functionality and content for yourself before purchasing.
We offer 24-hour free trials for Skin Sounds and Heart Signs, which include full access to the product so you can dive right in.
We are thrilled to unveil this new myMedStudy design for you and can't wait to hear how it helps you study stronger! If you have any questions about your account or how to navigate the new experience, don't hesitate to reach out to our support team by email or phone for help.